Montana voters legalize recreational marijuana, split on gun measure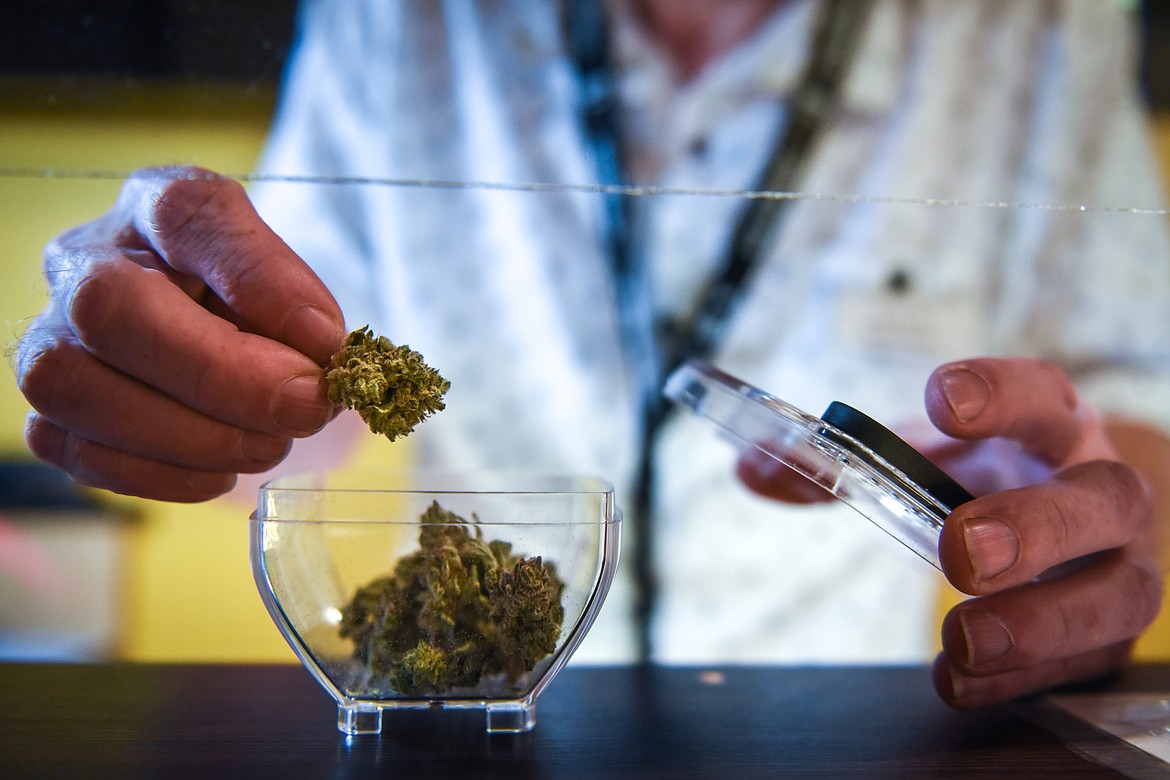 Kyle Mahoney, a budtender at Flower in Evergreen, displays a strain of marijuana called Gorilla Glue at the dispensary on Thursday, Oct. 1. (Casey Kreider/Daily Inter Lake)
by
CHAD SOKOL
Daily Inter Lake
|
November 4, 2020 12:37 AM
An initiative that would legalize recreational marijuana use in Montana had a sizable lead in Tuesday night's early election results, while voters were tied on another ballot measure that would invalidate many local gun regulations.
With about 26% of precincts fully reported at about midnight, about 57% of ballots counted were in favor of Initiative 190, which would legalize marijuana and impose a 20% tax on sales of pot products. The early figures showed a companion measure, Constitutional Initiative 118, which would raise the legal age for pot use to 21, was ahead with 58% of ballots counted.
New Approach Montana, the committee that backed the two pot measures, claimed victory early Wednesday.
"By legalizing marijuana, Montanans have adopted a policy that is good for public health, good for public safety, and good for public finances," Ted Dick, the group's campaign manager, said in a statement. "The initiatives will free up law enforcement to focus on serious crime, as Montana ends the practice of arresting otherwise law-abiding adults for personal use of marijuana. At the same time, 118 and 190 will expand access to medical marijuana for many patients, including veterans, and provide a new funding source for important state programs."
Montana joins Washington, D.C., and a dozen other states that have fully legalized recreational marijuana use, including New Jersey, whose voters legalized the drug this election.
The ballots counted in Montana as of midnight were evenly split on Legislative Referendum 130, which would strip local governments of authority to regulate firearms, including open and concealed carrying.
The Legislature sent LR-130 to voters last year after Democratic Gov. Steve Bullock vetoed a bill with identical language that was sponsored by state Rep. Matt Regier, R-Columbia Falls. The legislation stemmed from a court battle over a Missoula ordinance that would have required background checks for all gun sales within city limits.
Backers and opponents of LR-130 dispute some of the effects the measure would have; many school officials worry it would hinder their ability to prohibit people from carrying guns outdoors on school campuses.
Voters also were poised to easily pass Constitutional Amendments 46 and 47, which will update old language in the Montana Constitution to align with a court decision requiring signatures for ballot measures be counted by legislative districts, not counties.
Reporter Chad Sokol can be reached at 758-4434 or csokol@dailyinterlake.com
---