Flathead County sees record voter turnout of 81%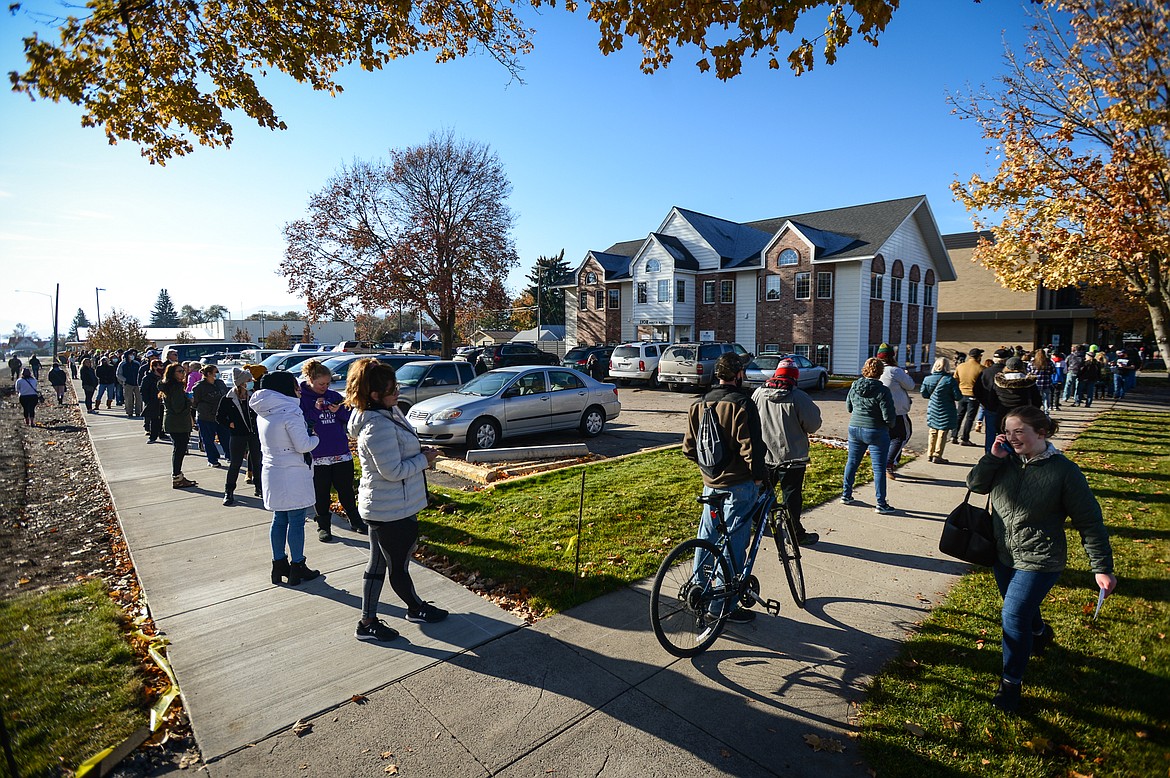 Voters stand in line outside the Flathead County Election Department in Kalispell on Election Day, Tuesday, Nov. 3. (Casey Kreider/Daily Inter Lake)
by
CHAD SOKOL
Daily Inter Lake
|
November 4, 2020 4:42 PM
Flathead County poll workers finished counting more than 60,000 ballots Wednesday afternoon in an election that drew a record number of registered voters and eye-popping turnout.
Challenges with counting machines slowed the process of tallying votes, and a late-night mistake caused incomplete counts to appear on the county website for about 12 hours. But Monica Eisenzimer, the county's election manager, said the correct numbers were reported to the Montana Secretary of State's Office and posted on the county website at about 2:30 p.m. Wednesday.
The county election office reported a total of 74,616 registered voters early Wednesday. And Eisenzimer said the office received a total of 60,514 ballots, putting turnout at more than 81%.
"All ballots have been counted except for some military ballots that may arrive," she said in an email Wednesday afternoon.
Thousands of Flathead County voters visited ballot drop boxes, in-person polling places and drive-thru sites on Tuesday, even though ballots were mailed to registered voters nearly a month earlier.
The number of registered voters in Flathead County dwarfs the 67,000 who were registered to vote in the 2016 general election and all other general elections before that, according to data from the Secretary of State's Office. And the last time the county saw general election turnout as high as 80% was in 1992, when Bill Clinton defeated George H. W. Bush and Ross Perot to clinch the presidency.
With mail-in voting implemented this year due to the coronavirus pandemic, Eisenzimer said it took some additional time to set up ballot-counting stations at the Flathead County Fairgrounds. Additionally, she said, poll workers had to ensure that actual numbers of ballots aligned with the numbers appearing on counting machines, as some ballots had two pages while others had three.
"Images versus ballots cast can be a hurdle in reporting," she said.
A second tally of votes posted on the county website before 3 a.m. Wednesday was incomplete. Compared to the first reported count, it showed smaller vote totals for Republican candidates in federal and statewide races. Up to 2,200 votes for some GOP candidates appeared to vanish, while some of their Democratic and third-party rivals gained votes or lost smaller numbers.
After the error was discovered on Wednesday, Eisenzimer said it was a simple reporting mistake. The report posted online, she said, had been generated from only one of the county's two counting machines. The correct numbers were contained in a separate report and provided to the Secretary of State Office, she said.
In any case, it was a big night for Montana Republicans as U.S. Rep. Greg Gianforte was elected the state's next governor, beating Democratic Lt. Gov. Mike Cooney. Gianforte will replace Democratic Gov. Steve Bullock, bringing unified GOP control to the statehouse for the first time since 2005.
Bullock lost his Senate bid against incumbent Republican Steve Daines, and voters elected GOP candidates to be the state auditor, attorney general, secretary of state and superintendent of public instruction. Flathead County and Montana as a whole voted overwhelming for President Donald Trump, though ballots still are being counted in other states.
Voters also elected 20-year-old Republican Braxton Mitchell to represent state House District 3, which covers Columbia Falls, surrounding towns and the North Fork up to the Canada border. He beat incumbent Democrat Debo Powers with nearly 60% of 5,975 ballots cast in the race and will become Montana's second-youngest lawmaker.
Flathead County voters also moved to legalize recreational marijuana use in Montana, albeit by slightly smaller margins than the state as a whole. Nearly 54% voted for Initiative 190, while 56% voted for a companion measure, Constitutional Initiative 118, which raises the legal age for recreational pot use to 21. Those measures passed statewide with 57% and 58% of the vote, respectively.
Nearly 54% of Flathead County voters approved a new Emergency Communications Center that is expected to streamline 911 services countywide.
A $500,000 general fund levy for Kalispell Public Schools' high school district failed to pass, with 52.76% voting against the levy and 47.24% voting in favor.
Reporter Chad Sokol can be reached at 758-4434 or csokol@dailyinterlake.com
Flathead County Election Results
PRESIDENT & VP
BIDEN/HARRIS (DEM) 20,238 33.66%
JORGENSEN/COHEN (LIB) 1,339 2.23%
TRUMP/PENCE (REP) 38,233 63.58%
US SENATOR
STEVE BULLOCK (DEM) 22,139 36.86%
STEVE DAINES (REP) 37,775 62.90%
US REPRESENTATIVE
MATT ROSENDALE (REP) 38,341 64.20%
KATHLEEN WILLIAMS (DEM) 21,233 35.55%
GOVERNOR/LT. GOVERNOR
BISHOP/NESPER (LIB) 2,218 3.71%
COONEY/SCHREINER (DEM) 20,350 34.02%
GIANFORTE/JURAS (REP) 37,133 62.08%
SECRETARY OF STATE
BRYCE BENNETT (DEM) 19,398 32.94%
CHRISTI JACOBSEN (REP) 39,404 66.91%
ATTORNEY GENERAL
RAPH GRAYBILL (DEM) 19,672 33.34%
AUSTIN KNUDSEN (REP) 39,243 66.51%
STATE AUDITOR
TROY DOWNING (REP) 36,977 63.07%
SHANE A MORIGEAU (DEM) 18,812 32.09%
ROGER ROOTS (LIB) 2,781 4.74%
STATE SUPT OF PUB INSTR
ELSIE ARNTZEN (REP) 35,631 60.63%
KEVIN LEATHERBARROW (LIB) 2,325 3.96%
MELISSA ROMANO (DEM) 20,749 35.30%
SUPREME COURT JUSTICE 5
MIKE BLACK 21,435 41.43%
LAURIE MCKINNON 30,054 58.08%
RETAIN JIM SHEA
YES 38,762 74.85%
NO. 13,026 25.15%
STATE SENATOR DST 2
CARL GLIMM (REP) 8,740 68.20%
KYLE WATERMAN (DEM) 4,057 31.66%
STATE SENATOR DST 3
GUTHRIE QUIST (DEM) 6,577 44.09%
KEITH REGIER (REP) 8,316 55.75%
STATE SENATOR DST 6
GREG HERTZ (REP) 5,354 96.78%
STATE SENATOR DST 7
BOB BROWN (REP) 1,870 82.42%
DIANE L. MAGONE (DEM) 397 17.50%
STATE REPRESENTATIVE DST 3
BRAXTON MITCHELL (REP) 3,578 59.88%
DEBO POWERS (DEM) 2,387 39.95%
STATE REPRESENTATIVE DST 4
MATT REGIER (REP) 5,907 97.48%
STATE REPRESENTATIVE DST 5
DAVE FERN (DEM) 4,473 60.03%
CATHERINE OWENS (REP) 2,973 39.90%
STATE REPRESENTATIVE DST 6
JERRAMY DEAR-RUEL (DEM) 2,290 30.61%
AMY REGIER (REP) 5,174 69.17%
STATE REPRESENTATIVE DST 7
ROSS FRAZIER (DEM) 1,473 30.53%
FRANK GARNER (REP) 3,079 63.81%
NICHOLAS RAMLOW (LIB) 260 5.39%
STATE REPRESENTATIVE DST 8
JOHN FULLER (REP) 5,098 96.28%
STATE REPRESENTATIVE DST 9
BRIAN PUTNAM (REP) 4,133 97.94%
STATE REPRESENTATIVE DST 10
JENNIFER ALLEN (DEM) 1,625 27.26%
MARK NOLAND (REP) 4,332 72.67%
STATE REPRESENTATIVE DST 11
DEREK SKEES (REP) 5,344 96.44%
STATE REPRESENTATIVE DST 13
PAUL C. FIELDER (REP) 1,774 78.18%
COLLEEN HINDS (DEM) 395 17.41%
CADE STILES (LIB) 100 4.41%
CLERK OF THE DST COURT
PEG L ALLISON (REP) 49,642 97.86%
COMMISSIONER DST 1
BRAD ABELL (REP) 38,226 65.24%
KRISTEN LARSON (DEM) 20,246 34.55%
CONSTITUTIONAL AMENDMENT NO. 46
YES on Constitutional Amendment 42,399 77.36%
NO on Constitutional Amendment 12,408 22.64%
CONSTITUTIONAL AMENDMENT NO. 47
YES on Constitutional Amendment 40,827 75.07%
NO on Constitutional Amendment 13,561 24.93%
CONSTITUTIONAL INITIATIVE NO. 118
YES on Constitutional Initiative 32,678 56.01%
NO on Constitutional Initiative 25,667 43.99%
LEGISLATIVE REFERENDUM NO. 130
YES on Legislative Referendum 31,174 53.70%
NO on Legislative Referendum 26,874 46.30%
INITIATIVE NO. 190
YES on Initiative I-190 31,917 53.87%
NO on Initiative I-190 27,336 46.13%
Flathead Emergency Comm Ctr Special Dst
YES, IT SHALL BE ADOPTED 31,091 53.69%
NO, IT SHALL NOT BE ADOPTED 26,821 46.31%
HS GENERAL FUND LEVY PROPOSITION KALISPELL
FOR THE ADDITIONAL LEVY 16,759 47.24%
AGAINST THE ADDITIONAL LEVY 18,721 52.76%
---