After beating cancer, C-Falls girl aims to walk again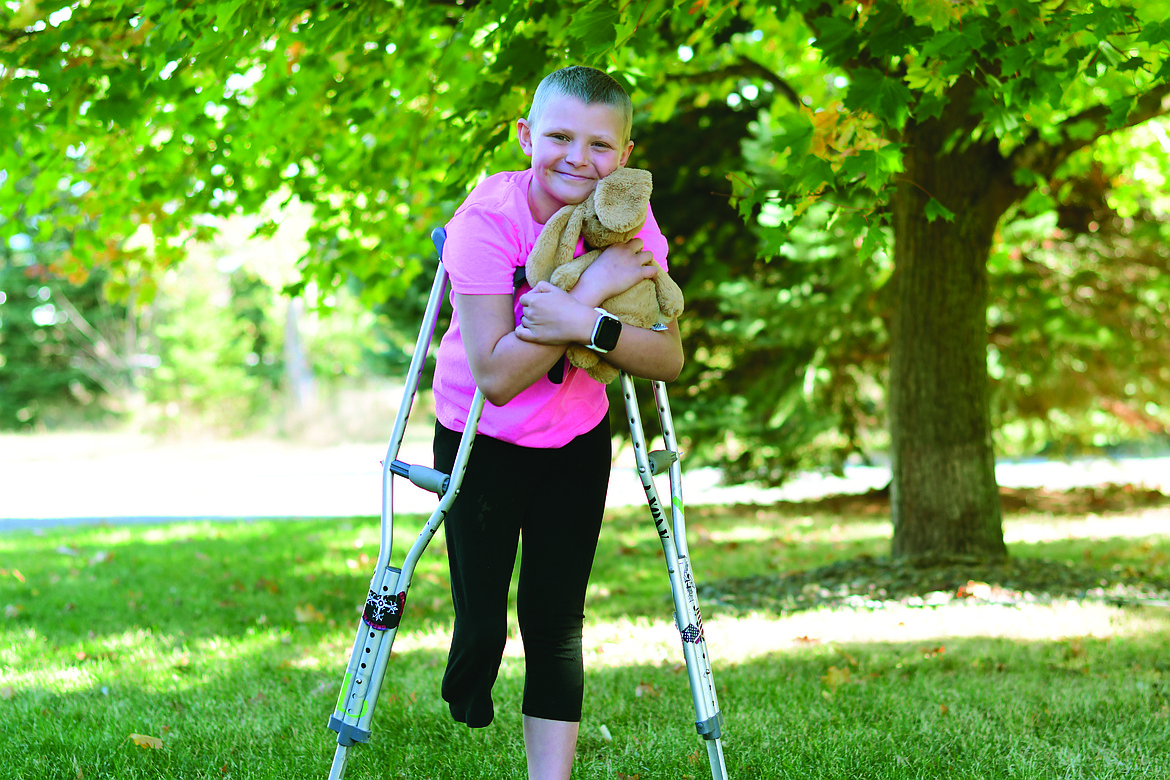 Kymber Johnson sports a fully functioning rotationplasty knee joint after a battle with osteosarcoma took her right leg. (Teresa Byrd/Hungry Horse News)
by
TERESA BYRD
Hungry Horse News
|
November 8, 2020 12:00 AM
At the tender age of 10, Columbia Falls fifth-grader Kymber Johnson has already had to brave her way through a gauntlet of staggering hardships.
About a year ago, she found an aggressive type of bone cancer requiring amputation of her right leg.
Today she has emerged from the ordeal 100% cancer-free with a radiant smile, gentle determination and a new, fully functioning knee joint.
Johnson and her parents, James and Ashley Johnson, learned she had cancer last December after a series of minor injuries left her knee irritated and inflamed to the point of her collapsing after trying to get up from an ice-skating fall.
A visit to the emergency room revealed a hairline fracture near her knee in bone already weakened with cancer.
Kymber and her family headed to the Seattle Children's Hospital within the next couple days where she was met with a team of about 14 specialists who would look after her care.
They arrived in Seattle without a place to stay, but a last-minute call to the Ronald McDonald House showed the facility serendipitously had a vacancy. Normally visitors are put on a several month waiting list, but the Johnsons were able to move in, just in time for Christmas, where they would make their home for the remainder of Kymber's treatment.
After several weeks of testing, doctors were able to diagnose the cancer as osteosarcoma, a rare but aggressive form of bone cancer that would require nearly nine months of chemotherapy.
It also required the removal of the section of affected bone, which meant removing her whole knee joint. But because of her age, and the location of the cancer, Kymber was a candidate for rotationplasty, a surgical procedure that removes the knee joint and replaces it with that leg's ankle joint.
Treatment began shortly into January. The aggressiveness of osteosarcoma warrants one of the harshest chemotherapy treatments available, an altered regimen of methotrexate and a doxorubicin/ cisplatin combination, administered through a port leading directly to Kymber's heart, said Ashley Johnson.
The latter anti-cancer drug would leave Kymber so sick she often had to be admitted to the emergency room.
About a month into treatment, just in time for her 10th birthday, Kymber developed painful sores in her mouth and down her throat, making eating or drinking anything very painful.
This was a side-effect of the chemo, which targets rapidly multiplying cells, also attacking the rapidly regenerating cells of the entire gastrointestinal tract. In addition to eating liquid meals, Kymber was required to drink nearly a gallon of water a day.
"She was stronger than you could ever imagine," her father said.
AFTER NEARLY three months of chemo treatment had sufficiently suppressed the cancer's ability to spread, Kymber was ready to undergo the 12-hour rotationplasty surgery.
The surgery was done by cutting away the knee joint without severing the major nerve, artery and blood vessel to the foot. The lower leg and foot, unaffected by cancer, is then rotated 180 degrees and reattached to the upper leg, so that the ankle joint now functions as the knee, and the foot, inserted into a prosthetic, becomes the leg's new calf muscle.
Because the main nerve and blood vessels are kept intact, Kymber was able to wiggle the toes of her reattached foot within minutes after the surgery. Not long after, she was doing physical therapy to retrain the muscles and nerves of the foot and hip to work together and to get used to a new prosthetic.
The rotationplasty has given Kymber a biological knee replacement that will allow her to maintain greater proprioception for any activity she endeavors in the future.
At the end of August, after several more months of chemotherapy, Kymber was declared cancer-free, her port was removed, and she was able to come home full-time.
Despite all the challenges of the last year, Kymber and her family are full of gratitude; grateful for the excellent care at Seattle Children's Hospital, and the hospitality and generosity of the Ronald McDonald House, James said.
"It's just pretty spectacular that that many people are giving," he said.
Kymber travels to Boston at the beginning of this month to get a more custom prosthetic for "Tina," her new "tiny leg" as she calls her retrofitted limb.
"I'm really excited for it, I'm really excited but I'm kind of nervous, because I feel like it's going to be really hard to start walking again," Kymber said.
---