Columbia Falls standout athlete now administrator in Whitefish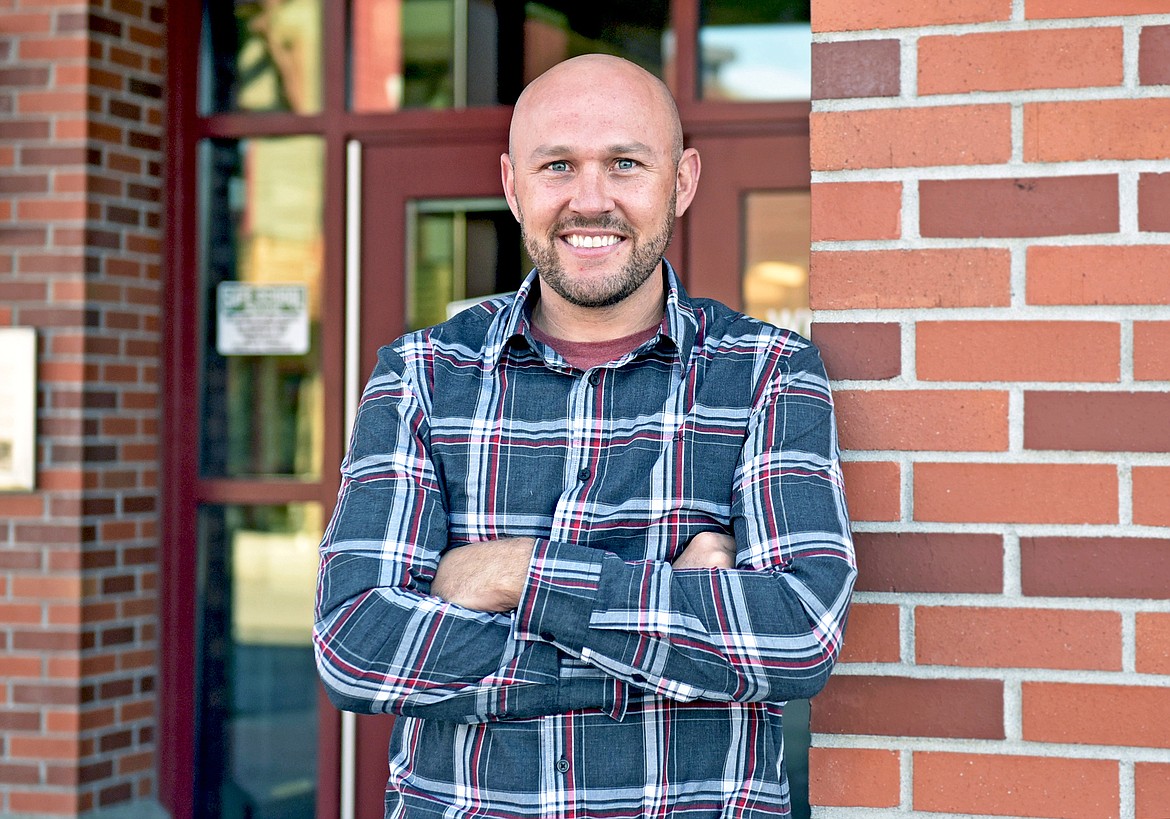 Whitefish Middle School assistant principal Tyler Jones stands outside the main entrance to the school building. (Whitney England/Whitefish Pilot)
by
WHITNEY ENGLAND
Whitefish Pilot
|
November 17, 2020 12:00 AM
Becoming an administrator was not always on the forefront of Tyler Jones' mind as he progressed through his teaching career.
But, it was an option he kept open if the right opportunity arose. When the opening for the assistant principal role at Whitefish Middle School came about, he had a feeling it might be the perfect fit for himself and his family.
He took over in the role at WMS at the beginning of the school year, after longtime Whitefish educator Jackie Fuller retired in the spring.
Jones said his father inspired him on his journey to becoming an educator by telling him, "Whatever you're going to do, make sure it's something you enjoy."
Jones has had a gratifying experience teaching for 13 years in Columbia Falls schools and thus far he says his transition to WMS assistant principal this fall has been, "nothing short of amazing."
Jones is a born-and-raised Montanan, growing up in Martin City. He played football for Columbia Falls High School and was part of the Wildcat basketball state championship team in 2003. After graduation he attended the University of Great Falls to obtain a bachelor's degree in kindergarten through 12th grade physical education, as well as earning an elementary endorsement allowing him to also teach in the classroom.
Post college, Jones said he was fortunate enough to come across the perfect teaching opportunity in his hometown of Columbia Falls and able to begin his career within a district close to heart.
"I felt like it's [Columbia Falls] such an amazing little town, much like Whitefish… growing up there it was great to also be able to teach there," Jones said. "That was one of the things my wife and I had decided was if we were going to pursue administration or something different, then we didn't want to uproot our family and have to leave the valley."
Jones and his wife Sami, who is a fifth grade teacher at Glacier Gateway Elementary, have three children who take up much of their free time. Jones said his family enjoys all of the classic Montana recreational opportunities; when he has the time Jones loves to hunt and fish, hike in and outside of Glacier National Park and ski on Big Mountain with his family.
He said moving over to Whitefish in an administrative role has been great, all rivalries aside.
"I know the whole being in Columbia Falls and the rivalry, stuff like that," Jones said. "But it has been nothing but amazing, both schools, and I think that they're just top notch educational programs. I'm very lucky to be here."
Jones was inspired to apply for the job at WMS because of the philosophy and culture already established at the school, as well as wanting a new challenge that would allow him to continue working with students. He also had been influenced by former administrators who he worked with, whether during his career or as a student, knowing he could have a positive impact in that role.
"Being a part of the team and being able to help a school reach the goal," Jones said as he touched on his reasoning for pursuing an administration position. "And being a part of this one has been so amazing because the culture and community is already well established. [WMS Principal] Josh Branstetter has done an amazing job of that, and the people before him."
In addition, his experience in physical education also helped qualify him for the role, as the assistant principal at the middle school takes on activities director duties along with other administrative tasks.
"I love to watch the sports," he said. "I was coached for a long time and so just having those connections is something that led me in this direction as well."
Settling into his new position, Jones said he brings the ability to see multiple perspectives, communicates well and is always looking out for what is in the best interest of the students and staff.
"I think anytime you leave a place that you have been with for a long time, it's definitely an adjustment," he said. "It wasn't taken lightly, but on the other end of it I was so thankful that Whitefish gave me the opportunity for this."
The COVID-19 pandemic also adds its own element to the equation, making Jones's new role slightly more challenging than it might have been in previous years. He said the biggest task so far is making his presence known and being around the students as much as possible despite the hybrid schedule.
"It does present its definite challenges, but I think that we're making the best of the situation and I really feel like we're making a positive impact," he said. "I think it's just all about those connections."
Jones says he misses interacting more closely with students as a teacher, but the lessons he learned while instructing classes has stuck with him. He said there are many qualities he possesses now because of his work as a teacher, that will help him as an assistant principal as well.
"(To have) patience and understanding, we're still dealing with kids," Jones said. "Being able to help them find the solution that is the best and most successful for them I think has really helped me in education (field)."
Recent Headlines
---