Sportsman owner Mike Gwiazdon dies at 79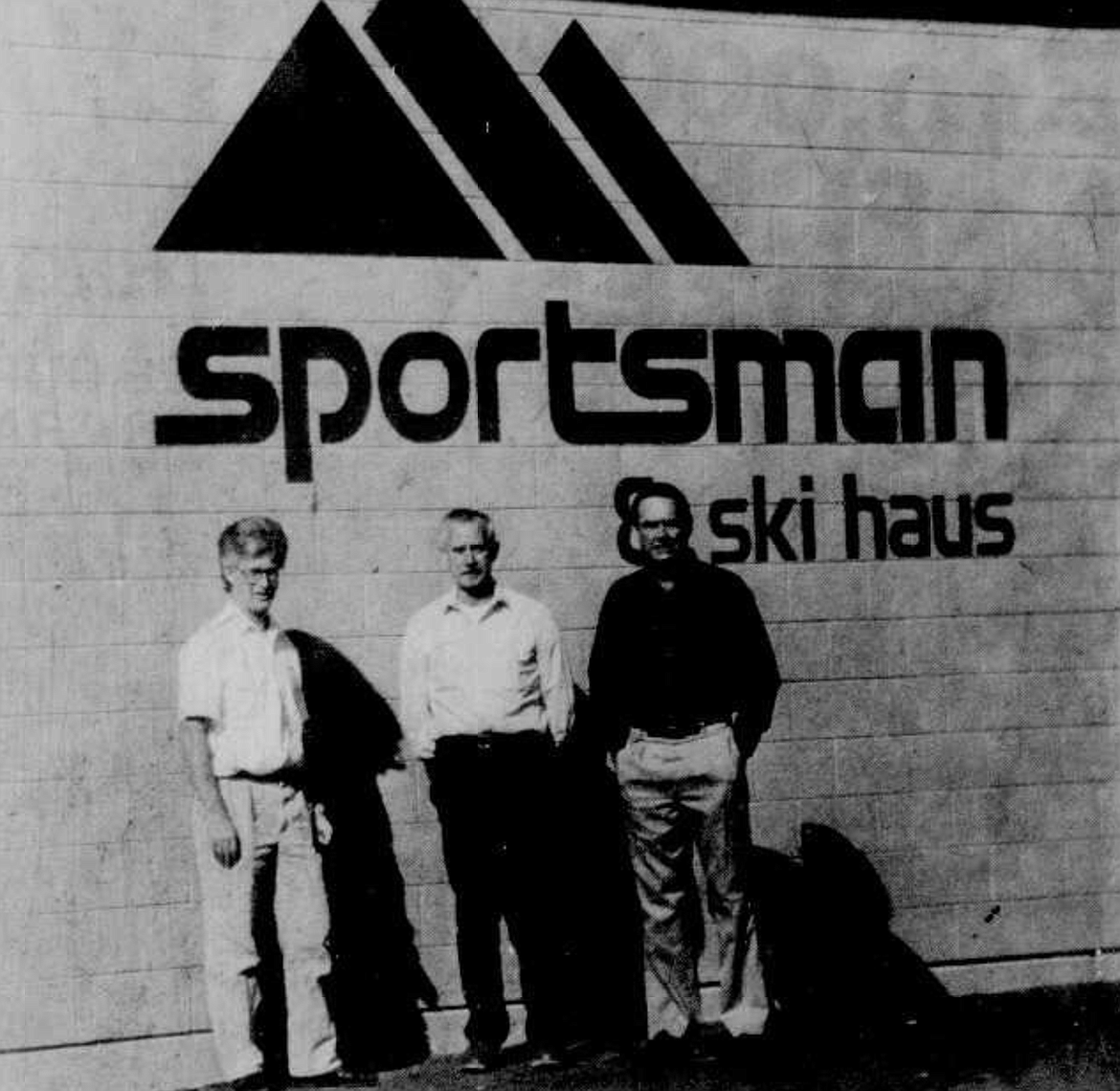 An Oct. 6, 1989 file photo shows Sportsman and Ski Haus owners, from left, Mike Gwiazdon, Ben Bailey and Mel James at the store's former Kalispell location. (Daily Inter Lake FILE)
by
BRET ANNE SERBIN
Daily Inter Lake
|
November 17, 2020 12:00 AM
Longtime Flathead Valley business and community leader Mike Gwiazdon died Friday at age 79 following his battle with cancer.
Gwiazdon was a figurehead of the local business community since moving to the area from Minnesota in the 1960s. He served as CEO of Sportsman and Ski Haus from the 1980s until the mid-2000s, overseeing the company's growth from a local sporting goods store to a major retailer with locations in three states.
Gwiazdon was also an active community member, serving on the Whitefish City Council from 1997 to 2001. In 2003, he campaigned — albeit unsuccessfully — for the position of Whitefish mayor.
He also served six years on the Kalispell Chamber of Commerce board of directors.
Gwiazdon's decades-long career followed an impressive trajectory from proverbial "ski bum" to local business leader.

"It's just a great Flathead business story," said Joe Unterreiner, who worked with Gwiazdon at the Kalispell Chamber of Commerce.
Gwiazdon arrived in the valley approximately half a century ago as a seasonal worker for Glacier National Park. In 1967, he took a job at a ski rental company on Big Mountain, where he developed the chops that would help him lead Sportsman and Ski Haus decades later.
He started working at Sportsman and Ski Haus in 1973, running the ski department. He became a partner in the company in 1981 and eventually went on to guide the business through changes that came to define the brand.
In the late 1970s, Sportsman and Ski Haus expanded to its second location in Whitefish, followed by acquisitions of stores in Idaho and Washington. By the time the company had grown to include hundreds of employees in 2000, Gwiazdon led Sportsman's transition into an employee-owned model. Unterreiner credited the unique decision to incorporate employee stockholders as one of the keys to the business' growth, calling it a "real innovation."
"Part of their success was that employee ownership," Unterreiner said.
He added that Gwiazdon displayed a special insight into doing business that allowed him to steer the sporting goods company and the nearby business community for so many years. Gwiazdon seemed to have a knack for spotting trends and getting ahead of the curve, whether that was a new ski design or a company-wide policy.
"He really was very special in his ability," Unterreiner observed. "There was so much growth under his leadership…he succeeded in finding the formula for a sporting goods operation like he had, to not just compete with regional and national retailers, but to really thrive."
Gwiazdon is remembered, too, for his community spirit.
"He really had the unique perspective of understanding Whitefish, Kalispell and the whole Flathead Valley," Unterreiner said.
A skier, hunter, golfer and all-around outdoorsman, Gwiazdon had a special appreciation for the Flathead Valley and all its opportunities. "He was just a fun guy who really enjoyed…everything about the Flathead," Unterreiner said.
And he showed his appreciation through service and charity that spanned the many decades he lived in Whitefish.
"In addition to all the good things he did business-wise, he always made sure Sportsman's was involved in the community," noted Kevin Gartland, Executive Director of the Whitefish Chamber of Commerce.
"The list of groups Sportsman's gave money and equipment to is as long as your arm."
That list included the Big Mountain Ski Team in the 1970s, Smith Fields and the Whitefish Trail.
"He definitely will be missed," Gartland added. "He was a great guy and it's a terrible loss."
A celebration of Gwiazdon's life is planned for a later date. Darlington Cremation and Burial Service is caring for the family.
---