Flathead, C-Falls students excel at Model UN conference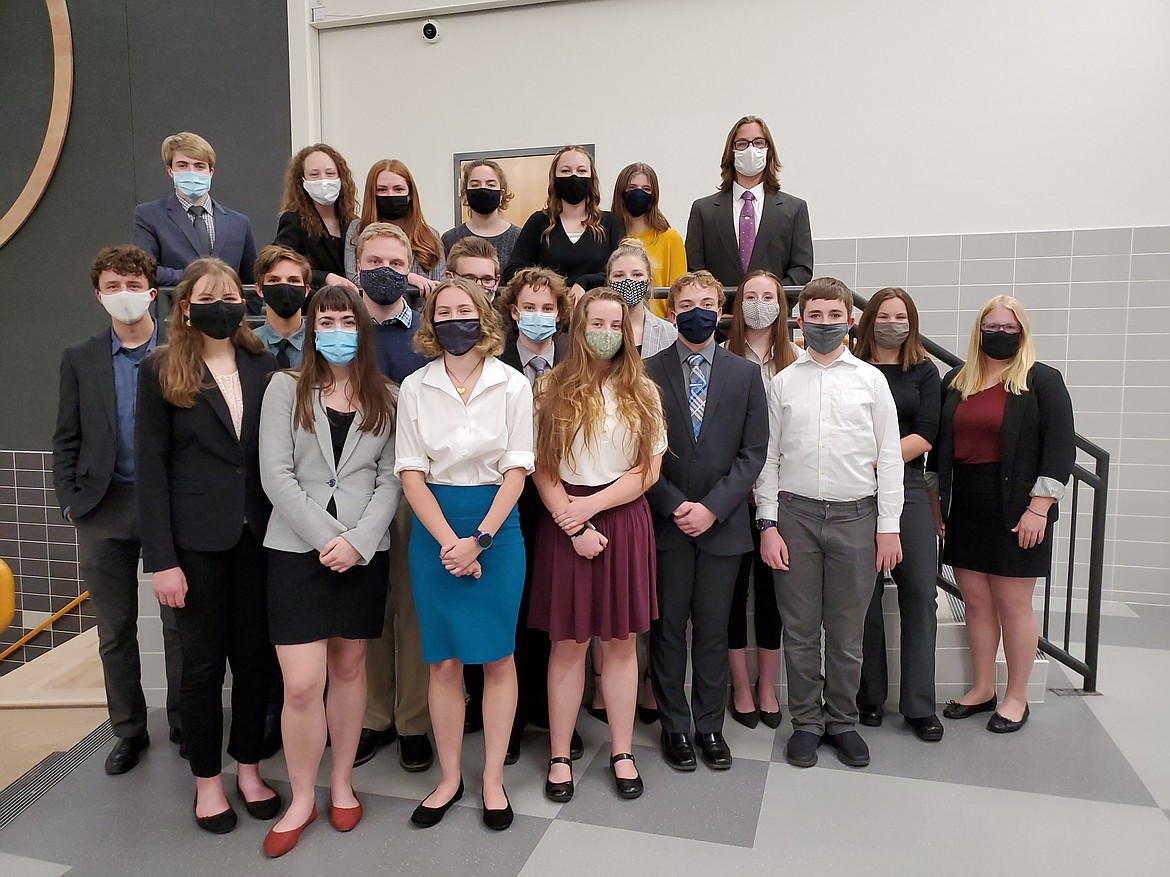 Flathead High School received several awards for its performance at the Model United Nations conference on Nov. 13. The annual conference, organized by the University of Montana, was held virtually this year due to COVID-19. (Photo provided by Flathead High School)
by
HILARY MATHESON
Daily Inter Lake
|
November 18, 2020 12:00 AM
As the United Nations commemorates 75 years, the University of Montana held the 55th annual Model United Nations high school conference on Nov. 13.
In the wake of a global pandemic, the mock United Nations conference went virtual this year, where student delegates went online to debate, negotiate caucus and vote on resolutions to address world problems.
Students were also able to hear keynote speaker Dr. Marshall Bloom present: "Pandemic Viruses: Global Citizens." Bloom is chief of the biology of vector-borne viruses section in the Laboratory of Virology and is the associate director for scientific management at Rocky Mountain Laboratories in Hamilton.
Flathead and Columbia Falls high schools were among eight schools from around Montana participating.
"Model UN gives students a tremendous opportunity to learn diplomatic skills and cooperate on critical issues facing our world," said Flathead High School Model United Nations adviser Sean O'Donnell.
Top honors went to the Flathead team that represented Belgium, ranking in the top 5% of countries represented at the conference. Accolades also went to Flathead for its overall performance, ranking in the top 10% of participating schools with large delegations.
Columbia Falls High School tied with Big Sky in ranking among the top 20% of schools with small delegations.
Flathead's Eva Bruce made the cut of the top five seniors competing at the conference and each will be offered a $1,000 scholarship to attend the University of Montana. Bruce was among the top 1 to 2% of delegates serving on the Model United Nations Security Council. Her position paper was also ranked in the top 1 to 2%.
Other competitors whose position papers also placed in the top 1 to 2% included: Sophia Dykhuizen, Scout McMahon, Emily Mitchell and Rylin Wilde, all of Flathead.
Another top competitor was Jillian Wynne of Flathead, whose work on the General Assembly Second Committee earned her a place in the top 1 to 2% of participating delegates.
During the conference, student delegates served on one of the following: General Assembly First Committee (disarmament and security issues), General Assembly Second Committee (economic and financial issues), Environment Assembly, Human Settlements Programme, and Security Council.
To be a successful delegate, students study the country they represent — its geography and culture, political system, leadership, political issues, economic and social conditions, foreign affairs and allies.
Following is a list of top local students and the countries they represented in addition to country awards.
Delegate Awards
General Assembly First Committee
— Distinguished Delegates (top 10%)
Scout McMahon of Flathead, China
Caleb Rhubottom of Flathead, Ethiopia
Raphe Salmon of Columbia Falls, Russia
General Assembly Second Committee
— Outstanding Delegates (top 1-2%)
Jillian Wynne of Flathead, Belgium
— Distinguished Delegates (top 10%)
Anna Christensen of Flathead, China
Jack Gannon of Flathead, Bosnia and Herzegovina
— Honorable Delegates (top 20%)
Rylee Houser of Flathead, Colombia
Aiden Judge of Columbia Falls, Russia
Environment Assembly
— Distinguished Delegates (top 10%)
Eddie Chisholm of Columbia Falls, Russia
Leah Spangler of Flathead, Belgium
— Honorable Delegates (top 20%)
Emma Cooley of Columbia Falls, Cambodia
Human Settlements Programme
— Honorable Delegates (top 20%)
Sophia Dykhuizen of Flathead, China
Calie Jo Johnson of Columbia Falls, Russia
Security Council
— Outstanding Delegate (top 1-2%)
Eva Bruce of Flathead, China
— Honorable Delegate (Top 20%)
Braden Anderson of Flathead, Belgium
Position Paper Awards
— Outstanding position papers (top 1-2%)
Eva Bruce Bruce of Flathead, China
Sophia Dykhuizen of Flathead, China
Scout McMahon of Flathead, China
Emily Mitchell of Flathead, Lebanon
Rylin Wilde of Flathead, China
— Distinguished Position Papers (top 10%)
Anna Christensen of Flathead, China
James Davidson of Flathead, Colombia
Calie Jo Johnson of Columbia Falls, Russia
Emmerson Kaseman of Flathead, Ethiopia
Olive Lyngholm of Flathead, Bosnia and Herzegovina
Jillian Wynne of Flathead, Belgium
— Honorable Position Papers (top 20%)
Eddie Chisholm of Columbia Falls, Russia
Tre Finley of Columbia Falls, Russia
Jack Gannon of Flathead, Bosnia and Herzegovina
Caden Masa of Flathead, Ethiopia
Isaac Sandler of Flathead, Colombia
Top five seniors
Eva Bruce of Flathead, China
Top 25 seniors
Braden Anderson of Flathead, Belgium
Anna Christensen of Flathead, China
Ben Davidson of Flathead, Colombia
Tre Finley of Columbia Falls, Russia
Calie Jo Johnson of Columbia Falls, Russia
Country Awards
— Outstanding Country Delegations (top 5% of countries represented)
Flathead High School team representing Belgium
— Distinguished Country Delegations (top 10% of countries represented)
Flathead High School team representing China
Columbia Falls High School team representing Russia
— Honorable Country Delegations (top 20% of countries represented)
Flathead High School team representing Ethiopia
Reporter Hilary Matheson may be reached at 748-4431 or by email at hmatheson@dailyinterlake.com
Recent Headlines
---