Grocery store rampage reportedly fueled by meth
by
SCOTT SHINDLEDECKER
Daily Inter Lake
|
November 19, 2020 1:00 PM
A Columbia Falls man accused of driving through a grocery store and running naked in an assisted-living home last week allegedly told investigators he consumed a large amount of methamphetamine before he was arrested.
Alan Roger Connor, Jr., 50, is charged with a pair of felonies, criminal endangerment and criminal mischief. He is being held in the Flathead County Detention Center on $150,000 bail.
Connor is set to be arraigned in District Court at 1:30 p.m. Thursday, Dec. 3.
According to information from Columbia Falls Police Chief Clint Peters, officers from his department and the Flathead County Sheriff's Office were called to Super 1 Foods at about 5:50 p.m. Nov. 12 when a man drove a 1995 Chevy Lumina through the front doors and throughout the business.
The driver, later identified as Connor, Jr., fled the scene in his vehicle before officers arrived, but a short time later officers found the Lumina located across the highway where it had apparently crashed into a trailer, disabling the vehicle. The driver fled the scene of the second crash on foot.
Minutes later, the department received a call about a naked man running down the hallway of a nearby retirement home that was near the abandoned Lumina. Officers found the naked man one block west of the retirement home and arrested him. He was taken to North Valley Hospital due to concerns he was outside in poor weather and he appeared to be intoxicated from illegal drugs.
According to charging documents, a woman who lived in the assisted-living home called 911 and said Connor Jr. was her boyfriend and he had come to her residence. She said he appeared to be under the influence of drugs and he told her he had just driven through a grocery store before removing his clothing and leaving.
After Connor Jr. was released from the hospital, a Columbia Falls Police detective spoke with him and he allegedly admitted to consuming a large amount of meth. She also said he told her he reported hallucinating and believed people were trying to kill or hurt him, which led him to drive through the grocery so he could buy cigarettes for his girlfriend.
When the detective spoke with a Super 1 Foods employee, she told him a preliminary estimate of the damaged store was about $100,000.
Scott Shindledecker may be reached at 406-758-4441 or sshindledecker@dailyinterlake.com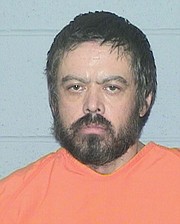 ---