Acutech: Metal manufacturer partners with national door brand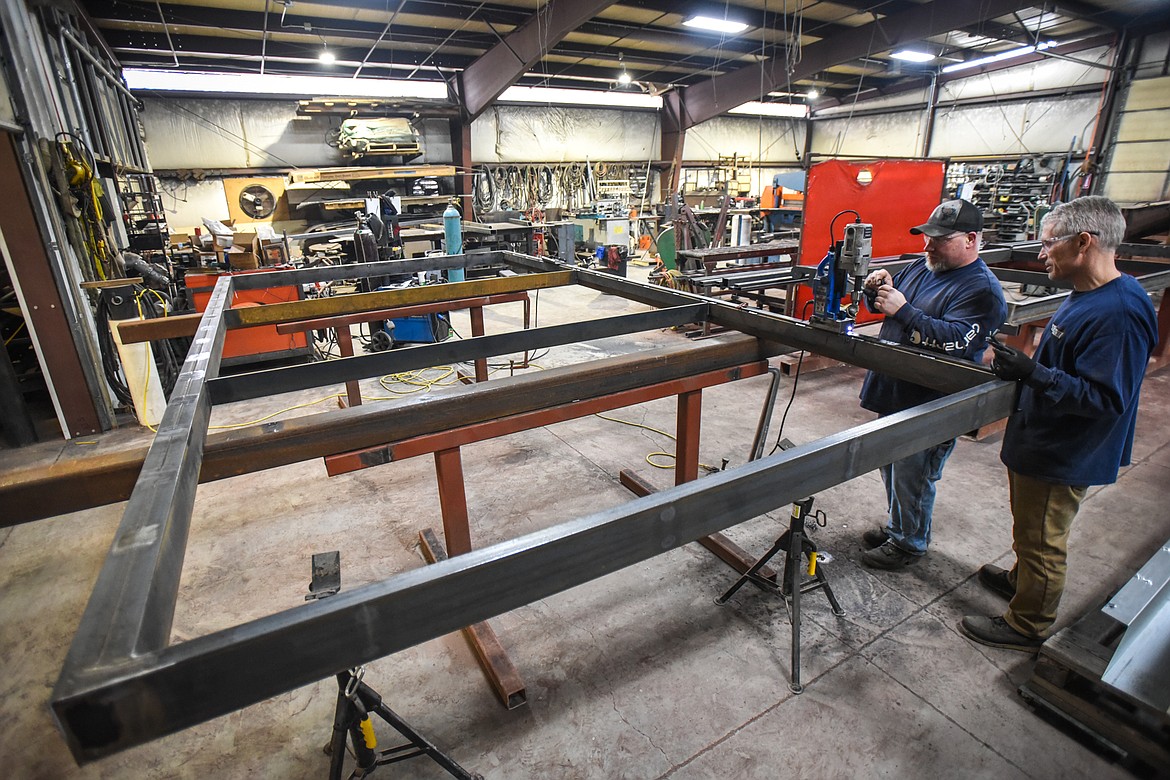 Two workers build a door frame at Acutech Metalworks on Wednesday, Nov. 18. (Casey Kreider/Daily Inter Lake)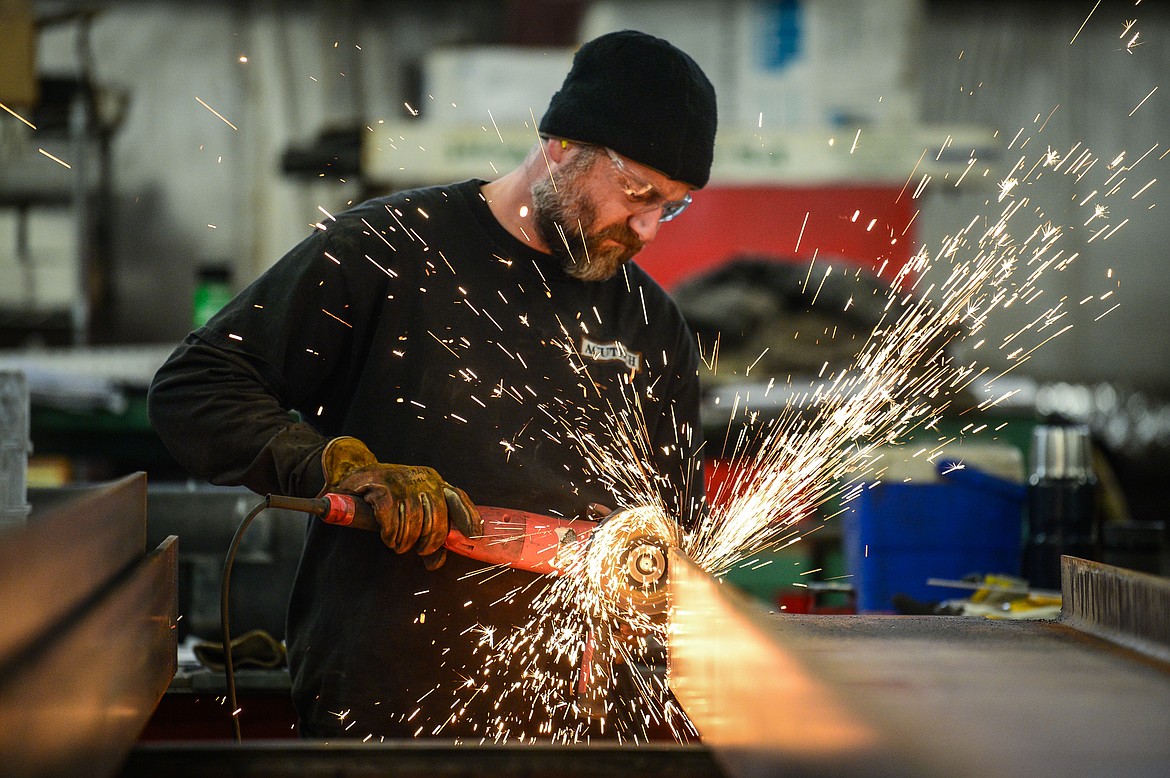 A worker grinds a steel beam at a workstation at Acutech Metalworks on Wednesday, Nov. 18. (Casey Kreider/Daily Inter Lake)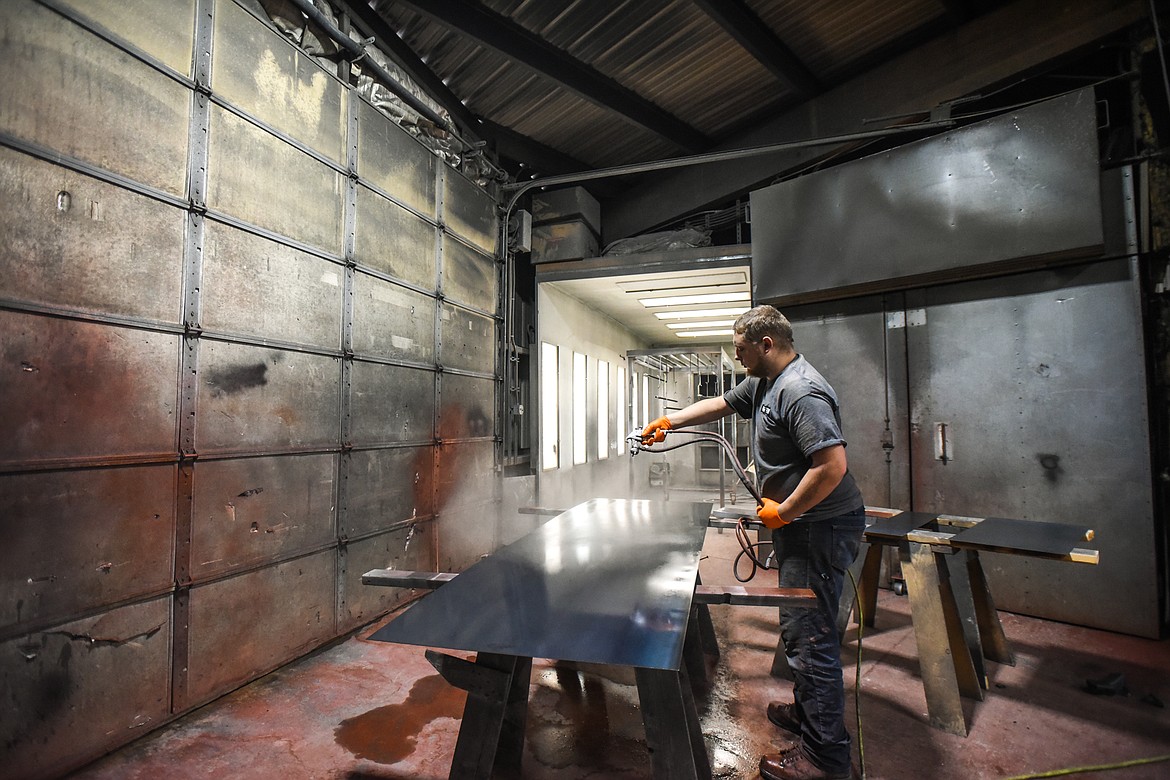 A worker applies clear coat to pieces of mild steel at Acutech Metalworks on Wednesday, Nov. 18. (Casey Kreider/Daily Inter Lake)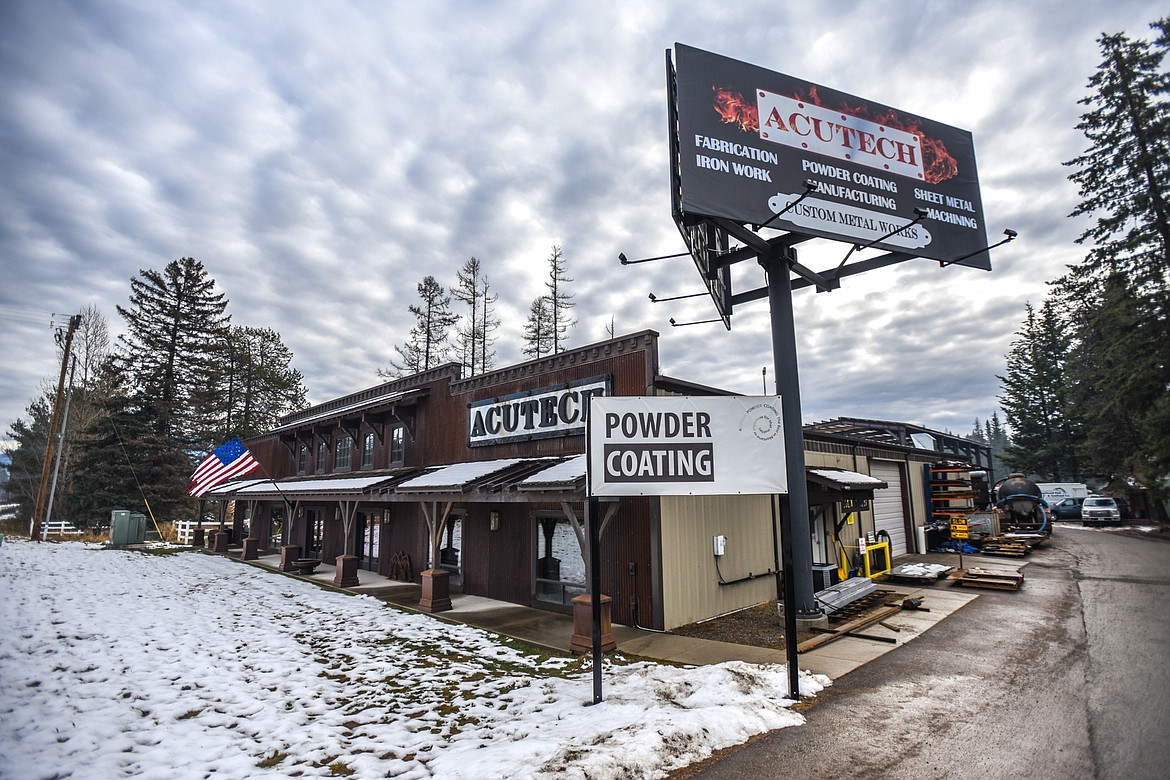 Acutech Metalworks on Highway 40 between Whitefisha and Columbia Falls on Wednesday, Nov. 18. (Casey Kreider/Daily Inter Lake)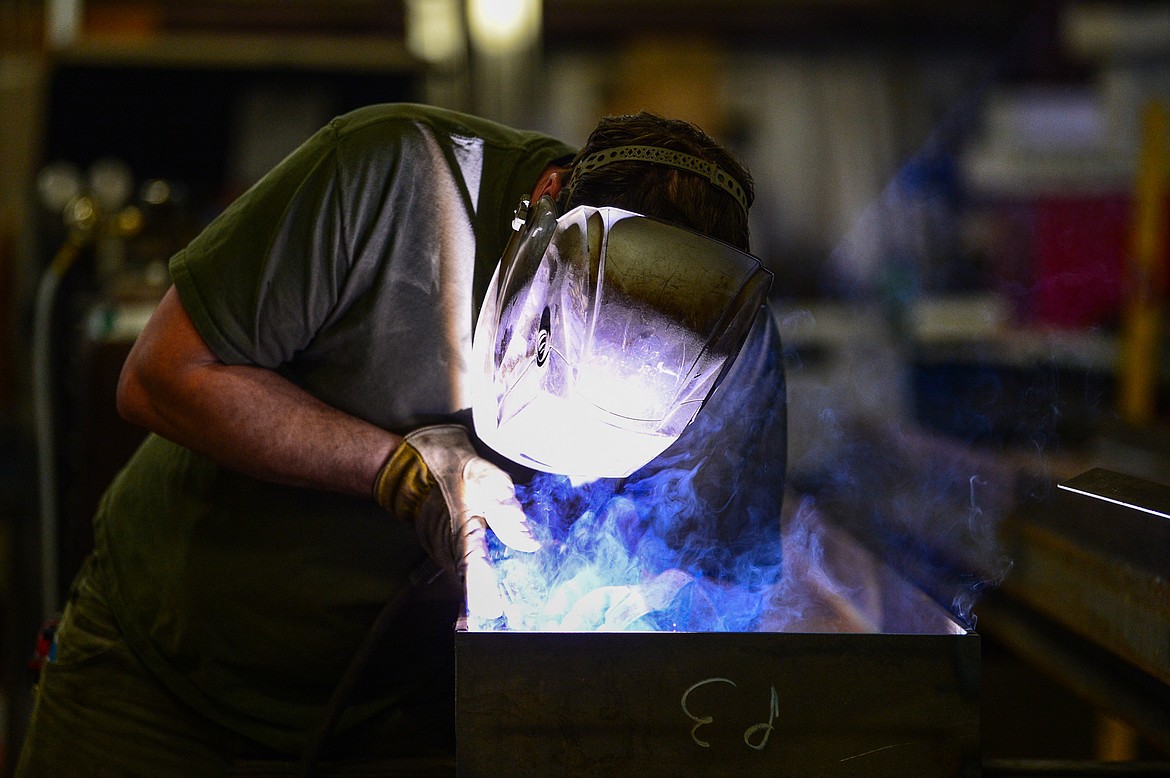 A welder works at a workstation at Acutech Metalworks on Wednesday, Nov. 18. (Casey Kreider/Daily Inter Lake)
Previous
Next
by
BRET ANNE SERBIN
Daily Inter Lake
|
November 22, 2020 12:00 AM
Acutech Metalworks is opening doors across Montana — big ones.
In July, the Flathead Valley fabrication company became the statewide partner for Powerlift hydraulic doors across Montana and Idaho, adding a national brand to the local business' repertoire of high-end metal products.
Since 2012, owner Dean Grommet has been creating structural steel, custom metal artwork, door frames and much more out of the Acutech manufacturing center on Montana 40, midway between Columbia Falls and Whitefish.
"We make everything that's metal," Grommet said.
The company came together when Glacier Jet Technologies out of Evergreen merged with Grommet's enterprise, Creations Studio. Now, Acutech boasts one of the largest metal-making capacities of any manufacturer in the valley. Grommet said Acutech usually has 40 projects under contract at a time, between commercial and residential clients.
It was the impressive breadth of Acutech's work that Grommet said first attracted Powerlift to choose Acutech as its exclusive partner in Montana and Idaho.
"Powerlift saw our work and our scope," Grommet said. "We both knew immediately that this was a perfect fit."
Headquartered in Minnesota, Powerlift is the oldest hydraulic door manufacturer in the country. For 28 years, the company has built massive, maneuverable doors for everything from large airplane hangars and barns to personal garages and food trucks.
With its largest door coming in at 120 feet long, Powerlift's signature products are simplified, aesthetically pleasing doors that can be used to accommodate large vehicles and equipment such as airplanes, combines and recreational vehicles.
The doors also are increasingly being incorporated as a clever architectural feature in residential properties, like a local home that uses a Powerlift door installed by Acutech to create an indoor-outdoor living space with direct access to Whitefish Lake.
And as businesses get creative in response to the novel coronavirus, the Acutech leadership also expects Powerlift doors to become an even more popular option for creating adjustable outdoor spaces at restaurants and other gathering places.
THE OWNER of Powerlift visited Acutech's site in July, and like Acutech's precision metal products, the two companies were quickly welded together.
Not only did Acutech have the size and manpower capabilities to take on the partnership, but Grommet's company also impressed the Minnesota visitors with its body of high-quality work and experience with similar products.
In particular, Acutech has made a name for itself installing Olson Kundig doors, a high-end residential feature developed by a designer in Seattle. Grommet made the comparison, "buying an Olson Kundig home is kind of like buying a Gucci handbag."
And Acutech has been installing those coveted features for years, in homes as nearby as Whitefish to locales as far-flung as Shanghai, China.

With that experience under its belt, Acutech seemed like an ideal choice to carry out Powerlift's operations in the Big Sky state and beyond.
In the first few months, it's been a big draw for the local company.
"As soon as we got it up and running, we got busy with it," Grommet said.
Powerlift has increased demand at Acutech, where business had already picked up due to the impacts of the COVID-19 pandemic. Acutech manufactures every part of a home from structural steel to metal finishes, so the recent surge in home construction had already sent Acutech's welders and fabricators into a frenzy.
But instead of creating a strain on the workforce, Grommet said the new partnership with Powerlift has actually streamlined Acutech's manufacturing.
"It's an amazing product. It's very simple," Grommet said of the Powerlift model.
Since the doors are operated with hydraulics, they only require two moving parts for the hydraulic system, compared to about 300 moving parts on a more traditional-style garage door with wheels, cables and coils.
Grommet said the Acutech team can go from discussing ideas to printing blueprints for Powerlift doors in only 15 minutes, since all of the Powerlift products are standardized with a few customizable features. On average, Grommet said it only takes two to three weeks from the time Acutech receives the dimensions for a door to completing the installation.
Despite the simplicity of the new product, Grommet's staff is keeping plenty busy, and Acutech is in the process of adding more space to meet growing demands.
Acutech operates on a 7-acre property on the south side of Montana 40, and construction is underway to build an additional wing in the back of the manufacturing center. Grommet expects the new space to be operational in the next few months. Once it's completed, it will bring the facility's square footage up to a total of 32,000 square feet.
And once the addition is ready for use, Grommet anticipated it will have a major impact on improving efficiency at Acutech. After all, he pointed out, the new facility and the existing one will be joined by a state-of-the-art, 70-foot Powerlift door.
Reporter Bret Anne Serbin may be reached at (406)-758-4459 or bserbin@dailyinterlake.com.
---