Orchestrator of learning: Lifelong musician named Montana's Outstanding Music Educator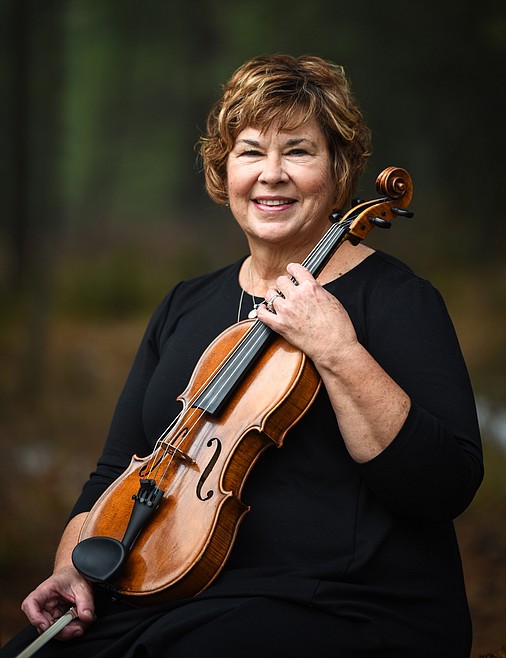 Jenanne Solberg at her residence in Whitefish on Wednesday, Nov. 18. The Glacier Symphony principal violist retired as the Whitefish School District orchestra director in August. (Casey Kreider/Daily Inter Lake)
by
HILARY MATHESON
Daily Inter Lake
|
November 23, 2020 12:00 AM
Jenanne Solberg of Whitefish started playing piano at age 5 to keep occupied, at the urging of her teachers.
The experience, however, did much more. It revealed her aptitude for music, which was nurtured throughout her education and set her on a path to teach others.
Solberg, who retired as the Whitefish middle and high school orchestra director in August, recalled how as a 5-year-old, her school thought she was academically advanced enough to skip to third grade. Her parents decided to enroll her in second grade because she was young and hadn't yet turned 6.
"The people at school said, 'Please find something else to keep her occupied, because she's driving us crazy," Solberg said with a laugh. It was suggested her parents have her take lessons.
"Next thing you know we had a piano," Solberg said.
Living in Missoula at the time, she became a pupil of University of Montana Professor J. George Hummel, who was her piano teacher all the way through her first year of graduate school.
In middle school Solberg wanted to try playing other instruments.
"Playing piano can be a very solitary thing. You go practice by yourself, have piano lessons by yourself and then have a recital by yourself," Solberg said.
She tried playing percussion in school, but her sights were set on playing violin and so she began volunteering to be the piano accompanist for her violin-playing friends.
"Secretly, I was observing how they played and taking notes," Solberg said. She was ecstatic when her orchestra teacher loaned her a violin.
"I went home down to the basement and figured that thing out. The next day I was playing violin in the orchestra," Solberg said, and in eighth grade her parents bought her the violin she still has today.
It was in graduate school that she picked up the instrument she mainly plays today, the viola. She is currently the principal violist in the Glacier Symphony. Back then, it was a last-minute request that a violist was needed for a symphony performance that got her playing.
Piano, however, remained a staple in her musical repertoire, and Solberg went on to earn her bachelor's and master's degrees in piano performance.
BY 1990, Solberg had been living in Billings and teaching private piano lessons when she was approached by a high school orchestra director, who asked her if she would be interested in starting an orchestra program at Billings Central Catholic High School. Before then, the thought of being a school teacher never crossed her mind. What bolstered her confidence to take on the job and earn her teaching certificate partly stemmed from financial necessity, as she was raising three young children.
"But I had a passion for music and I also knew these kids who wanted to go to that school and have a program," Solberg said.
The orchestra program expanded to middle school and her job grew to include pep band, jazz band and choir. She also continued teaching private lessons. Eventually, she felt it was time to take a step back.
"I said 'I'm going to make a big shift and calm everything down,'"Solberg recalled, pausing to smile. "That didn't really turn out to be true."
In 2002, she took a job at Whitefish School District teaching fifth- and sixth-grade general music and seventh- and eighth-grade choir. Then she saw a need to start a strings program, which grew into a full orchestra.
"It was because North Valley Music School was three blocks away and there were a ton of little kids down there with Suzuki [method] lessons and the school had no orchestra. I thought, 'where are these kids going to go when they get to grade school?'" she said.
After talking to administrators, she secured grant funding to purchase 30 violins.
"At the end of fifth grade now they have a way, a knowledge base, to choose what they want to do with their music because in Whitefish, in sixth grade, everybody does band or orchestra. They know what it's like to play a wind instrument [the recorder], they know what it's like to play percussion and they know what it's like to play a string instrument," she said.
SOLBERG STROVE to create a nurturing environment for students no matter what their ability was because music classes were a time for students to connect through the shared momentary experiences of making music with only themselves as the audience.
"It is not competitive. I mean it can be. You do music festival and stuff, but you are striving to be your own best and when the group goes and plays at festival, the group is striving to be its own best," Solberg said.
A former middle schooler, who is now a grown adult, summed it up best in a poster he made that Solberg left hanging up in her classroom after retiring.
"Murphy Wick in the sixth grade, he made me a poster that said 'Miss Solberg we don't settle for pretty good. We settle for terrific.'"
Solberg also used humor and fun to challenge students' perceptions that classical music was a stuffy subject, or the composers, whose portraits hung in her classroom, and whom she jokingly refers to as "her dead boyfriends," were not dull people relegated to the past, but set the tone for modern music.
What Solberg misses most are the students. Where teachers typically have a student for one year, Solberg taught numerous students from fifth- through 12th-grade.
"I've watched them grow up," she said.
Recently, Solberg was named Montana's Outstanding Music Educator by the National Federation of State High School Associations for her contributions to the profession.
Whitefish Middle School band teacher Mark McCrady worked with Solberg when he also taught high school band before the position was divided into two this year.
"Jenanne has touched countless lives through her wonderful, motherly and fun-loving approach to teaching orchestra, choir and general music. I was always impressed with the level of quality and preparation displayed by her students on stage. She always put her students first, making sure they were having fun while also pursuing excellence," McCrady said. "Jenanne is a true professional, a fierce advocate for music and arts education, and a leader among her Montana orchestra teacher colleagues.
Reporter Hilary Matheson may be reached at 758-4431 or by email at hmatheson@dailyinterlake.com.
Recent Headlines
---