Lawsuit expanded against Whitefish Care and Rehab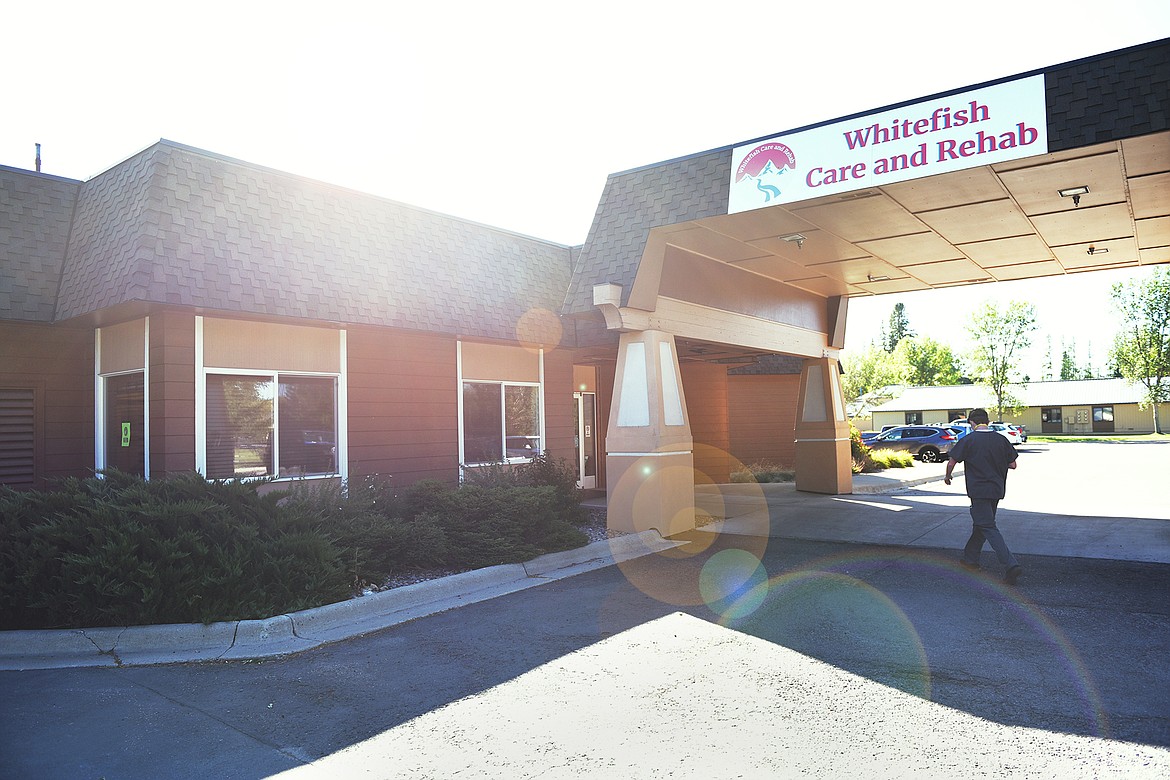 Whitefish Care & Rehabilitation Center in Whitefish on Thursday, Sept. 10. (Casey Kreider/Daily Inter Lake)
by
KIANNA GARDNER
Daily Inter Lake
|
November 24, 2020 3:10 PM
A lawsuit that recently was brought against Whitefish Care and Rehabilitation Center, alleging the long-term care facility failed to protect its residents from a deadly COVID-19 outbreak, was amended last week to include additional plaintiffs, defendants, allegations and causes of action.
The original complaint was filed in Flathead County District Court on Oct. 19 and included plaintiffs Alton Johnson, Berton Pew and Stanley Webber, whose estates are being represented by family members. That list has since grown to include the estates of Lonny Sanford, Verda Johnson, Adrian Kautman, Alison DeSmyter and individuals Daniel Bell, Debra Tatum and Joan Wilkins.
The plaintiffs were all former residents of Whitefish Care when the facility experienced an outbreak of COVID-19 that began in early August and lingered through most of September. All of those listed in the lawsuit allegedly experienced similar bouts of abuse and neglect while under the facility's care, which caused each individual's health to decline significantly.
During the outbreak, surveyors from the Montana Department of Public Health and Human Services also found Whitefish Care was not in compliance with COVID-19 recommendations. The survey, performed on behalf of the Centers for Medicare and Medicaid (CMS), discovered patients who had tested positive for COVID-19 were being roomed with those who tested negative. Staff weren't properly donning and doffing personal protective gear, and more. The inspection resulted in an "immediate jeopardy" rating, which is the most serious rating the federal government can assign to CMS-certified facilities that are subject to regular inspections.
The state ultimately determined Whitefish Care "put the health and lives of residents in jeopardy after failing to protect them from an outbreak of the novel coronavirus that has killed 13 residents and infected 39 others." Seven of those 13 deceased residents are now listed as posthumous plaintiffs in the revised case.
Similar to the 18-page original suit, the amended complaint alleges the facility and other defendants "failed to establish and maintain a basic and reasonable infection prevention and control program, in response to the pandemic, designed to prove and maintain a safe and sanitary environment for this at-risk population of residents."
But the revised 39-page complaint also asserts the facility and those at the helm of its operations failed to provide a safe environment for residents, maintain adequate staffing or provide "adequate and basic personal care" not only during the pandemic, but prior to it. These three allegations were added to others from the original suit that include failure to inform residents' representatives of the deteriorating conditions inside the facility and attempting to conceal neglect behind COVID-19 restrictions.
The families and individuals in the case, who are being represented by both McGarvey Law of Kalispell and Heenan and Cook of Billings, are now suing on 11 counts, up from seven outlined in the original lawsuit.
The counts include negligent care, negligent management, negligence per se, punitive damages, wrongful death, violation of plaintiff's right to dignity, violation of Montana Consumer Protection Act, breach of contract and unjust enrichment, conspiracy and common enterprise.
THE ALLEGATIONS are also now pitted against a much longer list of defendants, which includes various individuals and entities found to be associated with Whitefish Care and Rehab.
The lawsuit states the facility is an assumed business name under which Sweetwater Whitefish OPCO owns and operates a long-term care facility and/or skilled nursing facility. But according to the lawsuit, Sweetwater Whitefish OPCO is attached to, or operated by, a number of different for-profit entities, many of which are headquartered in other states but are similarly named.
For example, Sweetwater Whitefish OPCO is also known as Sweetwater Care MT Opco, which is a for-profit corporation based in Nevada that actually owns other long-term care facilities in Great Falls, Butte and Dillon, all of which operate under different Sweetwater aliases.
As one other example, documents show a separate corporation named Sweetwater Investment Management, which does business as Sweetwater Private Equity, is based in Delaware. But the entity lists its "principal place of business" as being at an address located in Encinitas, California, which is the same address Sweetwater Whitefish OPCO has listed as its principal business office.
The lawsuit alleges all of these entities share common and/or overlapping identities, ownership, financial assets, business assets, management structure, members officers, and more. The complaint also notes these companies are probably attached to other stakeholders that "have yet to be discovered," though it is currently believed the numerous Sweetwater limited liability companies operate under the widespread umbrella of Sweetwater Private Equity.
James Gamett of Nevada is also believed to be the owner of the Sweetwater Care Opco and managing partner of Sweetwater Investment Management, according to the complaint. The lawsuit alleges he "has ownership interests, financial interests, and/or management positions in numerous other Sweetwater entities," for the purpose of "owning, managing, operating and channeling income from this and other similar care facilities across the nation."
Gamett is listed as a defendant in the suit, along with associated managers Aaron Chesley, Reid Crickmore and Kyle Shields, who are alleged to be profiting inappropriately off facilities like Whitefish Care.
These strange company and personnel connections gave rise to several of the amended lawsuit's new counts, including alter ego and conspiracy.
Under conspiracy, the suit alleges "acting in concert, the Defendants conspired to unjustly enrich themselves by drastically reducing funding, staffing, and financial investment at the Sweetwater facility, and/or failing to take corrective actions when the lack of reasonable care and conditions at the facility became evident."
It further alleges insufficient income from the operation of Whitefish Care was directed toward the "reasonable and proper operation of the facility, and was instead channeled, directly or indirectly through other shell entities, owners or shareholders."
Then under alter ego, the suit alleges all the named entities are one and the same. It states defendants operate the companies and facilities with "common ownership, shareholders, officers, directors and managers, common officers, centralized accounting, payment of wage by one entity to another entity's employees" and more.
A summons was filed in Flathead County District Court on Nov. 20, allowing the defendants 21 days to respond. As of Tuesday afternoon, no court documents indicated a response has been received and no court date has been set.
Reporter Kianna Gardner can be reached at 758-4407 or kgardner@dailyinterlake.com
---