Pandemic prompts changes to holiday shopping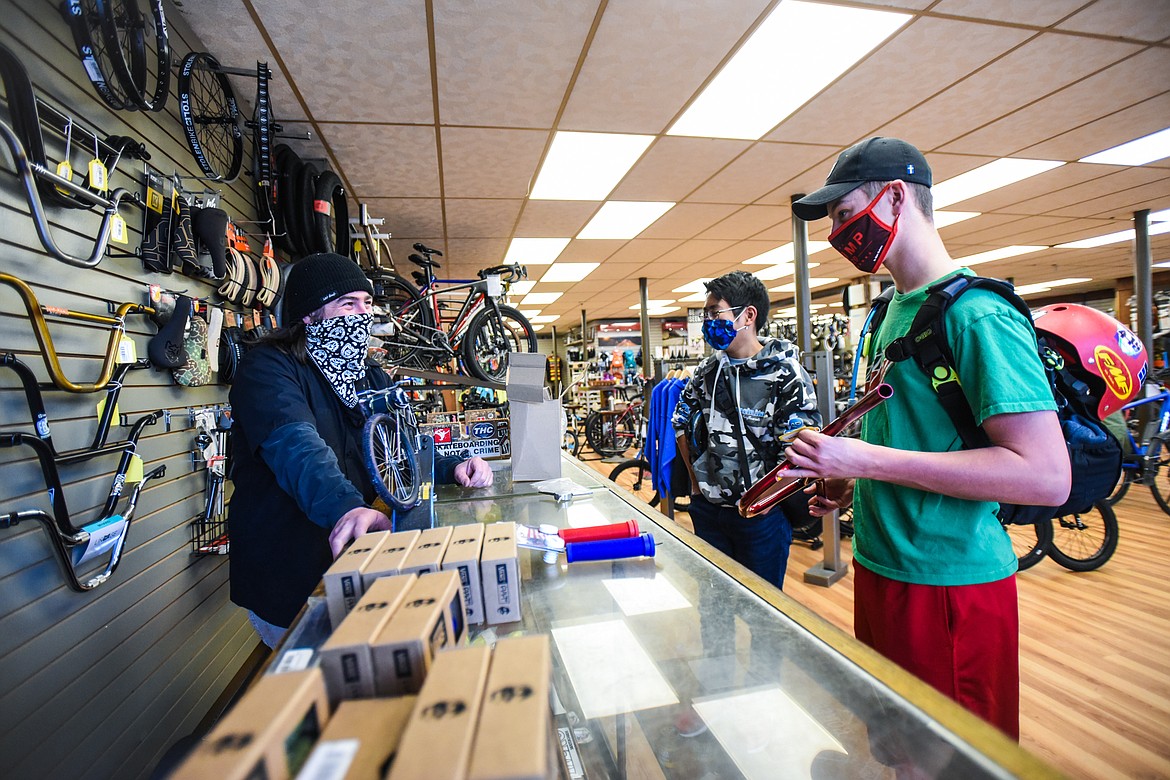 Julian St. Marie, right, checks out a set of handlebars with Vincent Lam, center, and sales associate Josh Favrow, left, at Wheaton's Cycle in Kalispell on Wednesday, Nov. 18. (Casey Kreider/Daily Inter Lake)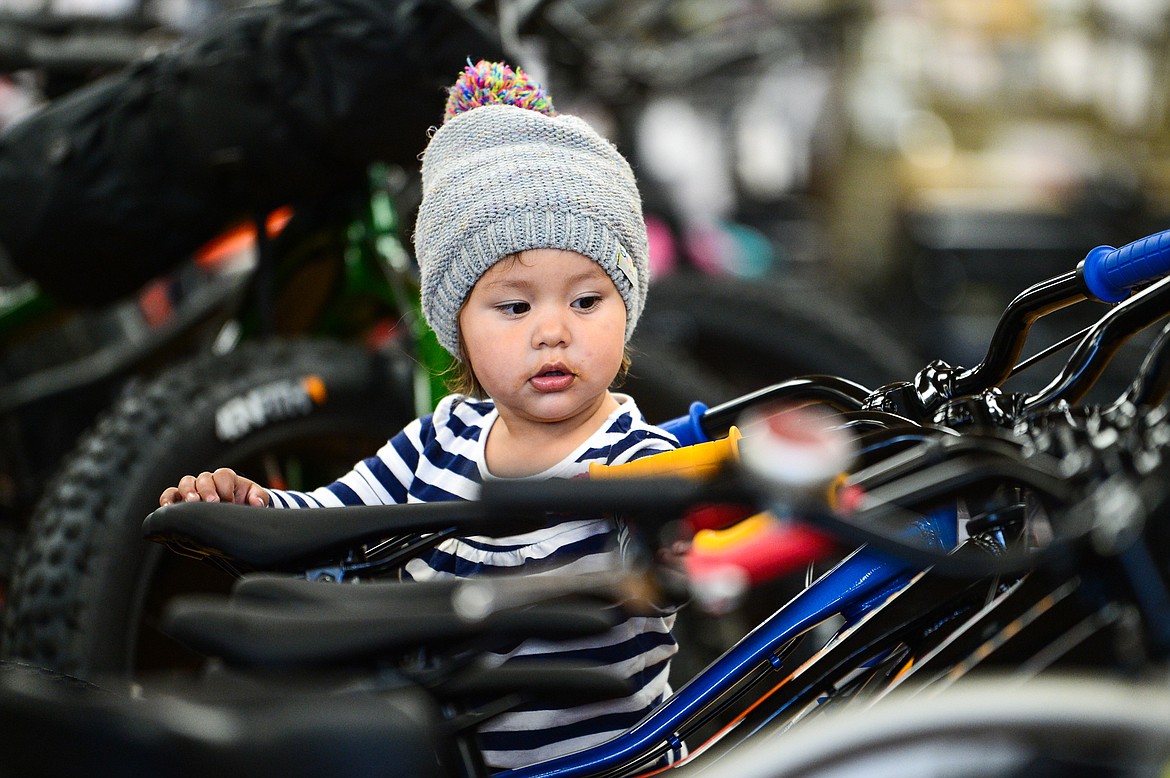 Twenty-month-old Naddie Landry checks out a selection of kids bikes with her father Drew Landry, of East Glacier, at Wheaton's Cycle in Kalispell on Wednesday, Oct. 18. (Casey Kreider/Daily Inter Lake)
Previous
Next
by
BRET ANNE SERBIN
Daily Inter Lake
|
November 24, 2020 12:00 AM
Black Friday probably won't be much of a big deal this year.
Because of rising COVID-19 cases, most local retailers don't expect to see their usual frenzy at the events that traditionally kick off the holiday shopping season.
In a seemingly paradoxical twist, national chain stores all have made adjustments to avoid attracting large crowds to their shops on Black Friday, the day after Thanksgiving. Most bigger retailers are offering Black Friday deals for multiple days or even weeks throughout November and December.
The goal is to encourage more online shopping, instead of drawing customers into stores, to try to keep shoppers and workers safe from the novel coronavirus.
Target rolled out its "Black Friday Now" deals on Nov. 1, with week-long bargains expected to be put in place up until Christmas Day.
Best Buy currently offers deals on various items that can be viewed on their website, along with previews of upcoming offers that aren't available yet. JCPenney is opting for a narrower time-frame, extending its window for Black Friday shopping — available online — from Nov. 20 through Nov. 28.
The stores hope these alternatives to traditional Black Friday shopping will spread out the influx of customers, instead of encouraging a deluge of deal-seekers all on a single day.
Plus, as guidelines around stopping the spread of the virus remain fluid — Gov. Steve Bullock's newest set of statewide restrictions went into effect last Friday — stores are doing their best to be on the safe side of evolving mandates so they can stay open throughout the holiday season.
Target, for instance, has added a feature that allows customers to look online to see if there is a line out the door and, if so, reserve a spot without waiting in person. This year, Best Buy expects new gaming consoles to be the biggest-ticket item for the holiday season, so those products will only be available for sale online.
At JCPenney, a staff member will be present at the entrance to monitor the flow of traffic and offer masks and hand sanitizer.
ALTHOUGH THESE adjustments are sure to create a change of pace on Friday, Nov. 27, local small businesses expect to see far more substantial changes during the upcoming holiday shopping season.
Small Business Saturday has been canceled this year after celebrating its 10th anniversary in 2019. For the past decade, American Express sponsored an effort urging shoppers to patronize local small businesses on the Saturday following Black Friday.
Small Business Saturday is a no-go this year, along with a few other events that normally drive traffic to local businesses, such as The Art Walk and Holiday Stroll in Kalispell, and Ladies' Night and the Whitefish Stroll in Whitefish.
But the cancelation of Small Business Saturday doesn't seem to be a major disappointment to the owners of various local businesses. Some said Small Business Saturday only provides a modest uptick in sales each year, while others were actually glad for the opportunity to avoid dealing with a crowd of customers during a pandemic. Most explained the cancelation is just another bump in a rough road that has already stretched for months.

Wheaton's Cycle, for instance, has stayed open since the onset of the pandemic under the designation of an essential business. Throughout that time, the bike shop has weathered global bike shortages and a time period when only three people were allowed in the store at once.
After facing so many challenges, owner Hans Axelsen said he is more worried about customers catching the virus in his store than a dip in sales.
"As far as retailers go, we don't want anybody to be in contact with COVID as much as we possibly can," Axelsen said. "We have an older clientele. We don't want to be spreading it."
Based on the pace of sales these days, he doesn't expect that to be a problem. "I wouldn't be worried that we would get overrun with people," he predicted.
Jandy Cox at Rocky Mountain Outfitter has a similar outlook.
"We have been navigating COVID now for six months," he pointed out.
Based on that experience, Cox doesn't expect Small Business Saturday or its cancelation to have much of an impact one way or the other. "In some ways, it's business as usual," Cox added.
IN AN attempt to make up for the absence of Small Business Saturday, the Kalispell Chamber of Commerce last week debuted a new initiative aimed at supporting local businesses.
The campaign, called "Get Vocal about Local," features interactive signs placed at different Kalispell businesses through Dec. 24. When shoppers spot the signs, which feature fun creatures such as bears, skiers and fish, they can take a picture with their mask on and post it on social media. Using the hashtag #DiscoverKalispell, they will be entered to win one of five $50 gift cards given out every week.
The signs also will include whiteboards where people are encouraged to write the things they love about Kalispell.
"This will be fun and it gets a lot of different businesses involved," said Kate Lufkin, director of education and workforce development at the Chamber. Even though she doesn't expect the campaign to offset the financial hardships many small businesses have endured, she nonetheless hopes it will provide a boost to local businesses and encourage safe shopping.
"We're just hoping people support local all year long," she added.
Reporter Bret Anne Serbin may be reached at (406)-758-4459 or bserbin@dailyinterlake.com.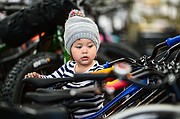 ---