Salvation Army adapts giving programs to lessen virus exposure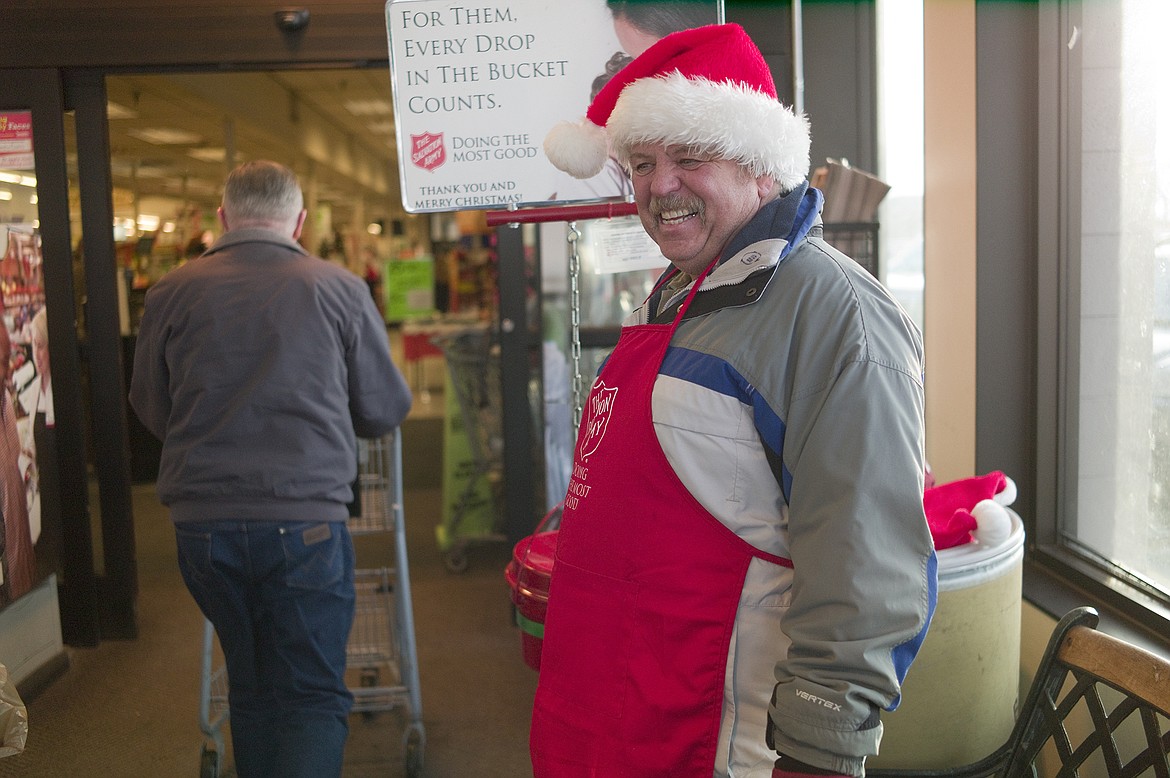 Mayor Don Barnhart rings bells for the Salvation Army kettle drive. (Hungry Horse News FILE)
|
November 25, 2020 12:00 AM
Salvation Army Angel Tree program adapts to pandemic
Every year, the Salvation Army of Kalispell provides Christmas gifts to more than 1,000 children through the Angel Tree program.
Without Angel Tree, many of these children would otherwise have very little or nothing to open on Christmas morning.
Because all Salvation Army Angels are not served by other holiday assistance programs, donors can be confident their gifts go directly to children who are truly in need.
Due to the COVID-19 pandemic, registration is being done "contactless" through an online application and fulfillment process.
Parents can apply for assistance online at saangeltree.org. They will answer a few questions and upload their documentation (proof of income, proof of residency, birth certificates, etc. Once finished, the parent will receive an email with an appointment to come and pick up their gifts.
If you're looking to adopt an Angel, you will be able to do so virtually this Christmas. Angel Tree tags will be available online at https://kalispell.salvationarmy.org/. Click on "Meet the Need" to shop for a tag digitally. Angel gifts will need to be returned to the Salvation Army at 110 Bountiful Drive by Dec. 14.
For more information on the Salvation Army's Christmas efforts call 257-4357.
Salvation Army and Walmart join forces for the holidays
To help meet the unprecedented level of need this holiday season,
Walmart and the Salvation Army Kalispell are working together to make it even easier for people to help others this Christmas with the expansion of programs such as Angel Tree and Red Kettles.
The economic fallout of the ongoing health crisis has led to a new population of families and individuals facing unemployment and financial hardships. A recent study by Columbia University showed that nearly 8 million Americans have fallen into poverty since May. The Salvation Army and Walmart helped 392 families last Christmas and are expecting more than 500 families who need help this holiday season.
• Starting this month and through Dec. 1, Walmart is offering customers the option to round up their purchases to the nearest dollar and donate the difference to the Salvation Army. Customers can do this in stores at manned cash registers, on walmart.com or through the Walmart app.
• The Salvation Army Angel Trees is already up in Kalispell at Walmart, giving local shoppers the opportunity to select a child or children from the tree and to purchase or drop off gifts at the Salvation Army in Kalispell.
• Those who prefer to do their shopping online can visit salvationarmyusa.org/walmart-angel-tree to find their closest Angel Tree Registry, either in-store or online. Through the site, customers can shop for gifts and have them delivered directly to a local Salvation Army.
Visit rescuechristmas.org to donate or learn more about how you can help the Salvation Army this Christmas.
Salvation Army kettle campaign available online
For the first time in 130 years, the Salvation Army is starting its annual holiday fundraising campaign early across the country. The funds raised through the organization's iconic red kettles are at risk this year due to COVID-19, while requests for services are at an all-time high.
Based on the increase in services already provided in response to the pandemic, the organization could serve up to 155% more people in 2020 with Christmas assistance, including putting food on the table, paying bills, and helping place gifts under the tree.
At the same time, due to the closing of retail stores, consumers carrying less cash and coins, and the decline in foot traffic, the Salvation Army could see up to a 50 percent decrease in funds raised nationally through the traditional red kettles, which would limit its capability to provide services for the most vulnerable.
Last year, $126 million was raised nationally through about 30,000 red kettle; in Kalispell and Flathead County $125,000 was raised.
Since March, the Salvation Army Kalispell Corps has provided more than 773 meals, 796 food boxes, and emotional and spiritual support to over 600 people.
One way you can help is by hosting your own Virtual Red Kettle and challenging your friends and family. To set up your own Virtual Red Kettle page, visit kalispellredkettle.org and click on "Become a Fundraiser."
Every donation provides help and hope to those in need, and all gifts stay here in the Flathead.
For more Information, call the Salvation Army Kalispell Corps at 406-257-4357 or visit kalispell.salvationarmy.org
---