Real estate sales show unprecedented spike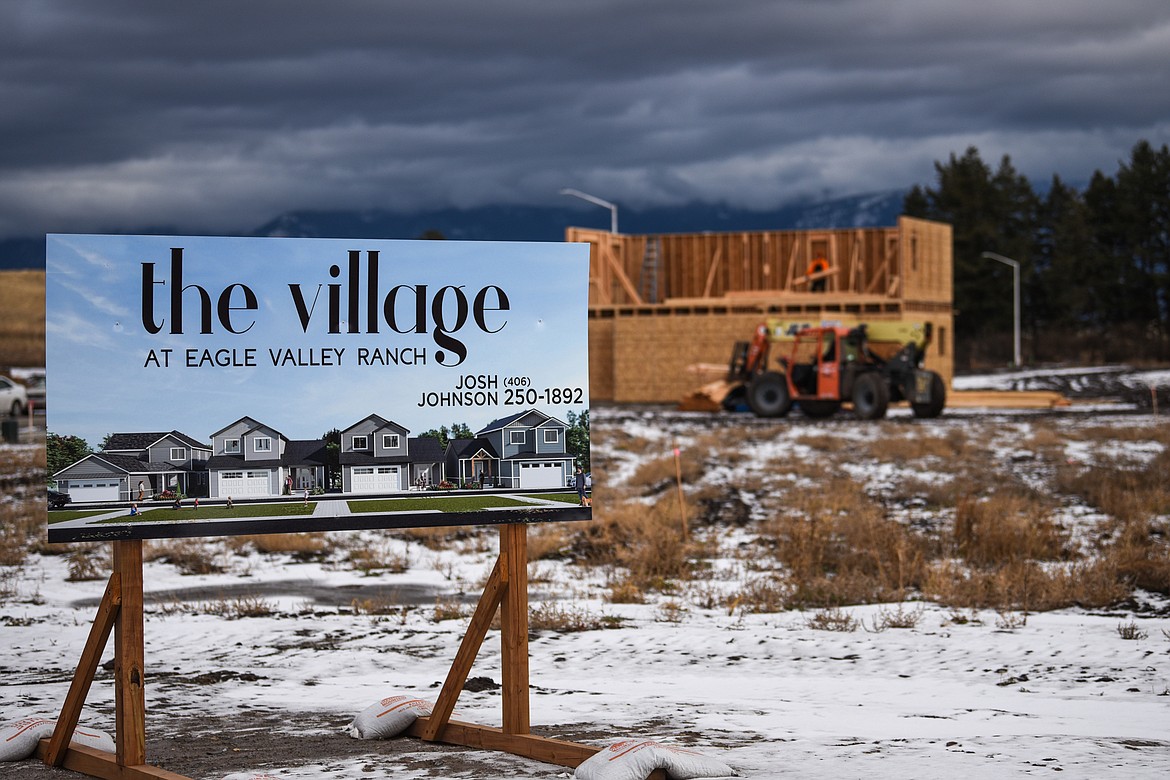 A sign advertises for new homes in a development under construction near Highway 93 and Rose Crossing on Wednesday, Nov. 25. (Casey Kreider/Daily Inter Lake)
by
BRET ANNE SERBIN
Daily Inter Lake
|
November 27, 2020 12:00 AM
For months, the valley has been filled with rumors about an influx of urban escapees flooding to the Flathead. Out-of-state license plates are commonplace these days, even during this down time between the summer tourist and ski seasons.
Recent data from the Northwest Montana Association of Realtors confirms what many locals have been observing since the spring: real estate sales in Northwest Montana have been spiking in just about every measurable category.
The number of closed sales and the sales price of local homes started to skyrocket in the late spring and early summer of 2020.
For the past three years, the monthly total of closed home sales in the valley peaked during the summers at around 200 homes per month. However, by mid-summer 2020, that figure was already in the rearview mirror, with 311 closed sales in July. In September, closed sales topped out at 374 for the month, and the latest data from October only showed a slight dip down to 325 closed sales.
Surging sales prices don't seem to be slowing down the home-buying boom.
In 2019, the average sale price hovered around $450,000 and topped out at $486,615 in November 2019. In 2020, the average jumped up steadily month-over-month, reaching $651,574 in October 2020.
The same is true of median sales prices. The median sales price for a Flathead Valley home was in the $300,000 range throughout 2019. At its highest point in October of that year, the median sales price was $360,000.
That's $25,000 lower than the median sales price of $385,000 in July 2020—hardly the high point of this year. By October this year, it had climbed to $435,000.
The only downward trend in NMAR's latest data is the average number of days on market for Flathead Valley homes—yet another indicator of a bustling real estate market.
In past years, that average has varied seasonally, bottoming out in the late summer and rising higher in the winter months. But this spring the average number of days on market began to shrink, and homes have continued to sell at a lightning pace.
In April 2017 and 2018, it took almost 120 days to sell a home. In 2019, that number dropped to 86 days on average, and in 2020 it was down to 81. From July through October this year, homes sat on the market for just over 60 days, on average, before being sold. The only time they have sold faster was August 2019, when the average fell to 59 days.
In individual local communities, these trends have generally exacerbated real estate market tendencies that existed prior to the onset of the COVID-19 pandemic.
Whitefish and Bigfork boasted the highest average sales prices in the valley, topping out at $982,365 in September and $947,224 in July, respectively. That's excluding the anomalous month of January 2020 — before the disruption of the pandemic — when the average sales price in Lakeside reached $1.16 million.
The average number of days on market was actually lowest in Lakeside, at 21 in June 2020, followed by an average of 38 during August in Kalispell.
EVEN IN Lake County, a traditionally sleepier housing market than the Flathead, all of these trends remain the same.
Monthly closed sales jumped from a high of 59 in June 2019 to 86 in August 2020. The average sales price there was $757,279 in September this year, the median was $445,000 during the same month and the average days on market dropped to 74 in October — the second-lowest average in the past three years, just above the low point of 72 days during the same month last year.
"This is happening everywhere," said Jeri Moon, executive officer of NMAR, speaking broadly about the landscape across Northwest Montana. "It's all over."
The only way the frenzy might slow down, Moon predicted, would be running out of homes. The local inventory has been severely depleted by the recent run on real estate, and the pandemic has made it impossible for builders to keep up with demands for new construction.
"What I'm hearing out there is people are having a hard time finding somewhere to live," Moon reported.
"Inventory's super low, building is going as fast as possible," Moon said. "That's the problem. Inventory is so low it's not sustainable."
But Realtor David Fetveit doesn't think the situation is as serious as it might seem. In his experience with PureWest, there are some phenomena taking place that don't figure into the black-and-white sales numbers.
The biggest caveat to keep in mind, Fetveit warned, is the fact that real estate sales don't directly translate into new residents. In the valley's real estate market, a lot of purchases become vacation homes, part-time residences or simply investment properties, rather than primary homes.
"Some of those people aren't necessarily showing up with a U-haul," Fetveit pointed out.
Plus, there's a limit on the number of residential building permits each municipality awards annually, so the population can only balloon so much, for the time-being.
"It's just really difficult to try to say" how many people have actually moved in full-time, Fetveit said.
Because the valley's population swells so much with summer tourist traffic, Fetveit believes there's already the infrastructure in place to accommodate newcomers, even if they're migrating in larger numbers than ever before.
"We have the capacity to absorb 20,000 new permanent residents and it would just feel like summer," he said.
That's especially true, Fetveit pointed out, because a lot of those new residents are likely moving into existing properties, like vacation homes. He said the idea that urbanites are randomly picking up and relocating to Montana doesn't match his professional experience.
"Anecdotally, all the transactions that I've been around…almost all of them have some type of connection to the valley already," Fetveit noted. "I don't know that I had any clients that just called up out of the blue and said 'I've heard Montana's a good spot, I want to buy something.'"
There's no doubt, Fetveit acknowledged, "People are moving here."
But he insisted, "It's not enough to sound the alarm."
Reporter Bret Anne Serbin may be reached at (406)-758-4459 or bserbin@dailyinterlake.com.
---