FVCC student receives state volunteer award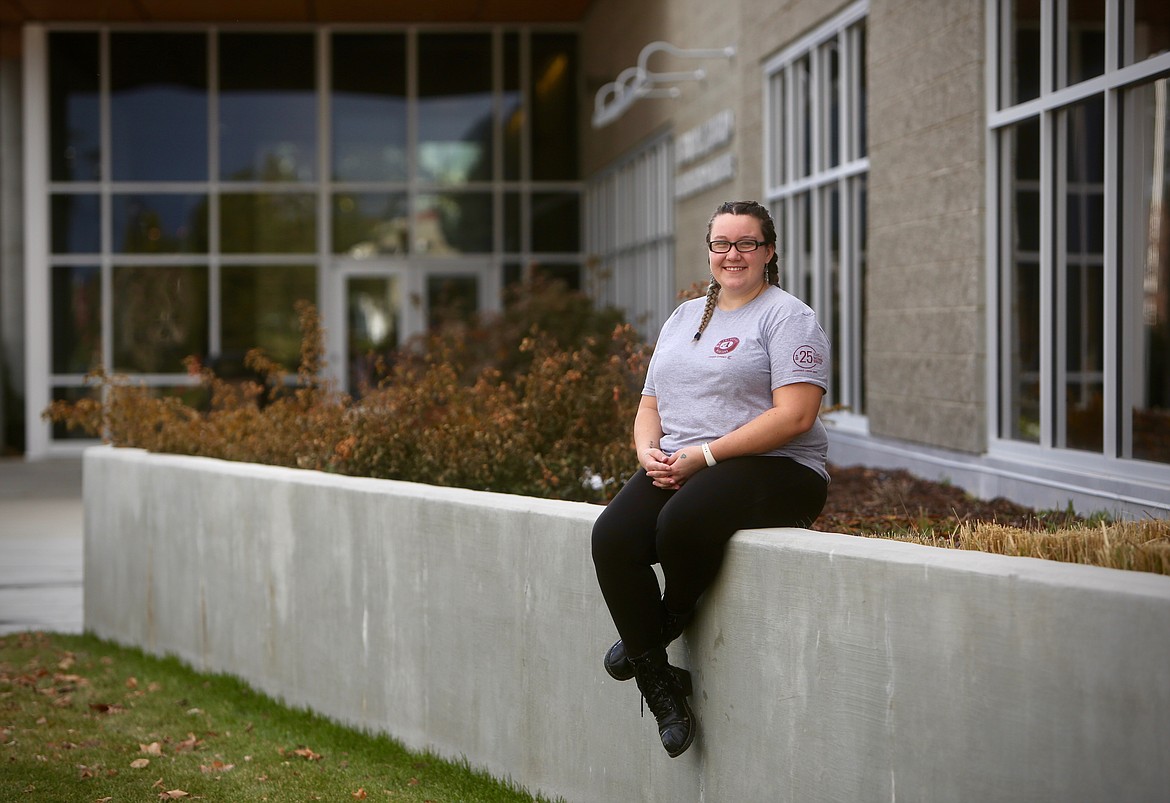 FVCC elementary education student Mara Hanks is pictured in front of the Broussard Family and Learning Commons on Wednesday, Nov. 25. Mackenzie Reiss/Daily Inter Lake
by
MACKENZIE REISS
Daily Inter Lake
|
November 28, 2020 12:00 AM
When faced with tiredness there are two options: call it quits or push on, despite the fatigue. It's the latter option Mara Hanks chooses.
She's a busy college student with a to-do list a mile long, but still, the 26-year-old from Thompson Falls makes helping others a priority.
She gives back both on an off campus through organizations such as Sparrow's Nest of Northwest Montana, the Center for Restorative Youth Justice, Flathead Valley Roller Derby and FVCC's Native American Student Association, to name a few.

"I can be slightly uncomfortable and tired, but doing [volunteer work] is going to make a much bigger impact than if I just stayed at home," Hanks said. "Getting so connected with people in the community made me realize how much there was to do."
On Nov. 12, Hanks' community service was recognized when the Governor's Office of Community Service and Montana Campus Contact announced she was on a shortlist of recipients for the Montana Student Volunteer Award.
"I felt super touched to be thought of," Hanks said, who is a student in FVCC's early education program with plans to become a speech pathologist.
The distinction went to just 12 students who demonstrated dedication to service in their communities while pursuing a college education.
"These young Montanans embody the spirit of service that is at the core of our values as a state," Gov. Bullock said. "This year, more than ever, we need folks like these students who get out there and work to effect positive change in their communities."
Hanks was nominated by FVCC Student Engagement Coordinator Wendy Jeschke, who chose Hanks because of her notable passion for helping young people and her strong on-campus involvement.
"I would see her volunteering at fundraisers and at graduation parties, at lots of different events that they needed help with …. And she was always there volunteering and making a difference," Jeschke said.
In addition to Hanks' role as secretary/treasurer for the Native American Student Association, she is also a student government senator, resident adviser and mentor through the college's TRIO Student Support Services Program, which provides academic support and helps create community among students who are new to campus living. Hanks' role was to host meetups in the dorms and she'd usually bring games for them to play as an ice breaker.
"The goal of it is to get people connected so they have people to lean on … when they're in school for the first time," Hanks explained. "There was a moment where somebody was like 'can we not play a game? Can we just talk and hangout and be friends?' That was a super endearing moment."
She also finds great reward in giving back to her former employer, Sparrow's Nest, which provides safe housing for homeless high-school students in the Flathead Valley. It's a circumstance Hanks can relate to — she, too, was once homeless after graduating high school and while she attended college at the Univertsity of Montana in 2012.
In her work at Sparrow's Nest, she uses her background as a way to relate to the students she helps, but not as fuel for commiseration. Instead, she encourages them to say, "look at us now, look how far we've come, despite these challenges."
"It really pulls at your heart strings," Hanks said. "Showing up and showing that you care is important."
For Hanks, volunteering is not only a way to get ingrained in the community, but also a means of making friends and leaving her mark.
"I think it's important for people to volunteer because it's such a strong way to connect with people. It helps other people and it helps you to learn more about other people's perspectives," she said. "There are so many different ways to volunteer here in our community."
Reporter Mackenzie Reiss can be reached at mreiss@dailyinterlake.com or (406) 758-4433.
---