Motorcycle master opens new Kalispell shop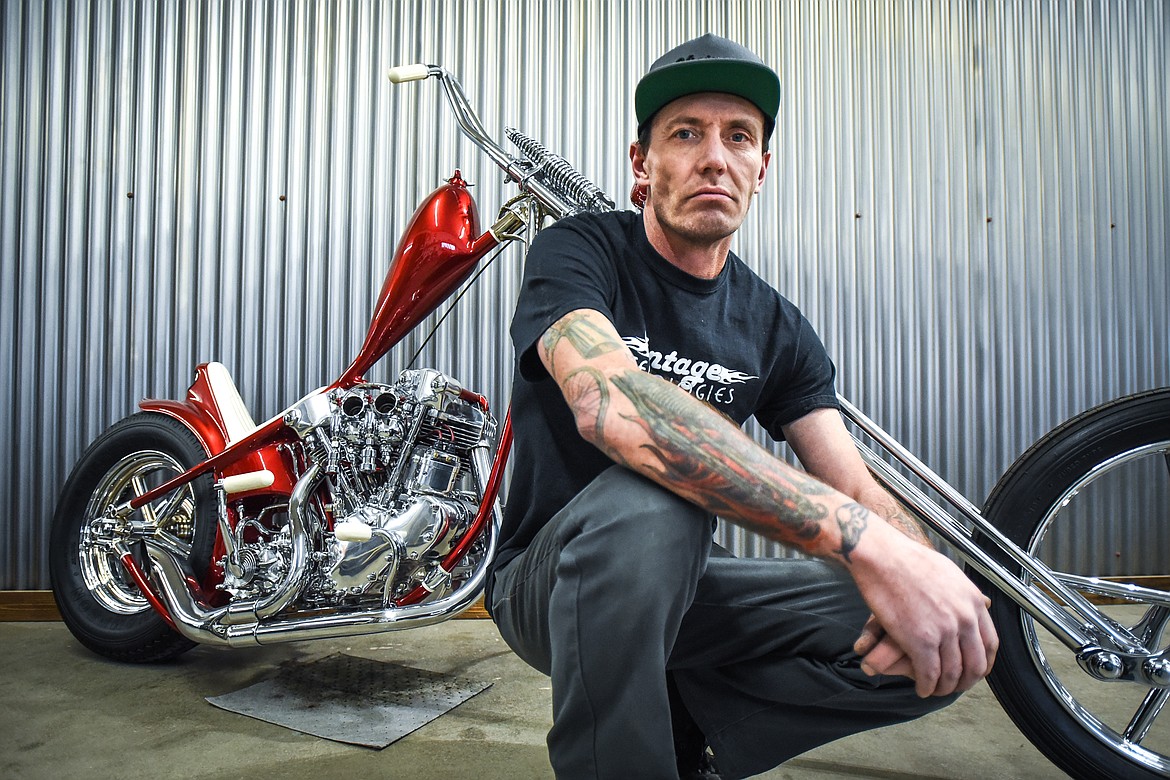 Hawke Lawshe with "Hades," his 1946 Harley-Davidson Knucklehead chopper at Vintage Technologies in Kalispell on Tuesday, Nov. 24. (Casey Kreider/Daily Inter Lake)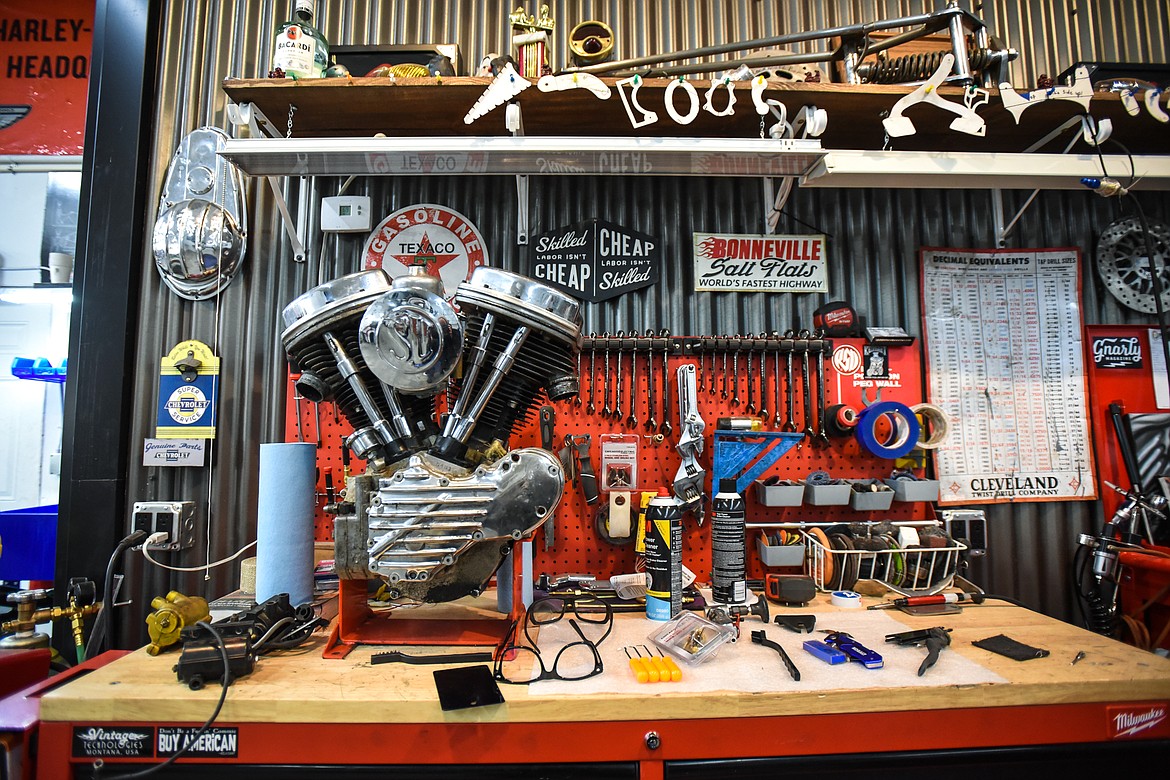 A motorcycle engine on a workstation in the shop at Vintage Technologies in Kalispell on Tuesday, Nov. 24. (Casey Kreider/Daily Inter Lake)
Motorcycles line the showroom at Vintage Technologies in Kalispell on Tuesday, Nov. 24. (Casey Kreider/Daily Inter Lake)
Previous
Next
by
BRET ANNE SERBIN
Daily Inter Lake
|
November 29, 2020 12:00 AM
There's a familiar face in a new place on U.S. 93 south of Kalispell.
Famed local motorcycle-maker Hawk Lawshe moved his chopper shop, Vintage Technologies, to a new location next door to the Glacier Harley-Davidson dealership in October.
Lawshe, whose motorcycle mastery has garnered attention and awards across the globe, has been building and repairing bikes for 28 years. He previously ran an iteration of Vintage Technologies at a shop in Columbia Falls, but when his custom builds started gaining worldwide fame, he moved back to a home operation to focus more on competitive creations for motorcycle shows.
All three of his award-winning bikes are on display in the showroom at his new shop, along with the skeleton of his newest creation, "Pure Nastiness," which is still under construction. But lately Lawshe realized there was a need for motorcycle builds and repairs in the Flathead Valley, particularly when it came to the classic American bikes, his bread and butter.
At the same time, the COVID-19 pandemic canceled almost all of the trade shows that usually occupy his winter months. In a normal year, Lawshe said, he travels to a bike show every month or two. But now, his calendar is open until June 2021, if not later.
He decided it was time to switch gears.

"The need here in the valley was so great," Lawshe said. "It was one of those do or die moments."
He was on the lookout for an old brick building in downtown Kalispell when Habitat for Humanity moved its Restore across U.S. 93, vacating the space next to the Harley-Davidson dealership. The location made perfect sense for Lawshe, whose passion is Harleys from the 1960s and 70s. He renovated the retail store to add a separate shop space and put in some interior bricking to give the place the classic feel he wanted.
By the start of October, Vintage Technologies was ready for its first customers.
Like many local businesses, the motorcycle shop faced a conundrum opening up at the start of the shoulder season. "Usually when the first snowflake falls, the phone kind of stops ringing," he said.
Under normal circumstances, Lawshe explained, his business runs on a mix of local and out-of-town customers riding through in the summertime. In the winter, he usually works on custom builds for shows as far-off as Japan and Switzerland. But this year he's going down a whole new road.
"Every day's a new day," Lawshe said, and these days he's staying busy with surprising requests, such as a visitor who asked for a tire change out of the blue last Tuesday morning. It may not be enough to fill all the "bike parking only" spots out front of Vintage Technologies, but there has been an unexpected amount of traffic in the shop so far this fall, Lawshe said.
CUSTOMERS ARE drawn to Vintage Technologies because the shop does custom work on vintage bikes that barely anyone else is doing anywhere in the world, let alone in Northwest Montana.
Lawshe's spacious new shop is equipped with some tools that are older than he is, allowing him and his team to work on special vintage parts. These include engines from as far back as the 1950s, which might have been scrapped by just about anyone else.
Customers from across the country regularly mail parts to Lawshe because they believe only he can fix them. And with a network that literally stretches around the world, he's often able to source hard-to-find parts that meticulous motorcyclists can't come across anywhere else.
In addition to building and repairing bikes, Vintage Technologies also sells apparel and offers heated, full-security bike storage. He hopes to debut a limited production line of bike parts in the next year or two as well. "It's an all-inclusive, one-stop shop," Lawshe said.
Most of all, he's excited to bring that opportunity to the Flathead, where motorcycle culture lies much more dormant than in hubs such as Southern California. Even his business partner, Chuck Knuppel, said it seems out of place for a local to become such a legend in the realm of riding.
"It's kind of surprising that's in Kalispell, Montana," Knuppel said.

Even though he's literally made tracks all over the world, Lawshe said he's looking forward to the chance to park himself in his hometown, at least for a little while.

Vintage Technologies is located at 2610 U.S. 93 S., Kalispell. Hours are 10 a.m. to 5 p.m., Monday through Friday.
Reporter Bret Anne Serbin may be reached at (406)-758-4459 or bserbin@dailyinterlake.com.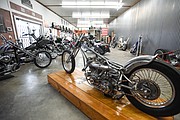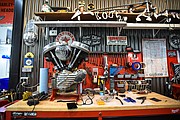 ---