Pandemic, wildfires drive need for Nomad's mobile units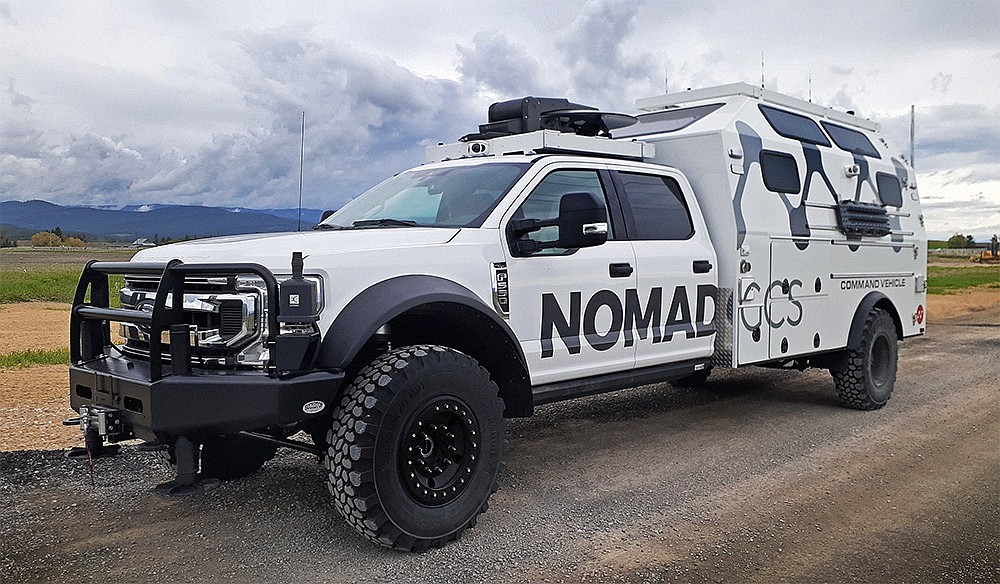 Nomad's most upgraded command vehicle platform, known as the TCV-Max, has been deployed all over the world (courtesy photos).
by
BRET ANNE SERBIN
Daily Inter Lake
|
October 4, 2020 12:00 AM
Editor's note: The Daily Inter Lake will be featuring local manufacturers throughout October. National Manufacturing Day was Oct. 1.
It's been a tumultuous year, given a pandemic, massive wildfires and large-scale demonstrations, but one local company seems to have a solution for nearly every challenge that has emerged in the past few months.
Nomad Global Communications Solutions builds mobile vehicles with specially engineered communications systems in a manufacturing center along U.S. 2, south of Columbia Falls. Though the company's products first came about to bring connectivity to wildland firefighters, the mobile systems are also an ideal product for health-care workers providing treatment in rural areas or law enforcement agencies confronting social unrest in urban centers.
"Nomad designs and manufactures solutions that let our customers take their operations mobile, often in the form of a vehicle or trailer," explained Mike Hahn, marketing and creative Director at Nomad. "These are cutting-edge projects that bring critical services – from education and medical, to connectivity and emergency response – directly to the areas they're needed most."
Since 2002, those solutions have helped industries around the world and even beyond it—NASA is among the impressive list of entities that have utilized a one-of-a-kind Nomad vehicle.
This year, Nomad has found plenty of new uses for its innovative communications systems and the mobile units that bring them to first responders, government entities and private businesses.
"Technology has evolved and our customers' challenges are more complex than ever, so the company has naturally adapted and worked to stay ahead of the curve," Hahn said. "At the same time, we see that the need to be connected anywhere, at all times, is no longer limited to public safety, military and other agencies. Almost any type of organization can benefit from a mobile component to its operations."
Those organizations include Kalispell Regional Healthcare and other medical providers across the country, who have used Nomad's mobile health-care units to deliver testing and treatment to patients in remote locations. The company has also built mobile education units, tactical vehicles for law enforcement and military agencies, and products for utility and telecom businesses. Nomad trucks and trailers can be found in all 50 states and locations across the globe, but all of the products are designed and built by the 115-person crew in Columbia Falls.
NOMAD HAS stayed connected to its Flathead Valley roots throughout nearly two decades of development, even though the company and its creations have changed substantially in that time. The business got its start when four friends, who spent their summers together as river raft guides, worked in a barn to build a truck that improved connectivity at wildfire camps.
Since then, Nomad has expanded to include more than 100 employees and two buildings in Columbia Falls, and the company is always on the lookout to bring on more engineers, information-technology, or IT professionals, electricians, fabricators and other professionals.
Over time, its products also have been substantially upgraded to provide reliable mobile communications services and meet a growing array of customer needs. Nomad's suite of products includes vehicles, trailers and network deployments that can take anywhere from 60 to 365 days to build, according to Director of People and Development Clay Binford. He said Nomad now manufactures anywhere from 40 to 100 products in an average year, depending on the complexity of each order.
As circumstances continue to change in industries such as health care, education and law enforcement, Nomad's offerings are sure to evolve as well.
"COVID has, of course, changed how folks think about the spaces in which they work and the best ways to protect colleagues and the public," Hahn pointed out. Nomad has responded with adaptations in both its physical design and digital approach. Nomad's latest updates include low-touch features inside vehicles and increased software security for the communications systems.
WHAT HASN'T changed is the comprehensive approach that sets Nomad apart from other communications providers.
"While many of our competitors can 'build a nice truck,' Nomad prides itself on being an integrated solutions provider," Binford said. "In other words, we build a nice truck and it has been engineered for connectivity, a long service life, and easy upgrades as technology changes. We like to say, the person who ran the wire in your truck will be the one who answers the phone when you need assistance in the field."
He said it's as if, "we're in the truck with our customers.'"
Nomad is located at 5414 US-2, Columbia Falls, MT 59912 and can be reached at 888.755.1721.
Reporter Bret Anne Serbin may be reached at 758-4459 or bserbin@dailyinterlake.com.
---