Thompson flurry helps Flathead salvage soccer split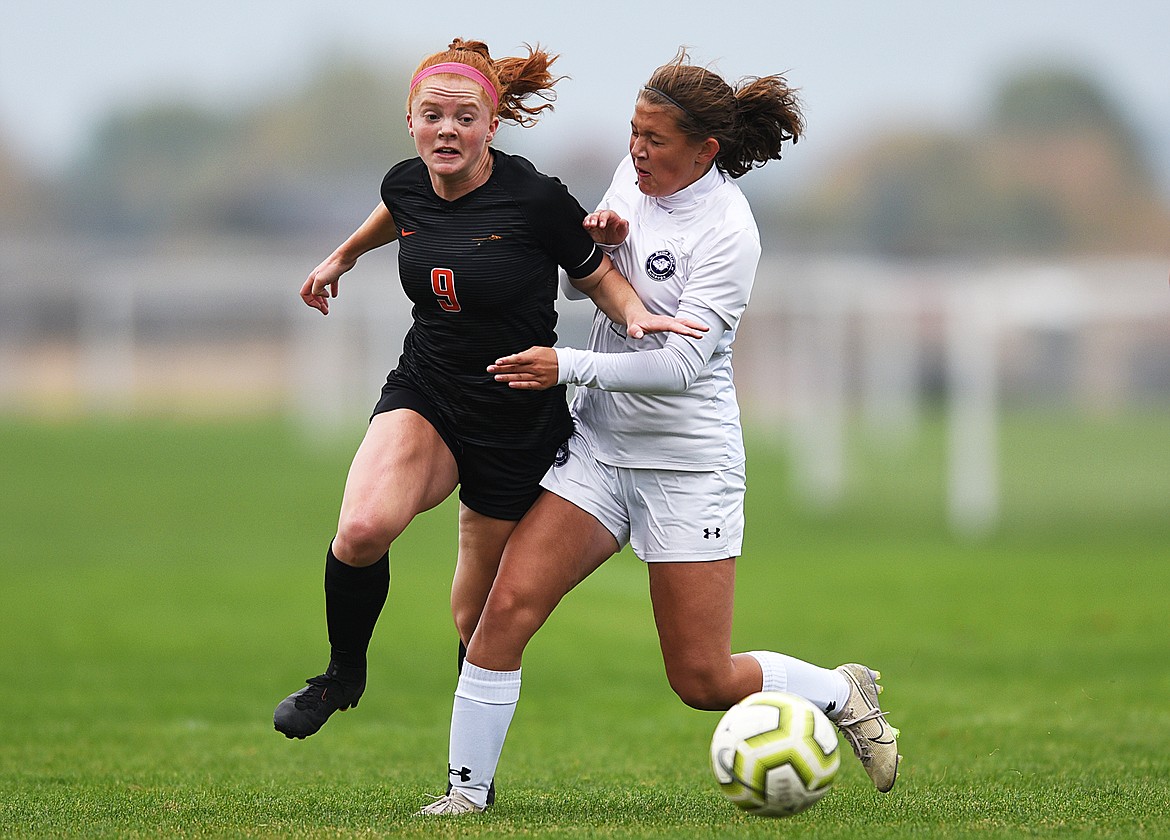 Flathead's Skyleigh Thompson (9) gets past Butte's Taylor Burke (2) in the first half at Kidsports Complex on Saturday. (Casey Kreider/Daily Inter Lake)
Flathead's Arsen Sokolov (9) pushes the ball upfield against Butte in the second half at Kidsports Complex on Saturday. (Casey Kreider/Daily Inter Lake)
Previous
Next
by
FRITZ NEIGHBOR
Daily Inter Lake
|
October 10, 2020 9:24 PM
Senior Day started cool and ended up blustery with a blizzard of Skyleigh Thompson goals, while Flathead's soccer teams split a doubleheader against Butte at the Kidsports Complex.
The Flathead boys fell to the visiting Bulldogs 1-0, before the Bravettes -- getting four goals from Thompson -- swamped winless Butte 6-0.
The results mean both Flathead teams will be on the road Tuesday for the Class AA playoffs, though the boys only head across town to face Glacier. The girls' will play Missoula Hellgate at the Rattlesnake Fields.
Girls
Flathead 6, Butte 0
The Bulldogs were no match for the Bravettes, who struck in the ninth minute on a goal from Aleeya Derlatka, off a cross-net feed from Thompson.
From there Thompson started dribbling around defenders and drilling left-footed shots at the goal. She tallied in the 25th and 33rd minute to put the Bravettes up 3-0 at intermission.
She sandwiched two more goals around a tally by Tessa Smith in the second half.
"We had a goal - she had to have four goals today," first-year Flathead coach Bledy Doda said. "And she got to that."
Thompson ran her season totals to 17 goals and three assists, for a total of 37 points. She began the day second in the Western AA in scoring, behind Glacier's Madison Becker (32).
Flathead ends the regular season 7-5-2. The Bravettes are 5-3 in one-goal games, including a 1-0 win over Hellgate last week.
"It's nice to get the win before we go play Hellgate in the playoffs," Doda asid. ""A win is always good."
Mia Stephan had an assist on one of Thompson's goals, though generally the senior
found space and scoring opportunities on her own.
"She is one of those players that's great at finishing," Doda said.
Butte 0 0 - 0
Flathead 3 3 - 6
F - Aleeya Derlatka (Skyleigh Thompson), 9:00
F - Thompson, 25:00
F - Thompson (Mia Stephan), 33:00
F - Thompson, 52:00
F - Tessa Smith, 61:00
F - Thompson, 72:00
Shots on goal - Butte 2, Flathead 32. Keeper saves - Butte 26, Flathead (Sarah Harrison 2). Corner kicks - Flathead 6, Butte 1. Fouls - Flathead 4, Butte 5. Cards - none.
Boys
Butte 1, Flathead 0
A couple plays stood out in the early game: A shot that hit the side of the net near the mouth by Hudson Magone in the 53rd minute; and a centering pass out of the corner from Dakota Holmes that went untouched through two Butte players in front of the net -- and two Braves as well -- 69th.
"We definitely had our opportunities and it was just one of those days when we couldn't put the ball in the back of the net," Flathead coach Zach Brenneman said. "And they got one on us. Those days happen."
Flathead put just four shots on the net, partly because offside calls were prevalent - as they often are against Butte, according to Brenneman.
"That's their defensive technique - they definitely hold a higher (back) line," Brenneman said. "Their defense pushes up a lot. We knew that going in, but they still got us quite a few times. It's tough to score goals when you don't get to take the ball to the net."
Butte got the game-winner on Jack Luoma's first goal of the year, in the 61st minute. The Bulldogs switched places in the standings with the Braves, moving from seventh to sixth.
Seven seniors suited up for the Flathead boys, and five for the girls.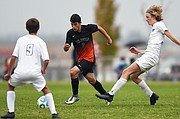 Butte 0 1 - 1
Flathead 0 0 - 0
B - Jack Luoma, 61:00
Shots on goal - Butte 6, Flathead 4. Keeper saves - Butte 4, Flathead 5. Corner kicks - Butte 3, Flathead 3. Fouls - Butte 9, Flathead 8. Cards - Flathead, 2 yellow; Butte, 1 red.
Western AA Standings
Through games of Oct. 10
Boys*
W L T Pts GF GA
Hellgate 13 0 1 37 96 12
Glacier 9 3 2 29 60 13

Sentinel 9 3 2 29 51 17
Helena 8 3 3 27 36 19
Capital 5 6 2 17 16 32
Butte 3 11 0 9 14 66
Flathead 2 11 1 7 16 54
Big Sky 0 12 1 1 5 86
*-Helena Capital's game at Missoula Big Sky on Oct. 3 was canceled and not made up.
-Owns tie-breaker over Sentinel on head-to-head goal differential.
Tuesday
Missoula Hellgate 9, Flathead 0
Missoula Sentinel 8, Missoula Big Sky 0
Thursday
Missoula Hellgate 3, Glacier 1
Friday
Glacier 7, Butte 0
Saturday
Helena 2, Missoula Sentinel 2
Helena Capital 2, Missoula Big Sky 0
Butte 1, Flathead 0
Playoff pairings
Times TBA
Tuesday
Flathead at Glacier
Butte at Missoula Sentinel
Helena Capital at Helena
Missoula Big Sky at Missoula Hellgate
Girls*
W L T Pts GF GA
Helena 11 3 0 33 37 11
Glacier 10 4 0 30 36 15

Sentinel 7 3 4 25 29 12
Hellgate 7 4 3 24 32 14
Flathead 7 5 2 23 30 21
Big Sky 4 5 3 15 26 20
Capital 1 11 1 4 12 37
Butte 0 13 1 1 6 79
*-Helena Capital's game at Missoula Big Sky on Oct. 3 was canceled and not made up. Tuesday Flathead 1, Missoula Hellgate 0 Missoula Sentinel 2, Missoula Big Sky 2 Thursday Glacier 2, Missoula Hellgate 1 Friday Glacier 6, Butte 0 Saturday Helena 2, Missoula Sentinel 1 Missoula Big Sky 2, Helena Capital 1 Flathead 6, Butte 0 Playoff pairings Times TBA Tuesday Helena Capital at Glacier Flathead at Missoula Hellgate Butte at Helena Missoula Big Sky at Missoula Sentinel
---