KittyMOM's Rescue founder goes the distance to save cats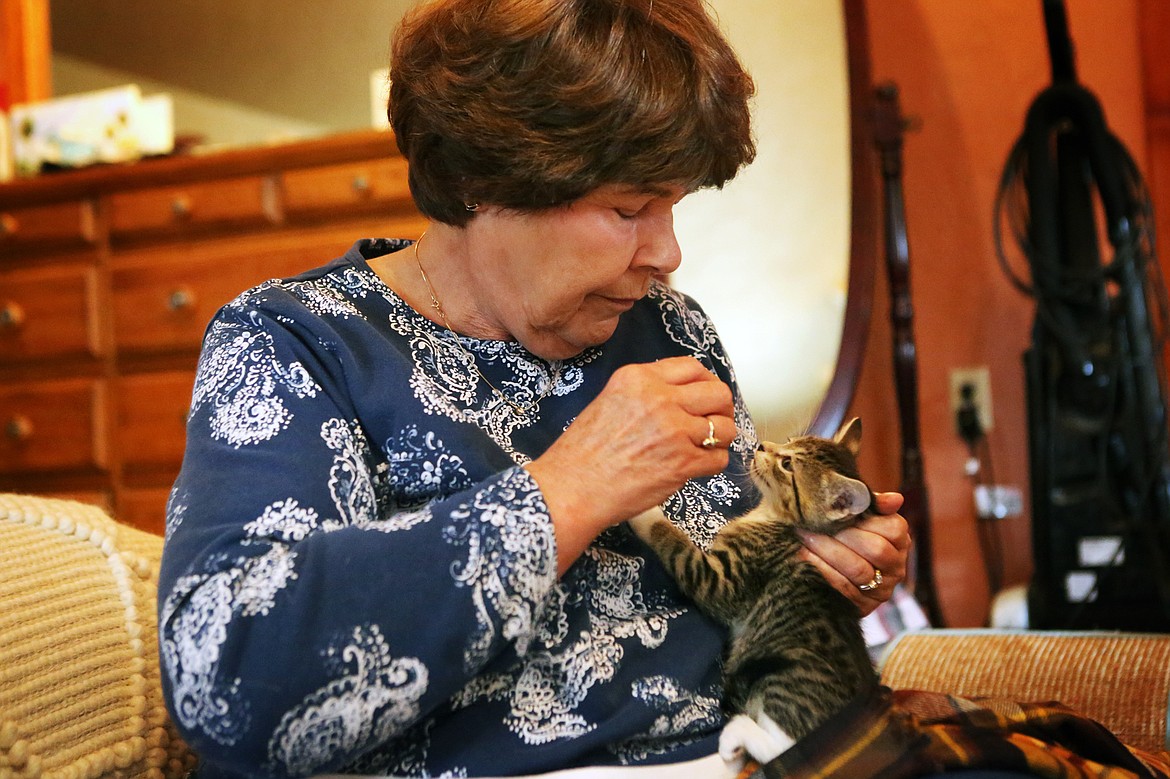 Kitty MOM's Rescue founder Darcy Albert vaccinates a kitten; one of nine in a litter that her nonprofit has taken in. Mackenzie Reiss/Daily Inter Lake
Mackenzie Reiss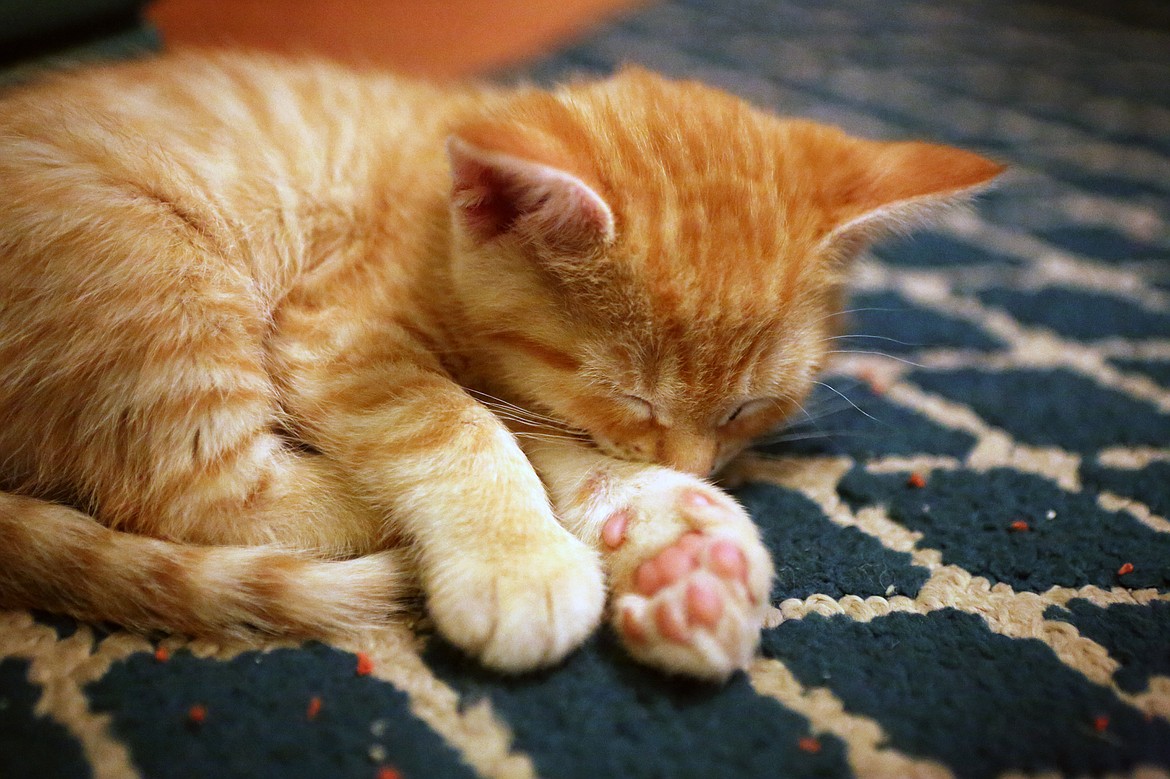 An orange tabby catches some shut-eye while its brothers and sisters get vaccinated on Sept. 24. Mackenzie Reiss/Daily Inter Lake
Mackenzie Reiss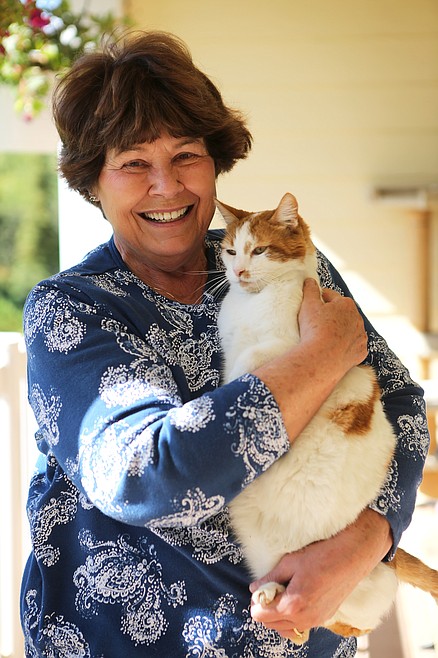 Darcy Albert, founder of Kitty MOM's Rescue is pictured with one of her cats the afternoon of Sept. 24 at her Kalispell home. Mackenzie Reiss/Daily Inter Lake
Mackenzie Reiss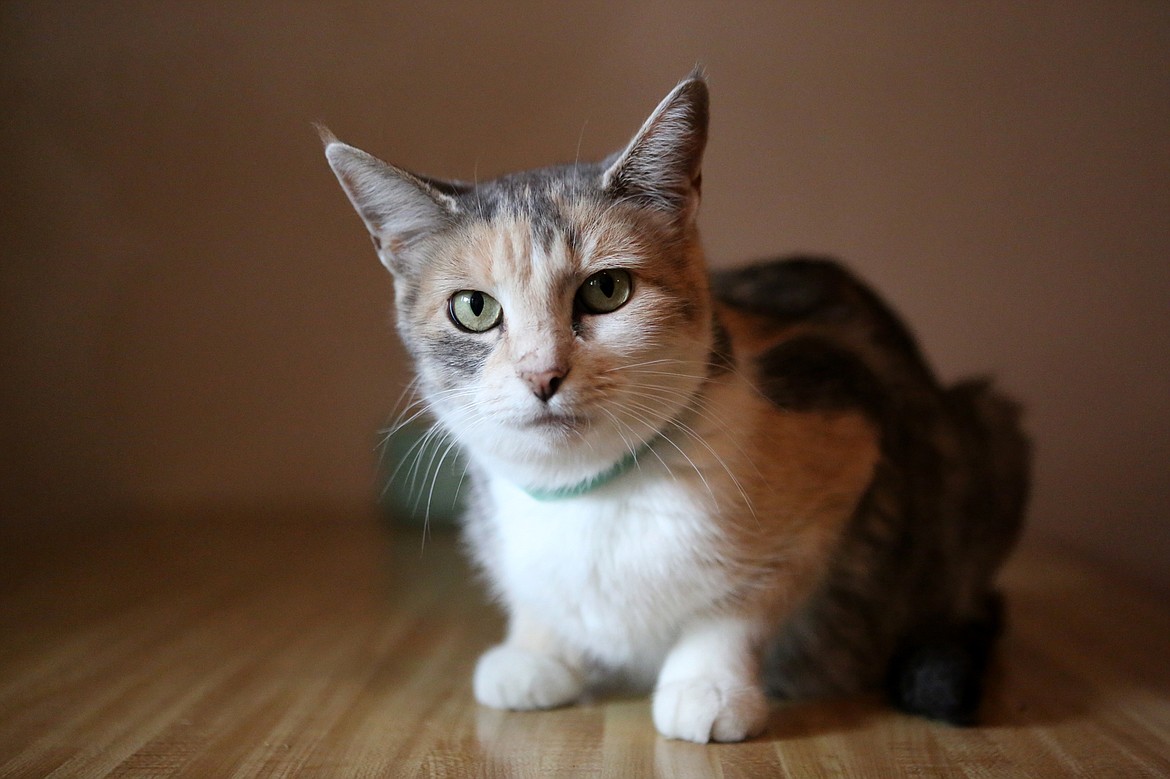 Sunflower, a dilute calico, recently gave birth to nine kittens. She and her litter were taken in by Kitty MOM's Rescue and cared for by volunteer foster parent, Lisa Benvenuto. Mackenzie Reiss/Daily Inter Lake
Mackenzie Reiss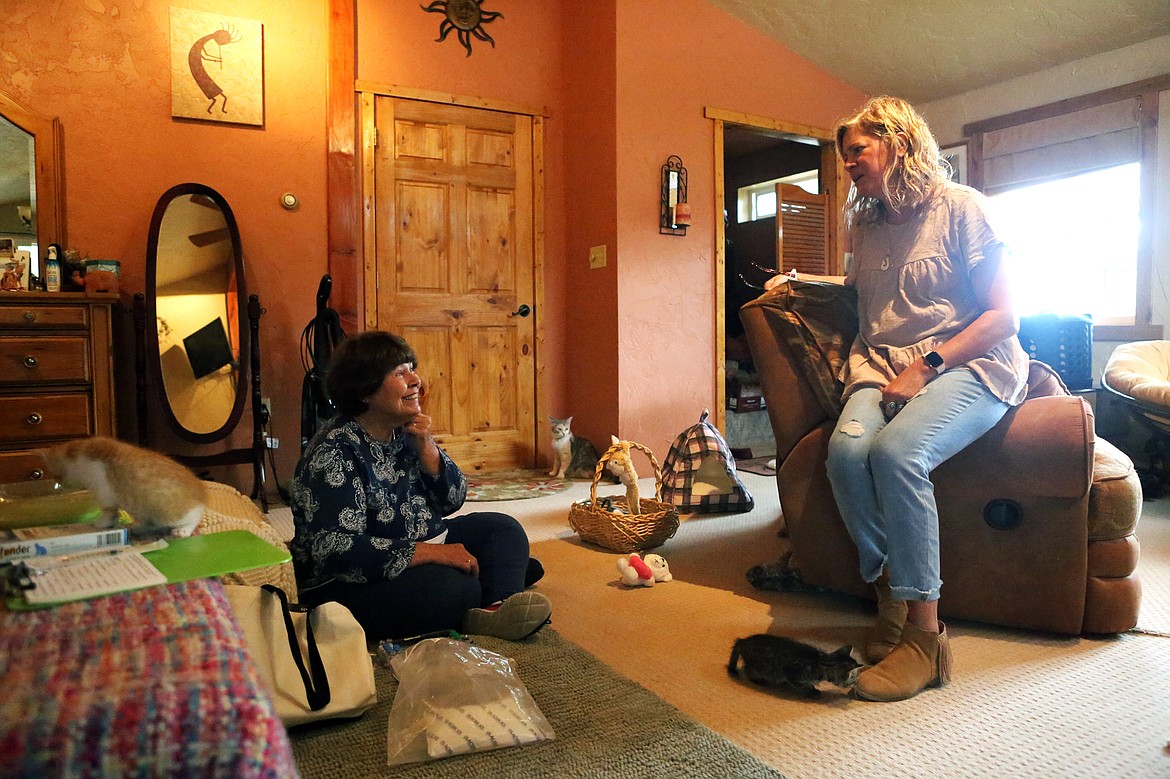 Kitty MOM's Rescue founder Darcy Albert chats with volunteer foster parent, Lisa Benvenuto before the pair vaccinate nine kittens and their mother on Sept. 24. Mackenzie Reiss/Daily Inter Lake
Mackenzie Reiss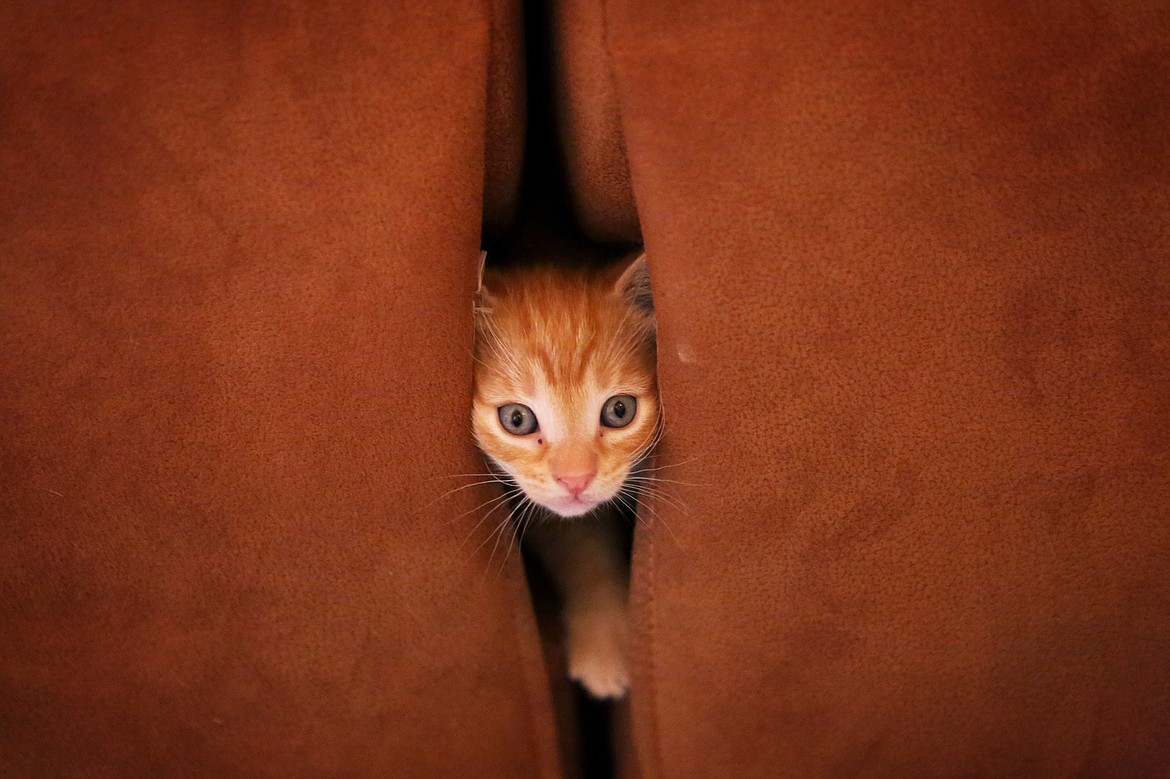 A tabby kitten pokes its head out between the couch cushions at Lisa Benvenuto's home. Benvenuto and Kitty MOM's founder, Darcy Albert, vaccinated all nine kittens in the litter and the mother cat on Sept. 24. Mackenzie Reiss/Daily Inter Lake
Mackenzie Reiss
Previous
Next
by
MACKENZIE REISS
Daily Inter Lake
|
October 11, 2020 12:00 AM
BREAKOUT:
Get involved
KittyMOM's Rescue is seeking donations to help cover the costs of caring for the Flathead Valley's homeless cats and kittens. Donations can be made directly through the organization's website, www.kittymomsrescue.com, or by selecting KittyMOM's as the beneficiary on Amazon Smile, which gives a certain percentage of a user's purchase to their nonprofit of choice. See the latest cats and kittens available for adoption on the group's Facebook page, www.facebook.com/kittymoms.rescue/. Interested parties can also call (406) 752-4460.
The stacks of cat carriers nearly touch the ceiling in Darcy Albert's garage. Along the walls are containers of blankets, toys and food for hungry felines across the valley, and in an apartment-style cage, several of the most skittish rescues reside in hopes they'll become tame enough for an indoor home.
Albert is in her 70s with a short crop of dark hair and a jovial disposition. She's expressive in her storytelling and empathetic — a trait that this kind of rescue work demands.
With a final glance around the garage, she hefts a package of canned kitten food under her arm and hops in her SUV. She leaves the quiet tidiness of her suburban home behind, headed to the countryside where she's scheduled to vaccinate a litter of nine kittens and their mother. It's one of the many duties that fall to her as leader and founder of the grassroots organization, KittyMOM's Rescue. Saving cats is Albert's second act — she established the nonprofit in 2008 after retiring from a 30-year career as a drafting technician. A friend asked her to help bottle-feed a litter of kittens at the Northwest Montana Humane Society and Albert, who'd long been a dog person, was quickly converted.
"They're smart, they don't bark, they don't have to be walked — and they bury their poop!" she said with a laugh. Albert also realized she wanted to be involved in the adoption process, so rather than sign on to volunteer at a local shelter, she founded her own group.
But the job of cat rescuer in chief isn't all kittens and cuddles. Albert often puts in 10 hour days, fields an endless stream of phone calls and often departs on short notice to retrieve cats and kittens across the valley. While the work can be demanding at times, Albert also reaps some of the greatest rewards she's ever known.
"My bank account is empty, but my heart is full," she says with a laugh before the brrrrring! of her cellphone interrupts her for the third time on the 20-minute journey. The calls come from all over the county and at all hours. Callers will exclaim, "I found a cat in the woods — in the middle of the road — a litter under my porch — can you help?"
And as always, the answer is yes.
In an average year, KittyMOM's Rescue will take in somewhere in the neighborhood of 400 felines, but Albert said this year has been especially busy with the coronavirus pandemic. As of late September, they'd seen 350 cats. When people find a stray cat, kitten or an entire litter, they call Albert, who will pick up the litter and arrange for a foster home until the animals can be vaccinated or otherwise treated and ultimately rehomed.
"Ours are all off the streets, none of them are spayed and neutered, so our costs are high. We do everything before they get adopted," she said. Adoptees pay a $60 fee, which helps but by no means covers the organization's costs.
"Just yesterday, in the middle of McMannamy Draw, a little white kitten with a black tail was just sitting in the road," Albert said. " Whether mom left it or it got lost, something happened and someone found it but didn't know what to do with it or where to take it. They called us."
She said locals often choose to contact KittyMOM's instead of the two shelters in the area because Albert accepts the unwanted animals at no cost. Both the Flathead County Animal Shelter and Humane Society either charge a surrender fee or don't accept strays, only owner surrenders, and for some unsuspecting feline finders, this can be a barrier.
"Our big worry is that you start charging to drop off a litter or a cat and people will say, to heck with that and just dump them in the woods," Albert said. "We see a lot of that … cats are showing up in odd places that they've never been seen before."
THAT'S WHERE KittyMOM's comes in.
"They really get the short end of the stick," she said of cats, noting there isn't a county ordinance stipulating that abandoned or stray animals are subject to impoundment at a local shelter like there is for dogs. "There's a big need out there; there's a need for more than one rescue."
To help keep pace with the local demand for rehoming cats, Albert has enlisted a loyal crew of foster parents, who provide temporary care and shelter for felines that come to the organization. Some kitty caretakers have been involved as long as eight years and they all have their specialties. One might prefer to bottle-feed young kittens, while another enjoys the thrill of trapping strays.
Foster mom Lisa Benvenuto is now on her second litter and sits down on the floor of her upstairs living room to administer vaccines with Albert. She first emerges with a wicker basket full of kittens — a scene straight out of a Disney movie. The lot of mostly orange and white tabbies pounce of each other or venture beneath the bed while their mom, a dilute calico named Sunflower, splays out on the carpet, likely grateful for a reprieve from her energetic offspring.
Benvenuto is a former vet tech who got involved after learning about "all the good [Darcy] was doing." She will keep the litter of nine and their mother at her home until they reach adoption age. Saying goodbye is tough, she said, recalling her first litter, but she felt good knowing that the kittens were bound for good homes, thanks to Albert's thorough screening process.
Albert jokes that her foster parents would divorce her if she wasn't so diligent.
"She will go to Polson in the middle of the night if she has to," Benvenuto said. "She just does everything, I wanted to do it because she's just amazing and these cats need someone like her. Without her they'd be hit by cars and getting pregnant ...It's just incredible what she has done."
THERE ARE a lot of ups and downs in the rescue business. Sometimes cats or kittens come to Albert in heartbreaking conditions. There was Stitch, a kitten who'd gotten his leg stuck through his collar and lived that way for months, resulting in severe skin breakdown and pain.
"He was in pain, he hated people, he hated the world. It was the saddest thing I ever saw," Albert said.
After careful care from All Creatures Veterinary Clinic in Kalispell and a dose of Albert's patience and love, he's become a wonderful house cat and now lives with Albert and her husband.
This summer, KittyMOM's performed one of its largest rescues to date. They received a call from Glacier National Park headquarters about a few cats they'd seen behind their building.
What they found was an old trailer with the windows open and cats jumping in and out.
"There were just piles and piles of garbage and junk and there were eyes everywhere looking out at us," Albert said. There were 23 cats in total who had been feeding on scraps and whatever they could find after their owners left due to medical issues.
"These were good folks, they were just old, they were in poor health. They couldn't keep up," she explained. KIttyMOM's was able to bring all but one of the cats back to good health and while they were on site, they learned of another cat in need of assistance.
A woman called, distraught, that their beloved Siamese cat had escaped out of their trailer in the West Glacier area. She and her husband were due back in Texas and had no choice but to put posters up throughout the area and head home. Albert told the woman that since there were in the area trapping cats at the trailer, they could easily set up a few more traps in hopes of capturing her Siamese. They eventually relocated the traps about a mile up the road where the Siamese had been spotted by a neighbor.
"The next morning we had her," Albert recalled.
She called the couple with the happy news and they burst into tears.
"I can't believe you got her," they exclaimed, "We thought we'd never see her again."
The woman flew out shortly after and met up with Albert to retrieve her cat. Albert remembers reuniting the pair and watching the woman sitting on the floor holding her cat and crying tears of joy.
It's those moments that keep Albert and her team of foster parents and volunteers motivated to keep going, to keep saving cats and matching them with forever homes.
"I never expected our organization to grow as it has. That indicates there's a big need,"Albert said. "I'm proud of the amount of kitties that we've saved and the good, solid reputation we have — and the good people. It takes a team, it's not just a one-person thing. We all do our jobs and we do them with skill and with smiles."
Reporter Mackenzie Reiss may be reached at 758-4433 or mreiss@dailyinterlake.com.
---