Pack cruises to crosstown volleyball win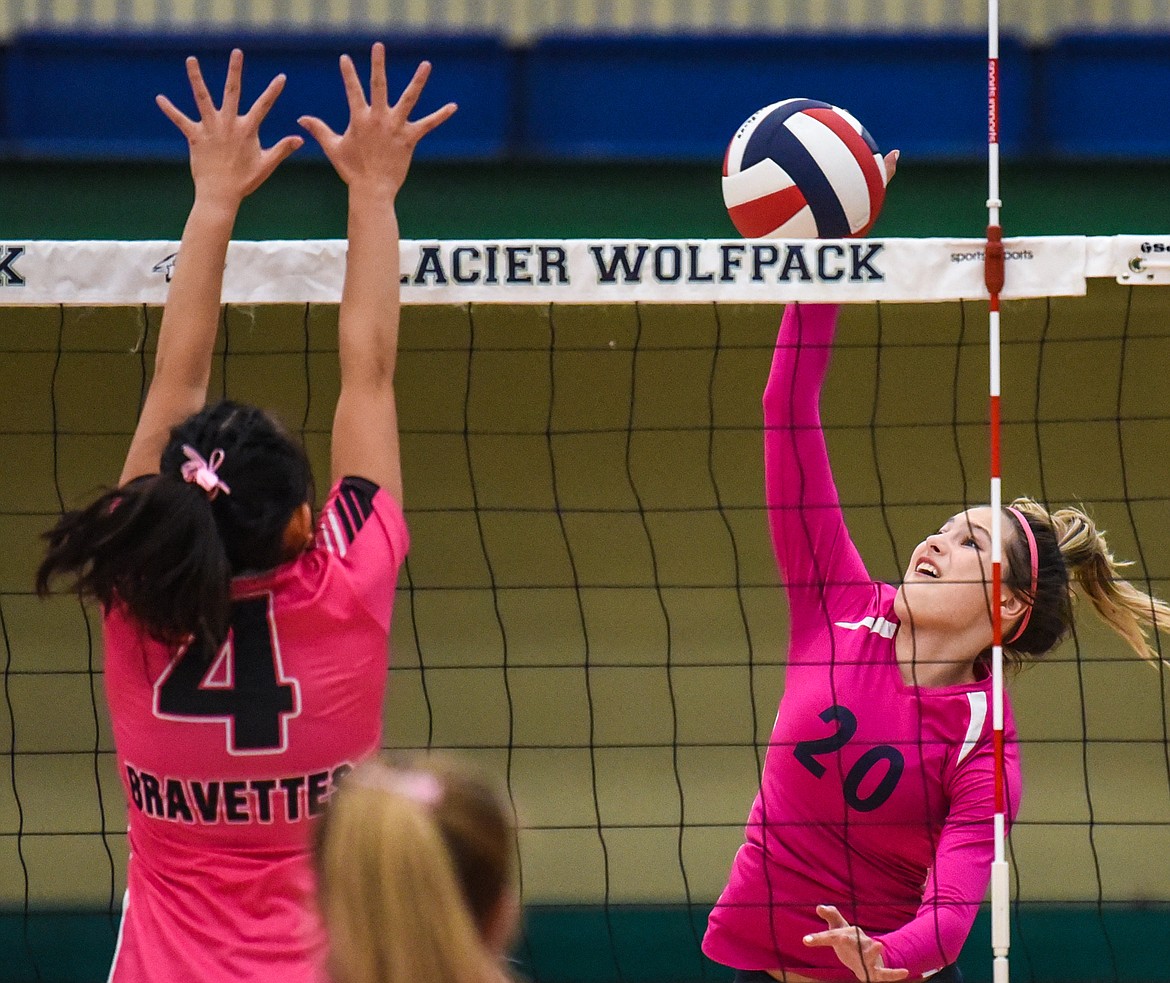 Glacier's Tori Roo goes up for a kill against Flathead's Kylie Munsinger in crosstown volleyball at Glacier High School on Tuesday. (Casey Kreider/Daily Inter Lake)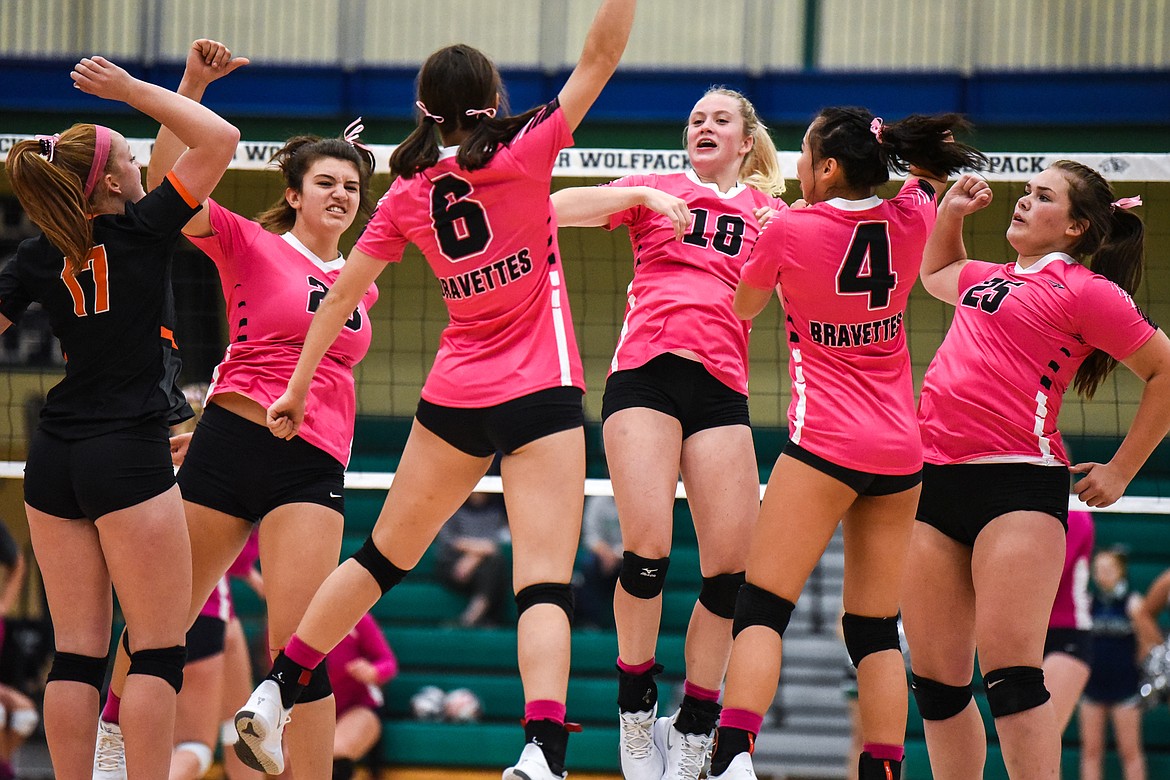 Flathead celebrates a point against Glacier in crosstown volleyball at Glacier High School on Tuesday. (Casey Kreider/Daily Inter Lake)
Previous
Next
by
FRITZ NEIGHBOR
Daily Inter Lake
|
October 13, 2020 10:59 PM
Matches are at a premium for Class AA teams and so are wins, so Glacier Wolfpack volleyball coach Christy Harkins was happy to see her team make short work of Tuesday's crosstown battle.
Sidney Gulick's nine kills led the way as the Pack downed Flathead 25-14, 25-14, 25-18 in a little over an hour. Host Glacier improved to 5-3 on the season, which included no non-conference matches.
"They're super valuable for us right now," Harkins said of each match. "A win-loss percentage is what's going to do it, because we won't be able to make up the Sentinel match (canceled because of COVID-19 on Oct. 6). We won't get to play everyone home and away, so every win you get is really going to matter."
It was maybe tougher than it looked: Flathead, coming off its first win of the season at Missouls Big Sky, was within 16-13 in the first set and 14-13 in the second.
Both times the Pack surged. In the first set it began with a kill, then a block from setter Kaylee Fritz. The Bravettes (1-6) then started committing hitting errors and the gap quickly widened. Emma Anderson's kill clinched it for the Pack.
Fritz had another block early in the 11-1 run to close the second set; Gulick had two kills before Morgan Hernandez ended it with two straight aces.
Flathead's last gasp came when Akilah Kubi and Taliana Miller had kills to cut Glacier's third-set lead to 18-14; the Bravettes followed with a hitting error, a net violation and then Gulick drove in an ace -- the Pack's seventh -- to all but clinch it..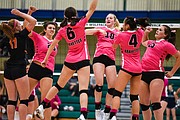 "It was definitely a key," Fritz, who also had 24 assists, said of Glacier's service game. "We played on serving well to kind of get them out of their system, so they wouldn't be able to run as many hitters. Which really helped us."
Savannah Sterck had four kills and two aces and Kubi had six kills for the Bravettes, who showed flashes of power but didn't make it last.
"I've played with them - on club teams I've played with almost all them," Fritz said of the Bravettes. "Even in high school. It's so fun to play with them. They're really good. I don't put it past them. They're all very athletic girls."
"It was mental," first-year Flathead Emily Russell said. "We battled, got right there, and then we had a couple lapses in the middle of the set and just couldn't recover.
"Our passing has to step up. If we had a kill, we had a good pass."
Conversely, "I thought my passers did a really nice job," Harkins said. "So we could run whatever we wanted to, offensively, which is nice. And I just thought our defense did a nice job."
Fritz and Gulick were in on a combined nine blocks; backing up Gulick at the net was Anderson with eight kills. Glacier doesn't have another match until Oct. 23 at Butte.
Kylie Munsinger had 19 assists and 15 digs for the Bravettes, who next play host to Missoula Hellgate Oct. 20.
This was the first of two crosstown matches. The one originally set for Sept. 29 will be played Oct. 27 at Flathead.
Glacier def. Flathead 25-14, 25-14, 25-18
Kills -- Flathead 21 (Akilah Kubi 6, Savanna Sterck 4), Glacier 29 (Sidney Gulick 9, Emma Anderson 8). Assists -- Flathead 20 (Kylie Munsinger 19), Sidney 24 (Kaylee Fritz 24). Blocks -- Flathead 1 (Leah Spangler), Glacier 7 (Gulick 5). Digs -- Flathead 22 (Munsinger 15), Glacier 25 (Morgan Hernandez 9). Aces -- Flathead 4 (Sterck 2), Glacier 7 (Hernandez 4).
---