Plans emerge to reopen Kalispell MudMan; wage claims still pending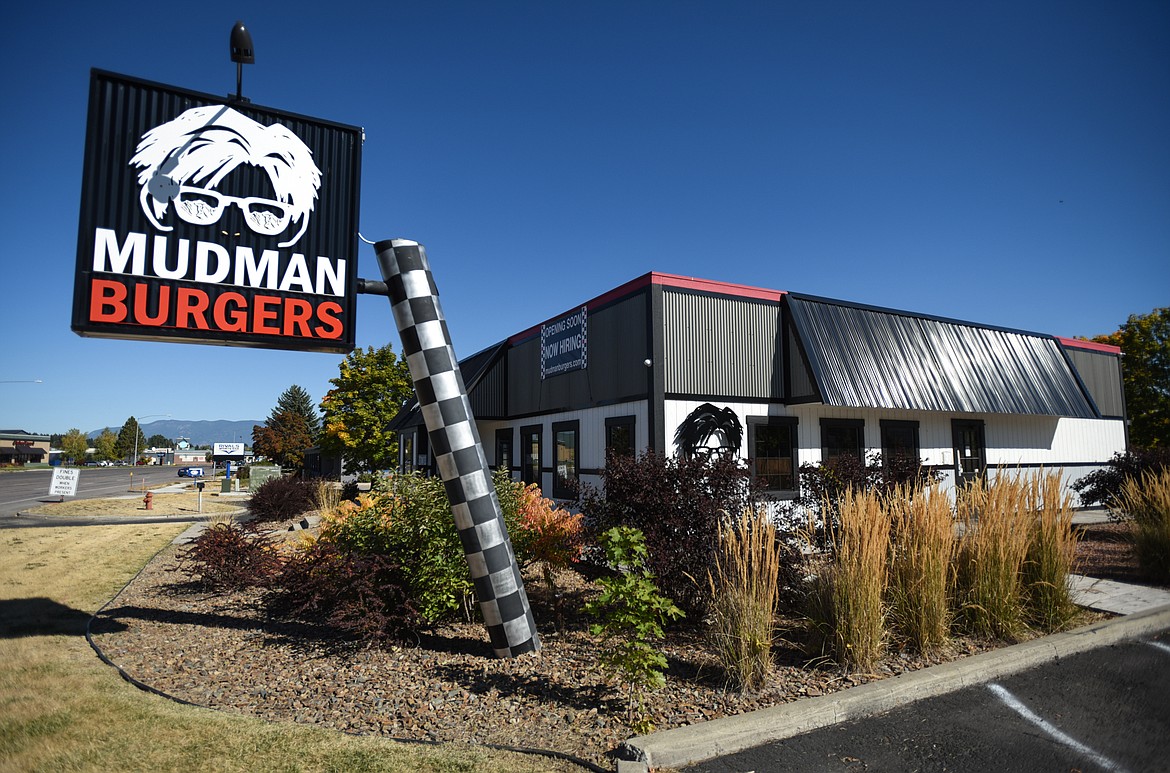 Mudman Burgers in Kalispell on Wednesday, Sept. 30. (Casey Kreider/Daily Inter Lake)
by
KIANNA GARDNER
Daily Inter Lake
|
October 13, 2020 12:00 AM
It's been about six months since MudMan Burgers in Columbia Falls reopened to the public, and now the Flathead Valley burger chain is poised to relaunch its Kalispell location as well.
The currently shuttered restaurant, located on U.S. 2 near North Meridian Road, is displaying a sign that reads "Opening Soon Now Hiring." The company's website shows similar information, but no official opening date is provided on the site or on the building. Owners of the establishments could not be reached for comment via phone or email.
The MudMan chain previously operated as a doing-business-as entity under the umbrella of Potter's Field Ranch, a nonprofit associated with another nonprofit, Potter's Field Ministries in Whitefish. The ministry ran an internship program called IGNITE and as part of their time with Potter's Field, interns signed on to work at a MudMan location.
But all MudMan restaurants, as well as associated coffee stands, shut down in July 2019 after more than 20 individuals alleged the ministry and MudMan founders Mike and Pam Rozell spiritually and psychologically abused interns. After details of those allegations were released in the Daily Inter Lake, dozens more were shared on phoenixpreacher.com, a religious blog site.

In addition to these allegations of abuse, many interns said they were forced to work upward of 70 to 80 hours per week at their designated MudMan location and were paid as little as $3 per hour. When interns signed on to work, paperwork showed they would work 40 hours per week and anything beyond that would be considered "volunteer work."
But after the MudMan locations shut down and the internship program was terminated, several former interns submitted wage claims to the Montana Department of Labor and Industry.
Based on these claims, the department determined in late May that the Rozells and two Potter's Field nonprofits owe more than $150,000 in back pay. That total is spread across six separate wage claims, ranging from about $336 to more than $62,000. Other individuals filed claims as well, but they fell outside of the state's statute of limitations.
According to investigation documents, one individual said he averaged 73.5 hours of work per week, often starting his work day at 8 a.m. and ending as late as 10 p.m. Another person said she did not receive her allotment of tips, even though a customer service guide stated those funds would go to the employees.
The Rozells submitted a request for redetermination on the six claims, as did one former intern whose claim was denied. Officials with the Department of Labor and Industry said last week those requests for redetermination are still pending.
MEANWHILE, THE Columbia Falls MudMan location reopened as a limited liability company in spring, pulling out from under the Potter's Field nonprofit umbrella. According to the Montana Secretary of State's website, that business license is in "active good standing."
When the MudMan in Columbia Falls opened its doors, the business was met with a small group of protesters who gathered in front of the establishment off and on for a few months. That activity has since died down.
When the business relaunched, the Rozells' legal counsel said 50 cents from every burger sold would go to the kids program at Potter's Field Ministry. The program, which supports children overseas in underserved communities, was criticized after pastors who were formerly affiliated with Potter's Field released public statements alleging donations to the program didn't always go toward helping kids.
It is unclear whether the Kalispell MudMan location will operate similar to the restaurant in Columbia Falls, or whether a portion of proceeds will go to the Potter's Field Ministry kids program as well.
Reporter Kianna Gardner can be reached at 758-4407 or kgardner@dailyinterlake.com
---