Bigfork teen to become one of nation's first female Eagle Scouts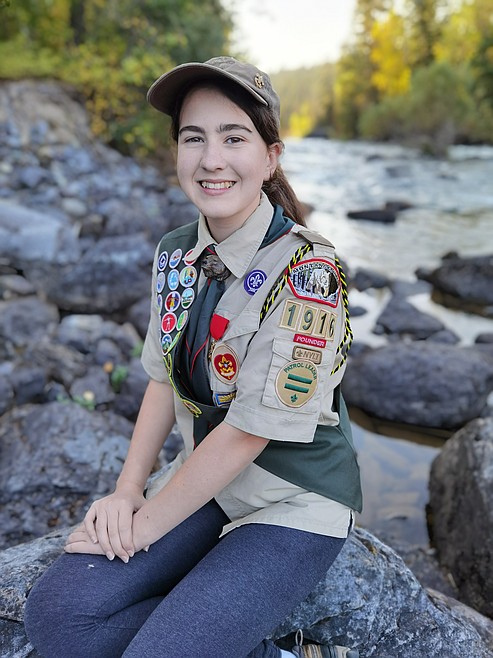 Gabrielle Thorsen will be a member of the inaugural class of female Eagle Scouts. (Courtesy photo)
|
October 14, 2020 12:00 AM
Bigfork teen Gabrielle Thorsen is making history as she is set to become one of the nation's first female Eagle Scouts – a prestigious achievement attained by some of the country's most noteworthy figures.
Thorsen is among hundreds of young women, with possibly four in Montana, who will make up the inaugural class of female Eagle Scouts.
"We are honored to recognize these accomplished women as the inaugural class and we are immensely proud of each Scout achieving their Eagle," said Dirk Smith, Montana Council Scout Executive. "Eagle Scouts are some of the world's finest leaders, demonstrating strong ethics and morals and making direct and lasting impacts in their communities. We are thrilled to see these young women exemplify this adventure."
Eagle Scout is the program's highest rank, which only about 6% of Scouts achieve, on average. To earn it, an individual has to take on leadership roles within their troop and their community; earn a minimum of 21 merit badges that cover a broad range of topics including first aid and safety, civics, business and the environment; and they must research, organize and complete a large community service project.
"As soon as Scouts opened for females, I was excited, and I signed up on the first day," Thorsen said. "Scouting has impacted my life in great ways with opportunities for me to learn leadership skills, community service and to work with great people. My Eagle project showed me my community service can make a huge impact, even nationwide. The Scout Oath, Scout Law and skills I've learned through Scouting now help guide my choices in life and my future."
DUE TO the COVID-19 pandemic, Thorsen's project was reenvisioned to fit the immediate needs of her community. Working almost non-stop, Thorsen sewed and used a 3D printer to make and donate more than 1,300 masks to essential workers locally, throughout the United States – including hospitals in Los Angeles and New York City – and as far away as France.
"After completing my Eagle Scout project, I felt like some of the masks I donated helped or saved someone that I don't even know," Thorsen said. "This project is and was very important and maybe even made a small difference that we don't notice today but affected someone's future in some way."
Young women have been part of Scouting for decades in co-ed programs offered by the Boy Scouts of America (BSA), including Sea Scouts, Venturing, Exploring and, more recently, STEM Scouts. The BSA expanded that legacy further in recent years by welcoming girls into Cub Scouts and then into Scouts BSA last February.
Scouts BSA is the program for youth ages 11 to 17 previously known as Boy Scouts. Since then, tens of thousands of young women throughout Montana and across the country have joined the organization's most iconic program with many, including Thorsen, working their way toward the rank of Eagle Scout.
The mission of the Montana Council is to help young people make ethical and moral decisions over their lifetimes by instilling in them the values of the Scout Oath and Scout Law. For more information visit, www.montanabsa.org.
---