Ascent program eyes private donations to continue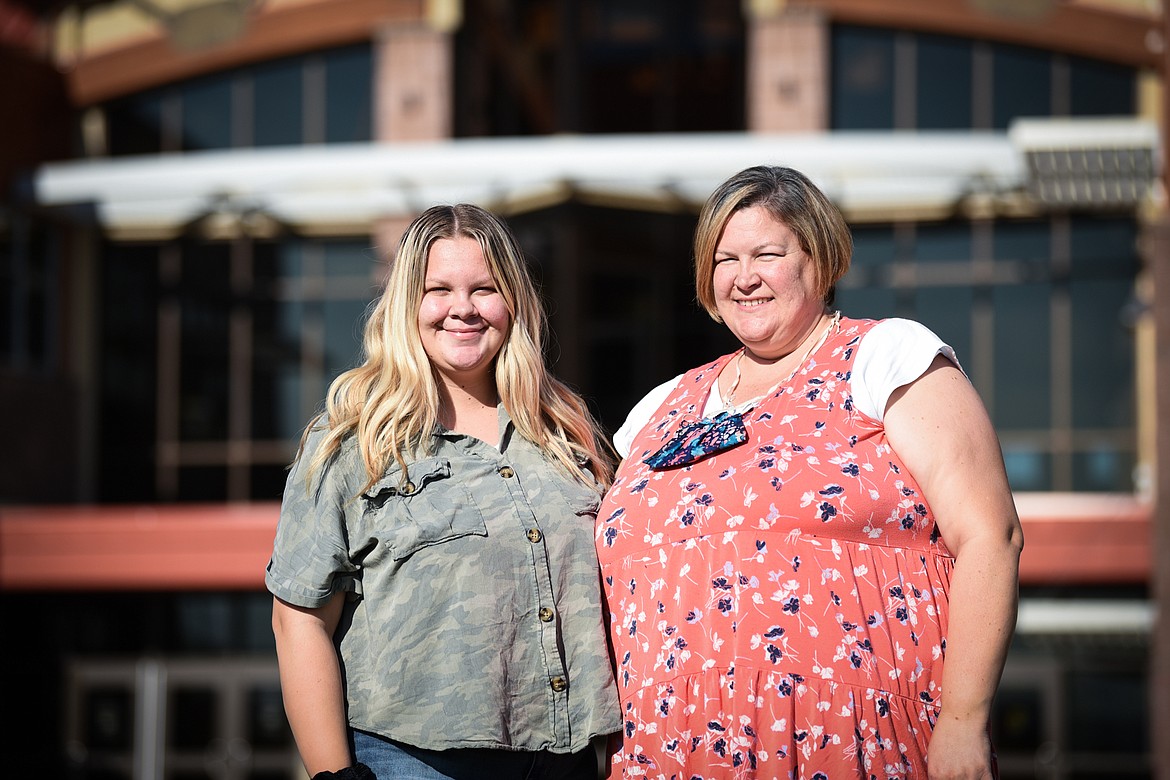 Athena and Wendy Storey at Glacier High School on Wednesday, Sept. 30. The mother and daughter are involved with the Ascent program at the high school. (Casey Kreider/Daily Inter Lake)
by
HILARY MATHESON
Daily Inter Lake
|
October 15, 2020 12:00 AM
For the past three years, the Ascent program at Glacier High School has helped students climb to adulthood, helping them build maturity along the way to graduation.
Program funding runs out at the end of the school year, however. To continue Ascent would require an approximately $100,000 annual budget, which could be achieved through donations, according to Ascent coordinator and Glacier counselor Chris Weaks.
The program, designed in collaboration with Montana Academy, which provided grant funding, serves students at risk of dropping out. It aims to support students who may be struggling with grades, behavior or attendance — whether due to school- or home-related reasons.
One class period is set aside each day that focuses on curriculum meant to help students develop areas of empathy, relationships, planfulness and ethics and is led by social workers.
Girls and boys attend separate classes, which staff found improved the classroom dynamic and encouraged more open discussions. During class, students learn about concepts such as goal-setting, planning, organizing, teamwork and self-care.
Putting those concepts to practice is done through experiential learning, such as retreats, community college campus visits, community service projects, obstacle and ropes courses and field trips such as skiing, for example, which the boys and girls usually attend together.
"We get to do things that may push them out of their comfort zone and help them to really learn to trust another classmate," Glacier social worker and Ascent instructor Sandy Lorenc said.
"Something happens in the relationship when you're in an unstructured experience," Lorenc said.
Doing activities they haven't done before, such as ropes courses, naturally puts students in a position to learn to rely and trust others — and themselves — to overcome obstacles.
"They kind of get stripped of the guards they put up and show who they really are and what they need," she said.
PILOTED IN 2018 with a group of 20 students, the program was based on Montana Academy's therapeutic approach, but instead of having students in a supervised setting 24/7, staff were tasked with figuring out how to make the biggest impact within the limited time-frame of a school day. Students attend Ascent for at least a year and may continue on for a second year. This year, upperclassmen have been given the option to mentor underclassmen. Four seniors are mentors this year.
Since 2018, the dropout rate among Ascent students has been 4%, compared to a control group of 50 students, which was 22%. Eighty-nine percent of Ascent students were on track to graduate, where 67% of the control group were. The data was compiled by Flathead Valley Community College researchers, Weaks said.
"We wish we could offer this to every student because I don't think there's a single student that's not at risk for something," said Weaks, noting that if enough funding was available not only would the school want to continue the program at Glacier, but expand it to Flathead, which had a similar program called Promise Academy that ended due to funding and staffing.
Currently there are 25 students in Ascent, which is made up of sophomores and the four senior mentors. One of the senior mentors is Athena Storey.
"Ascent changed my life in incredible ways," Athena Storey said during a presentation about the program at a September school board meeting. "From my freshman year to my sophomore year I was constantly getting distracted by what was around me."
"At the start of junior year I knew I wanted to do well in school. I started working extremely hard going early in the morning to my classes," she said, noting this has been her best year so far in earning top grades.
"I've learned who I am and what I want in my life. I've learned how to deal with my feelings in a better way so that I find healthy solutions rather than making my problems worse," she said, in addition to forming some of her closest friendships.
During an interview with the Daily Inter Lake on Sept. 30, Athena and her mother Wendy elaborated more about the program.
As a senior mentor, Athena Storey shares personal experiences to help current students understand what the program is about.
"I definitely feel like some of them are still in that stage of like, 'why am I in this class? Why did they pick me?' We're able to explain to them and show them how we were the same way," she said. "It's really cool. They've grown so much just in the past two weeks and I'm really excited to see where they're able to go with this program."
Taking on the leadership role has given her a fresh perspective on teachers.
"In the mentor role I've definitely learned to respect the teachers more because I was pretty stubborn when I first started [high school], but I've learned to understand where they're coming from," she said.
Ascent isn't meant to support students alone. Parent engagement is a crucial component.
"Sometimes it's helping them [parents and teens] to realize they want the same thing, but they're coming at it from totally different angles. We want to help parents and teenagers get on the same team again," Lorenc said.
Parent nights are held once a month and can be spent around an activity such as bowling, hosting a special speaker or just sharing a meal and discussing topics that parents are struggling with, Glacier social worker and Ascent instructor Nic Ferronato said.
"We really try to offer a variety of programs so a parent can fit in wherever they feel comfortable," Lorenc said.
Parent night topics vary, but often get to the basics, such as communicating with teens effectively when emotions run high, according to Wendy Storey, or talking about teens and technology.
"Sometimes it takes a village to raise a child," she said. "Sometimes we need to extend outside of our families [for support]. I think this is a great program to extend that camaraderie — to know we're all in this together and to know you don't have to do it alone."
Donations may be sent to: School District 5 Business Office, attention: Ascent Program, 233 First Ave. E. Kalispell, MT 59901. Checks may be made out to School District 5 with "Ascent" in the memo section.
Reporter Hilary Matheson may be reached at 758-4431 or by email at hmatheson@dailyinterlake.com
---