Have some Halloween fun, but play it safe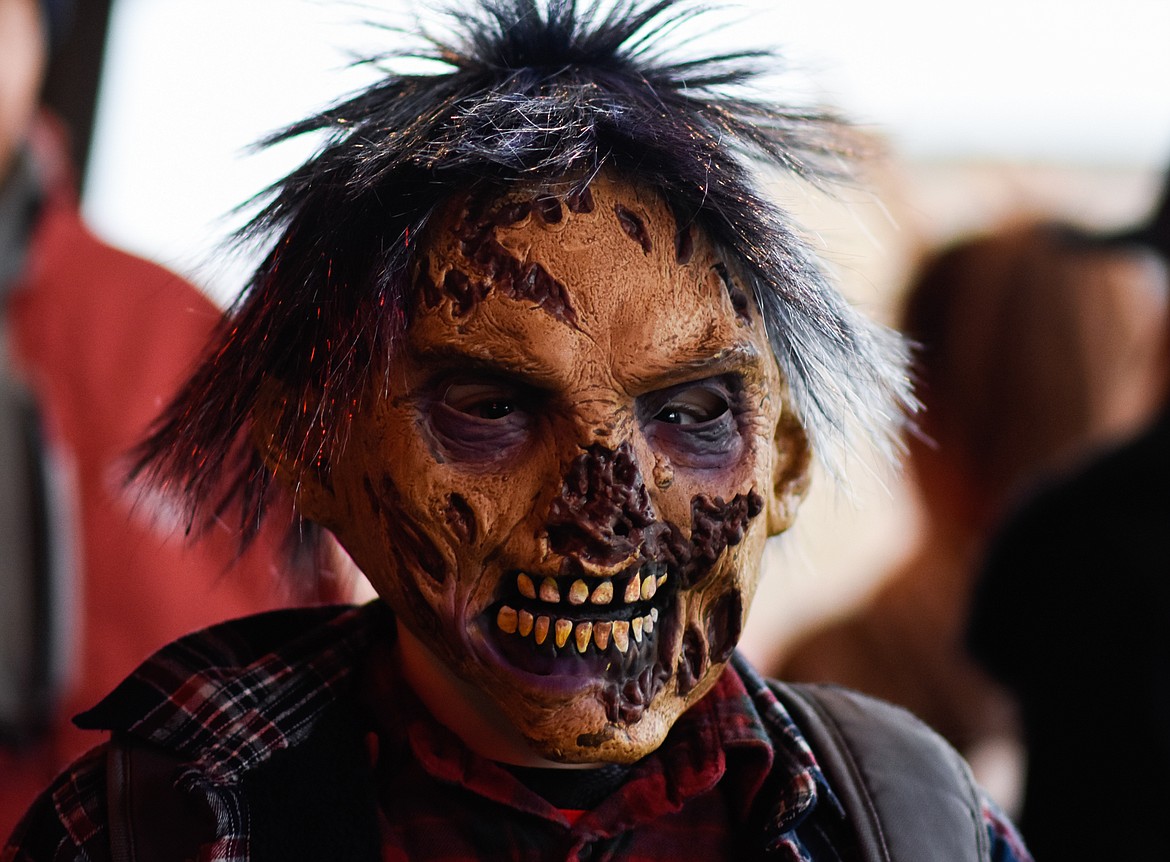 Trick or Street in downtown Whitefish. (Whitefish Pilot FILE)
by
CAROL MARINO
Daily Inter Lake
|
October 15, 2020 12:00 AM
Holidays happen even amid a pandemic and Halloween is no exception. While the spirit of Halloween is alive and well, families and friends should consider their own safety as well as the safety of others as they explore ways to celebrate this year, local health officials say.
The Flathead City-County Health Department released a statement Oct. 8 with recommendations for Halloween celebrations.
"Events such as Halloween are approaching and it is going to be vital that we find safer ways to celebrate, said Tamalee St. James Robinson, the Health Department's interim health officer. "Follow the general public health precautions such as wear a mask, stay home if you are ill, and wash your hands. In addition, avoid large events and gatherings including costume parties and group trick or treating. We all have a role in keeping our schools and business open and our most vulnerable loved ones safe. Now more than ever our community needs to take these precautions seriously."
Additionally, the city of Whitefish recently released a video regarding the spike in COVID-19 cases in the area and mentioning the Centers for Disease Control's suggestions for how communities can still enjoy the traditions of Halloween.
The CDC cautions that door to door trick-or-treating is considered a high-risk activity. Instead, the CDC says to consider the following alternative activities:
• Have a trick-or-treat scavenger hunt with your household members.
• Gather your friends and neighbors and, at a safe distance, carve pumpkins outside.
• Throw a virtual costume contest.
• Have an outdoor Halloween movie night with friends.
• Place a creatively decorated table at the edge of your yard and encourage socially distance candy collection.
The video further encourages adults wanting to celebrate Halloween in bars and restaurants to include a mask in your costume and be mindful of social distancing.
THIS YEAR, due to the pandemic, neither the Kalispell Center Mall nor downtown Whitefish are planning trick or treating events or costume contests. The Trick or Treat Trail that had been scheduled in recent years at the Bakke Nature Reserve in Whitefish is also canceled.
Yet, while caution is prudent, there are still ways out in the community to have some Halloween fun. Here's a look at what's happening around the Flathead Valley.
• The Fritz Corn Maze is a go for 2020 and promises to be a-mazing. While some changes will be made to keep guest safety at the forefront, the popular attraction is adding a new Scavenger Hunt that will challenge everyone. The haunted trail and bale trail and the haunted barn will be in operation. Masks are required for the haunted activities. Visit fritzcornmaze.com for details.
The Maze is at 141 Birch Grove Road in Kalispell, 1 mile south of Glacier Park International Airport.
• Sweet Pickin's Pumpkin Patch is open daily through Oct. 31 at its new location, 1990 Holt Stage, Kalispell.
Kids of all ages can play on the giant jumping pillow and giant sandbox, jump on the pedal cart race track or trike maze, ride the cow and barrel trains, and feed the animals.
• Cinemark Theatres in Kalispell is giving away 1,000 free Private Watch Parties to be shown exclusively on Halloween. Cinema-goers can host a spooky screening of all-time favorite Halloween movies for 20 guests in their own auditorium.
The offer starts Friday, Oct. 16, and continues while supplies last. Go to cinemark.com to reserve a screentime.
The cinema will also be screening big scream films Friday nights through Nov. 5 at discounted prices. Costumes are encouraged.
• Undaunted Family Connections, a nonprofit organization supporting parents and caregivers of struggling adolescents, is hosting a Haunted Barn Casino Royale fundraiser from 8 to 11 p.m. Saturday, Oct. 17, at 310 Rocky Wood Lane, off Montana 83 in Bigfork.
The evening includes a cash bar, casino games, dance party with Destination DJ and raffle prizes. The costume contest gets underway at 10:45 p.m.
For more information or tickets, call 406-282-4595, email hope@undauntedfamilyconnections.org or online at undauntedfamilyconnections.org.
A more complete list of Halloween activities will be published in the Daily Inter Lake closer to Oct. 31.
Community Editor Carol Marino may be reached at 758-4440 or community@dailyinterlake.com.
---