Rendina, Pack put away stubborn Flathead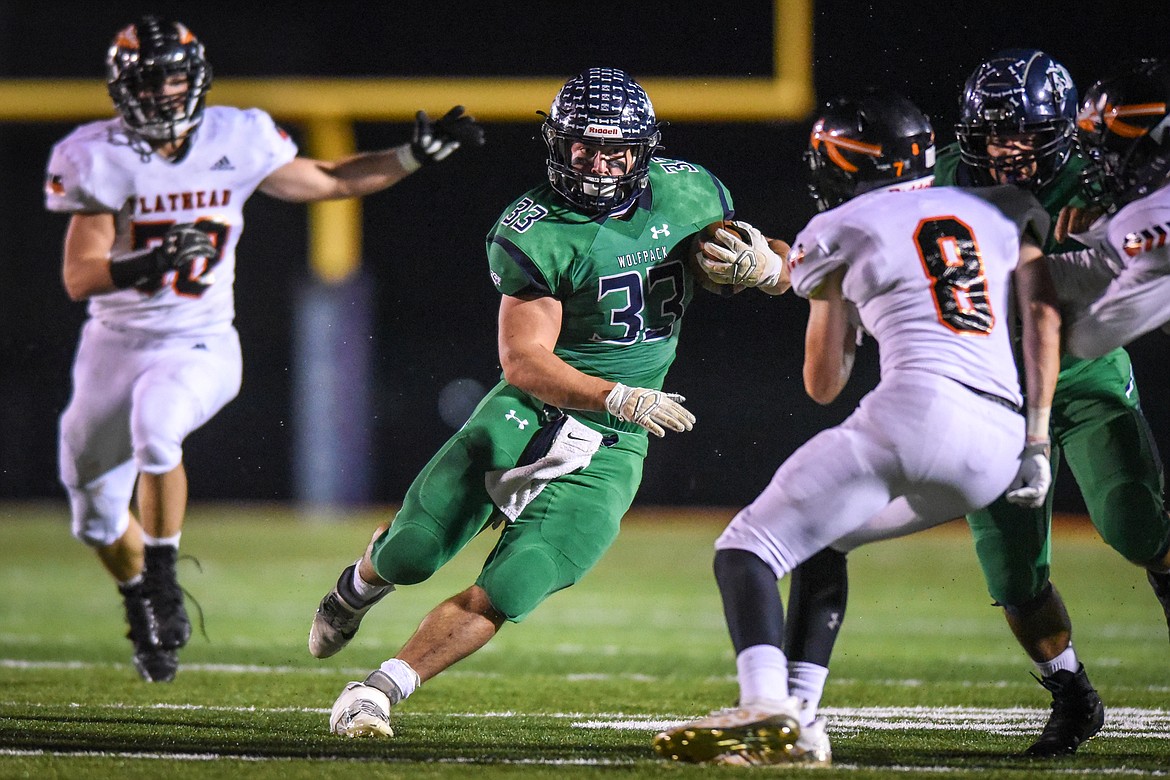 Glacier running back Jake Rendina (33) takes off on a 34-yard touchdown reception in the second quarter against Flathead during crosstown football at Legends Stadium on Friday. (Casey Kreider/Daily Inter Lake)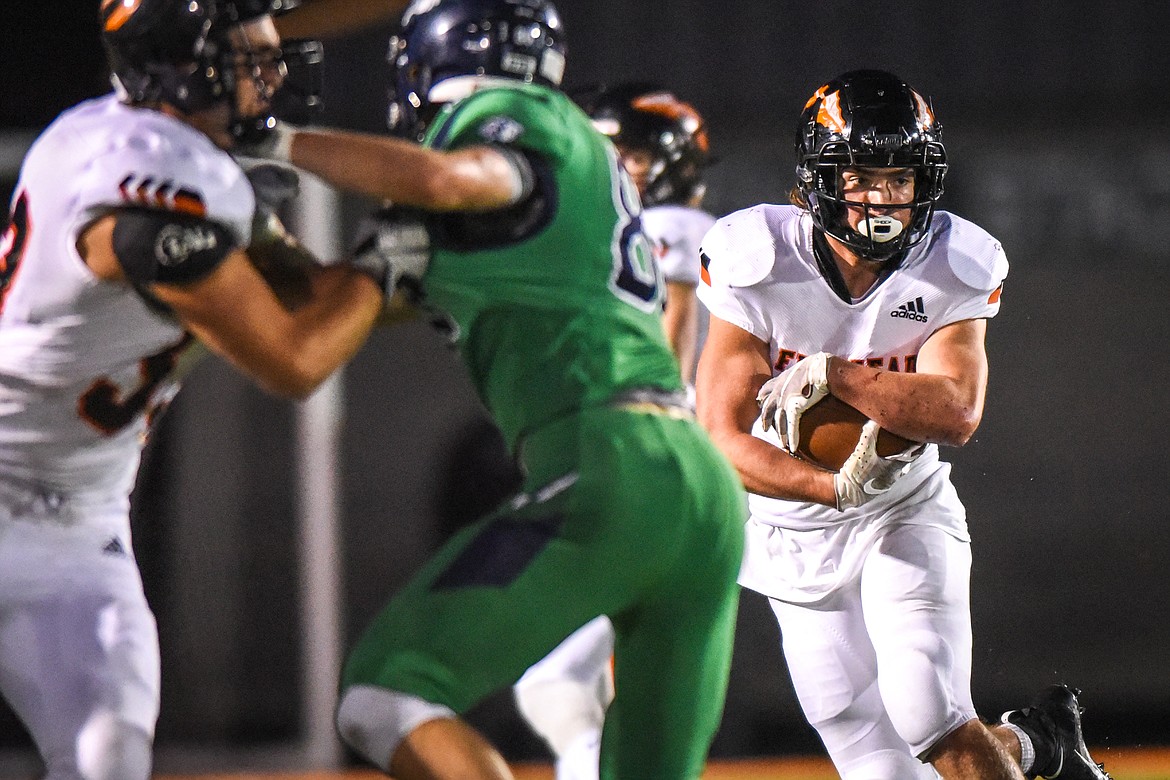 Flathead running back Alec Thomas (14) looks for room to run against the Glacier defense in the first half during crosstown football at Legends Stadium on Friday. (Casey Kreider/Daily Inter Lake)
Previous
Next
by
FRITZ NEIGHBOR
Daily Inter Lake
|
October 16, 2020 11:15 PM
Midway through the third quarter a slumbering Flathead offense came awake, and Friday's crosstown football battle at Legends Stadium had the makings of a photo finish.
Then the Glacier Wolfpack answered, as it often has this season, and in the usual way: A 20-yard Jake Rendina touchdown run barely two minutes later.
Rendina added a third TD run — his fourth score of the game — early in the fourth quarter of a 35-14 Glacier win. He ran 20 times for 173 yards and upped his season rushing TD total to 23; his 34-yard score on a screen play was a thing of beauty, keyed by a block from Riley Roberts.
"That was the guy," Rendina said. "There were some big blocks. Big blocks.
"I think it was just a great overall team win. I'm so proud of our defense overall. I think Wyatt Thomason, Ethan Diede, Rocco Beccari — they all had a game. Ben Stotts, he's playing out of his mind.":
Flathead was held to 182 yards of offense, and much that came on second-half drives covering 68 and 80 yards.
Alec Thomas, the Glacier transfer who now plays both ways for Flathead, had a 1-yard scoring run among his 81 rushing yards; he keyed that drive with a 33-yard burst.
Kaden Henshaw added a short scoring run with 1:21 left in the game.
The Braves continue to improve, but Glacier just had too much.
"I thought we played our best game tonight," Flathead coach Matt Upham said. "We had some opportunities, no doubt about it. I'm really, really happy with how our defense responded this week. We knew it was a tall task — we knew 33, Rendina, was going to get his yards.
"But man, we played hard. We played freakin' hard."
An uneven first half started with Glacier (5-1) recovering a fumble off a bad Flathead exchange on the game's second snap. The Pack capitalized with a JT Allen touchdown pass to Casey Peiffer covering 19 yards. It was 10:02 of the first quarter.
From there Flathead (0-6) came up with three turnovers, though the gap was still 21-0 at halftime.
Rendina's receiving TD came on the same drive Luke Bilau hauled in a 37-yard pass from JT Allen, who threw for 148 yards. Allen was also about to add a big play with his legs.
On the ensuing Flathead drive Glacier's Tyler Hausmann picked off a pass meant for Tommy Wells, near midfield. From the Braves' 33 Allen rolled right, reversed field and ended up gaining 32 yards — barely missing a TD.
Rendina crashed in two snaps later and it was 21-0 at 6:09 of the second quarter.
Then Glacier's first drive after halftime ended with Allen losing a fumble, and Flathead got on the board at 5:23 of the third.
The Wolfpack marched right back, along the way getting a key pass to Ethan Diede, who took on some tacklers to end an 18-yard gain.
"I think our team right then, just kind of ignited," Glacier coach Grady Bennett said. "We needed that answer. They'd grabbed a little momentum."
Rendina then added runs of 4, 10, 8 and 20 yards to find the end zone and make it 28-7.
"That answer by our offense was huge, and I think the key to that was Ethan Diede, who continues to play fantastic football," Bennett said.
Rendina added a 39-yard burst on Glacier's next drive, which he ended with a 1-yard run. That made it 35-7. The junior has 1,110 rushing yards in six games.
"We didn't see the eyes, the hips, some of the ability he has to bounce it outside last year, when he was a sophomore," Bennett said. "He's taken his game to the next level. He's doing things with his game that is just advanced. It makes you scared of what he can do next year as a senior.
"Just really good vision a couple times and ability to bounce it outside. And, a little more speed than maybe people think."
Beccari, a 250-pound senior, had his name called all night while chasing Flathead quarterback Charlie Hinchey, who was sacked four times.
"That's just what we were taught— beat the guy in front of you," Beccari said. "I was just crashing inside, working my butt off and trying to get to the ball."
"We've got to figure out a way to get the ball going offensively in the first half," Upham said. "The second half was so much better. There were opportunities. Short fields."
Flathead can see improvement ahead of what is likely their season finale, Thursday at Missoula Big Sky.
"We played well," said Thomas, who had 20 carries on offense and recovered a fumble on D. "I just think we did a really good job of moving the ball the second half, kind of got things going. I was proud of the way we finished that game."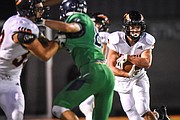 Flathead 0 0 7 7 - 14
Glacier 7 14 7 7 - 35
G - Casey Peiffer 19 pass from JT Allen (Patrick Rohrbach kick), 10:02-1Q
G - Jake Rendina 34 pass from Allen (Rohrbach kick), 9:04-2Q
G - Rendina 1 run (Rohrbach kick), 6:09-2Q
F - Alec Thomas 1 run (Conner Skalsky kick), 5:23-3Q
G - Rendina 20 run (Rohrbach kick), 3:03-3Q
G - Rendina 1 run (Rohrbach kick), 10:47-4Q
F - Kaden Henshaw 2 run (Skalsky kick), 1:21-4Q
INDIVIDUAL STATISTICS
RUSHING: Flathead (45-122) -- Thomas 20-84, Charlie Hinchey 14-12, Henshaw 8-21, Nicolas Gustafson 1-13, Tommy Wells 2-minus 8. Glacier (20-221) -- Rendina 23-173, Peiffer 3-24, Allen 5-22, Devon Wallack 1-5, Wyatt Thomason 2-3, team 1-0, Gage Sliter 1-0.
PASSING: Flathead -- Hinchey 6-17-1 for 60 yards. Glacier - Allen 10-16-0 for 148 yards.
RECEIVING: Flathead -- Henshaw 2-19, Gustafson 2-13, Brody Thornsberry 1-15, Wells 1-13. Glacier -- Rendina 2-35, Ethan Diede 2-32, Connor Sullivan 2-15, Jake Turner 2-10, Luke Bilau 1-37, Peiffer 1-19.
---