Brisendine bomb seals Glacier girls' win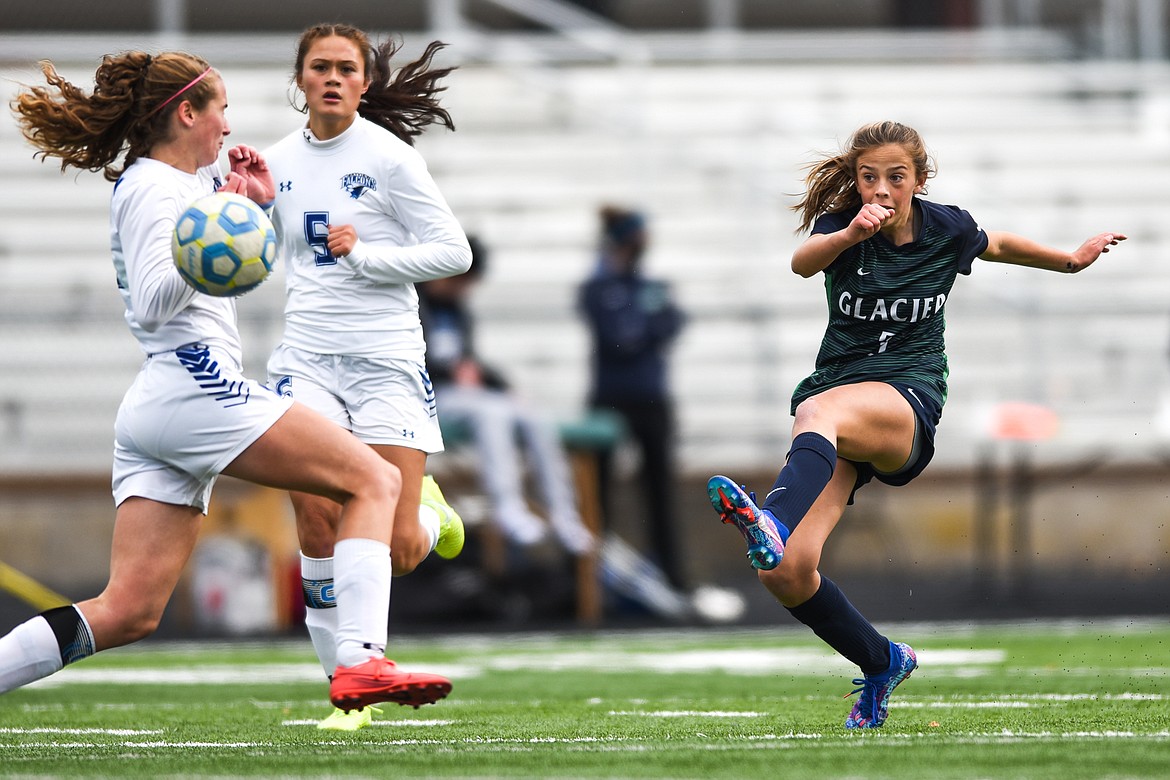 Glacier's Reagan Brisendine (3) scores a goal in the second half against Billings Skyview at Legends Stadium on Saturday. (Casey Kreider/Daily Inter Lake)
by
FRITZ NEIGHBOR
Daily Inter Lake
|
October 17, 2020 10:35 PM
Legends Stadium has its name for a reason, and to the list we might someday add the likes of Glacier midfielder Reagan Brisendine.
It was the freshman who drilled a 70-foot goal over Billings Skyview's keeper in the 74th minute Saturday, in what became a 3-0 State AA girls' soccer quarterfinal win. It took pressure off a Wolfpack squad that had found itself battling on its own end for a solid half-hour to start the second half.
Until then Glacier (12-4) seemed intent on making Reese Leichtfuss' goal in the second minute hold up.
"That was scary," Leichtfuss said. "I was worried. I don't really know what was going on."
Part of it was Skyview, state runners-up a year ago, had a size advantage. The Falcons pressed the issue right up until the point Brisendine let fly.
"I don't exactly remember what happened," the freshman said. "But I know a defender tried to hit it out and I touched it and then hit it with my left foot."
"That was amazing," Leichtfuss, who was credited with the assist, said. "It was kind of a freak thing. I think there was a throw-in, and Madison (Becker) headed it or I did or someone did, and it went to Reagan and I screamed at her, Shoot it! And she hit with her left."
Not to be outdone, Glacier junior Mickaela Santa scored her first goal three minutes later — from 90 feet.
"We get caught in these moments where we let these other teams hang around," Glacier coach Brenden Byrd said. "But we're always hungry for another goal. We found ways to do it.
"Skyview knocked us out three years ago in this (quarterfinal) match, and these girls were freshmen. It means the world to them to get to knock them."
Leichtfuss and Becker are among nine seniors on this year's Wolfpack, which heads to Bozeman (11-2-3) for a semifinal match Tuesday at 1:30 p.m. It turned out Leichtfuss' goal would have held up. Emily Cleveland, another senior, had the assist on it.
"I was very surprised," Leichtfuss said. "Years of playing, always standing on the back post — misses, goes over, or I hit it with the top of my head and it goes flying in the air.
"And it finally happened. It was great — a great moment."
Skyview 0 0 - 0
Glacier 1 2 - 3
G - Reese Leichtfuss (Emily Cleveland), 2:00
G - Reagan Brisendine (Leichtfuss), 74:00
G - Mickaela Santa, 78:00
Shots on goal - Skyview 8, Glacier 8. Goalie saves - Skyview (Madisen Carter) 2, Glacier (Ella Wilson 6). Corner kicks - Skyview 4, Glacier 4. Fouls - Skyview 9, Glacier 8. Cards - Skyview 1 yellow.
---