Lawrence Park neighbors concerned about drug use among transients
by
JEREMY WEBER
Daily Inter Lake
|
October 17, 2020 12:00 AM
When Ben Long and his neighbor saw men coming out of the wooded swampy area behind their homes near Lawrence Park last week they were not surprised.
It was far from the first time they, and others in the neighborhood, have noticed transients moving through the area. When Long and Carr walked down the steep hill to investigate, what they found did surprise them — needles, hundreds of them, and other drug paraphernalia.
The more the pair looked, the more they found. Friday's search turned up a handful of needles inside what looked to be makeshift shelters made of woven tree branches while Saturday's search turned up a plastic container holding several hundred needles.
While the police have since come and taken the items away, Long and his neighbors still have concerns about the area.
"There are families that have been in this neighborhood since the '70s whose kids have always played in that area," Long said. "They built forts down there or caught tadpoles and such. Those are things they should always be able to do and feel safe doing without having to worry about stepping on a dirty needle and getting hepatitis or worse."
Kalispell Parks Superintendent Fred Bicha stressed that the needles were found on the fringes of the park, far from any playground equipment or common recreational areas, but he admits the transient population in the Lawrence Park area has been a concern for many years.
The city made an effort to curtail the number of homeless living in the park in 2016 when they removed a transient camp with nearly two dozen residents. Later that year, Knife River, a construction and contracting company, sold 16 acres adjacent to Lawrence Park to the city of Kalispell for $1. Nature trails were later developed on the land to encourage recreational use to replace the camps that had been found there previously.
Despite the city's efforts, Long said transients still use the Lawrence Park area frequently.
"We see people coming in and out of the swamp pretty regularly. There have always been homeless that go down there, but they did try to get that situation cleaned up a few years ago. It's a long-term issue that we have had to deal with here, as have other parks around the city," Long said. "I feel bad for people that are that desperate and it really drove home the magnitude of the drug-abuse problem that we have in this community, but we can't have that kind of dangerous litter turning up in the park."
KALISPELL CHIEF of Police Doug Overman believes the large box of needles most likely came from another location and was dumped in Lawrence Park, and he acknowledged drug addiction is a growing problem throughout the area.
"It is our belief that the box of needles was likely collected at a different location and then tossed over there, over the hill, as a disposal," he said. "That does not mean that we don't believe that IV drug use does not go on in many places around the city. We know that chemical dependency is a huge component of the challenges we face on a daily basis. We are not naive to the fact that we have a transient population that uses our city park and that drug use could be going on anywhere."
Overman said his department conducted more than 300 drug investigations within the past year, but it will take more than just law enforcement efforts to curtail the problem.
"We need awareness that we have resources to address chemical dependency outside of law enforcement in our community. It's not a problem we can arrest our way out of," he said. "There are people out there struggling with chemical dependency that need help, but we need people to help us be able to help them. We are working with the landowner and with Parks and Recreation to keep a more watchful eye out for this kind of thing. If landowners see concerning things in the park, or elsewhere, they should call us."
For now, Long urges his neighbors to help keep a watchful eye on the area where he believes heavy drug use has been occurring since this summer, if not longer.
"It's only a few feet away from houses, so it's amazing they have stayed hidden down there for as long as they did," he said. "We, as neighbors, have to be more vigilant and keep an eye on our own property and the park while the police department needs to walk through those areas more often and have more a presence in the area so they know what is going on there."
Reporter Jeremy Weber may be reached at 758-4446 or jweber@dailyinterlake.com.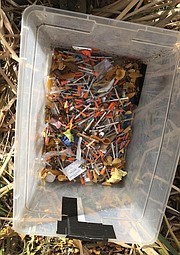 ---