Voters consider concealed carry ballot measure; referendum concerns school officials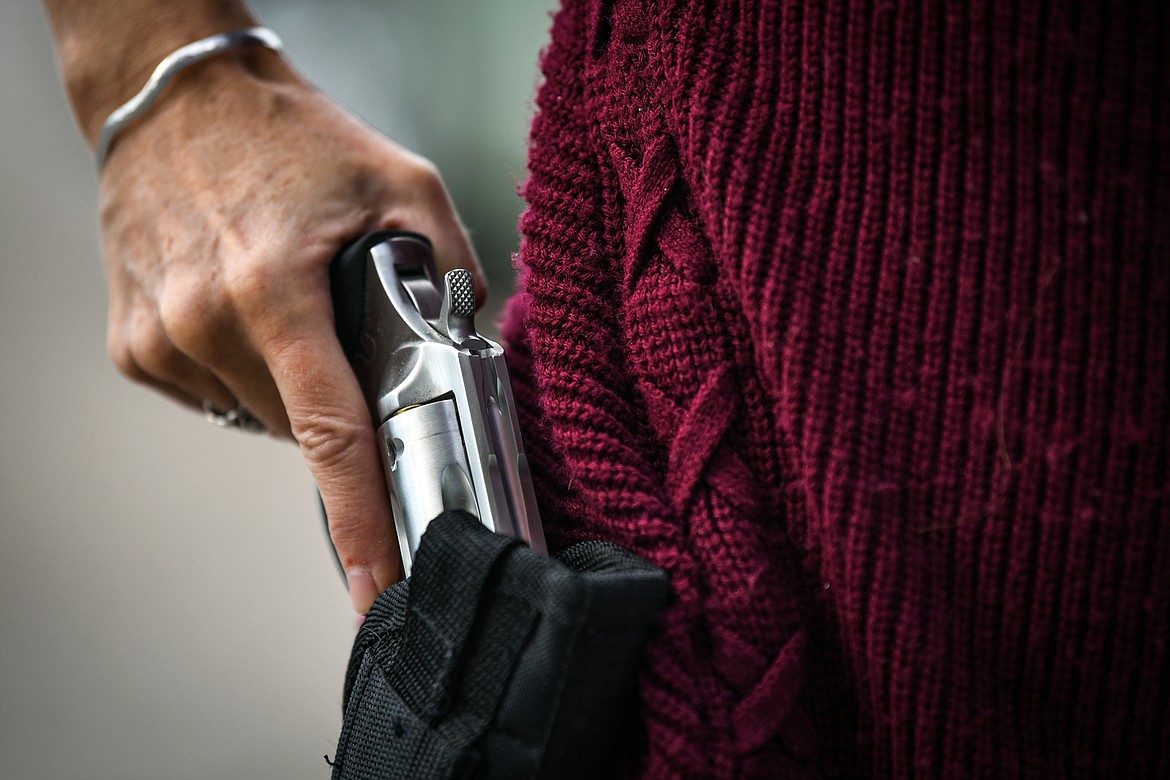 A woman carries a .38 Special revolver in Kalispell in this Oct. 14, 2020, file photo. (Casey Kreider/Daily Inter Lake)
by
CHAD SOKOL
Daily Inter Lake
|
October 18, 2020 12:00 AM
A measure on the November ballot would strip local governments in Montana of the power to regulate concealed firearms, except in publicly owned and occupied buildings within their jurisdictions.
Some school officials worry the measure would hinder their ability to prevent people from openly carrying guns on school campuses.
Legislative Referendum 130 aims "to prevent local governments from creating a patchwork of gun control laws across Montana that would just be landmines for unwary travelers," said Gary Marbut, president of the Montana Shooting Sports Association and an architect of the ballot measure.
Marbut and other backers, including state Rep. Matt Regier, R-Columbia Falls, say open and concealed carry laws should be uniform across the state so gun owners are less likely to break them inadvertently.
"As a group, we want to follow the law," Regier said. "That's why we get permits in the first place."
LR-130 would erase the word "school" from one section of Montana law. Marbut, however, insisted the referendum "doesn't change anything at all for school boards." He pointed to another statute that prohibits people from carrying weapons "in a school building."
Lance Melton, executive director of the Montana School Boards Association, said the referendum probably would not affect school districts' ability to regulate firearms in buildings, but it could prevent them from banning guns elsewhere on school grounds, such as parking lots and outdoor sporting events.
And that, Melton said, is a safety concern.
"I think that school boards need to have the ability to prohibit firearms on school grounds and in school buildings," he said.
State lawmakers put the measure on the ballot last year after Democratic Gov. Steve Bullock vetoed a bill with identical language that Regier sponsored.
The legislative action followed several years of legal wrangling over a 2016 Missoula ordinance that would have required background checks for all gun sales within the city's limits. The Montana Supreme Court struck down that ordinance in a 5-0 decision last year.
The high court also recently dismissed a lawsuit challenging the wording of the ballot measure, which opponents say is confusing and would lead to legal challenges.
The committee backing the referendum, the NRA Big Sky Self-Defense Fund, has raised $16,000, all in a lump sum from the lobbying arm of the National Rifle Association.
Meanwhile, as of Sept. 25, the "No on LR-130" campaign had raised $747,500 from the Montana School Boards Association, the Montana Human Rights Network, the Montana Federation of Public Employees, the Alliance for Gun Responsibility, the Everytown for Gun Safety Action Fund and the Montana League of Cities and Towns.
"LR-130 is so confusing and poorly written that law enforcement officers, local officials and constitutional law experts disagree on its meaning and whether it can even be enforced," says a statement on the opposition campaign's website.
"Montanans all agree that we need to protect our Second Amendment rights, including our right to hunt our public lands and protect ourselves," the statement says. "Unfortunately, LR-130 is poorly written, unconstitutional and riddled with unintended consequences."
Lance Isaak, school board chairman of Kalispell Public Schools, said "guns and schools don't mix" and school districts' authority on the matter should not be diminished.
"Local control is a good thing, and I think this initiative would slowly start eroding local control," Isaak said. "Maybe in some school districts, people might feel more comfortable [with guns]. But that's a local school board decision."
Melton, with the Montana School Boards Association, added, "I think the flexibility under the current law works pretty well."
At least 17 municipalities in Montana have laws prohibiting open or concealed carry at public assemblies or within parks or cemeteries – all of which could be rendered void under LR-130. Libby and Culbertson, for example, have ordinances banning guns in cemeteries, and Helena requires concealed carriers to notify local authorities if they visit or live in the city.
While Marbut and Regier argue a "patchwork" of local restrictions could ensnare unwitting gun owners who strive to follow the law, neither could point to an instance of that happening in Montana. But Marbut said the consequences for violating such a restriction "are much higher than most people appreciate" and warned people's gun rights could be revoked.
Forty-three states wholly or partially restrict local governments' authority to regulate guns and ammunition, according to the Giffords Law Center, which lobbies for gun-violence prevention policies.
Regier said LR-130 would erase redundancies in the law, since state and federal codes already prevent concealed carry in bars and courthouses, and by people deemed mentally unfit and those with felony convictions.
"It doesn't open the floodgates to anything," Regier said. "It just keeps it uniform; it makes the law even across the state."
Reporter Chad Sokol may be reached at 758-4439 or csokol@dailyinterlake.com.
Recent Headlines
---