Wildkats, Erickson chasing State A gold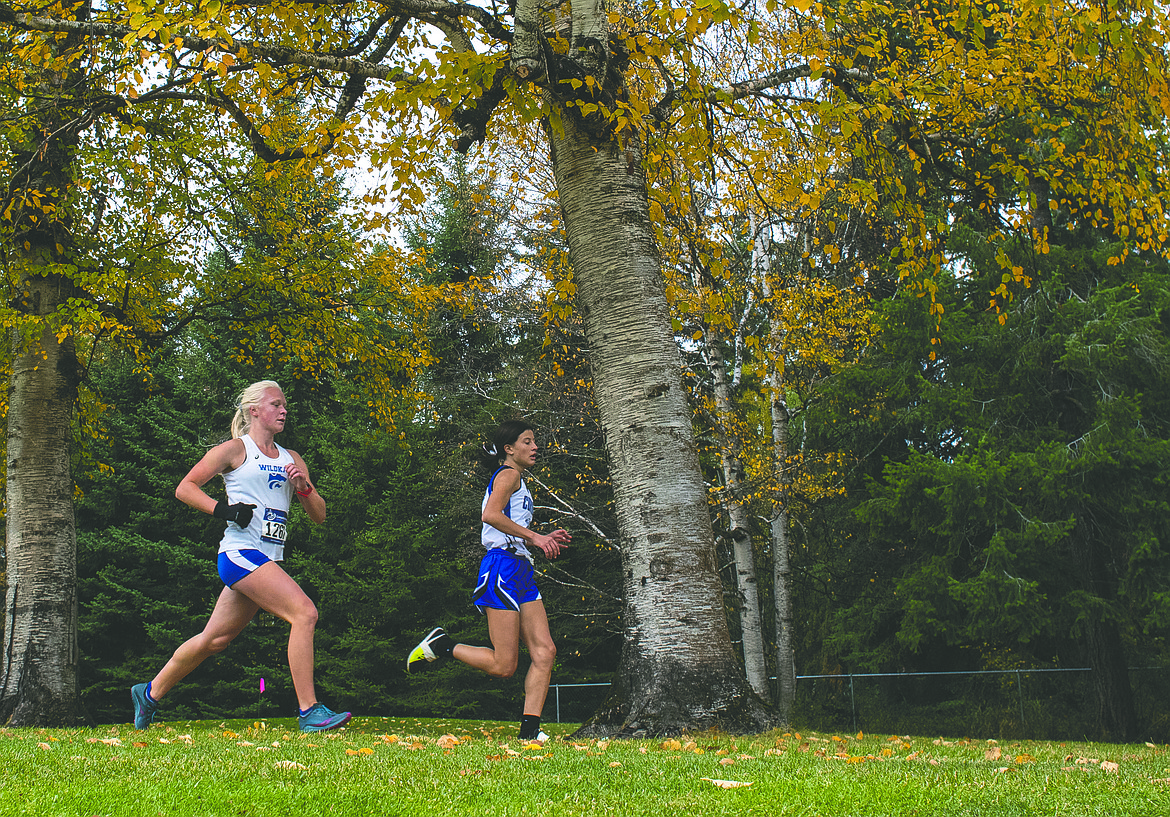 Columbia Falls' Lara Erickson, left, runs in the Western A Divisional at Whitefish Lake Golf Course Saturday, Oct. 17. Erickson placed second. (Chris Peterson/Hungry Horse News)
by
FRITZ NEIGHBOR
Daily Inter Lake
|
October 22, 2020 9:23 PM
The Columbia Falls Wildkats wish they were a little stronger heading into the State A Cross Country championships today at 10:30 a.m. at Rebecca Farm. But they'll keep running.
Take senior Lara Erickson, the leader of a team looking for its first state crown in the sport; her race may or may not end before the expected snowstorm hits the Flathead Valley, but she's not scared.
"We're kind of that sport that doesn't really care about weather," Erickson said. "So far this season we've run in snow just a couple days – but a few of us do like training over the winter. We're definitely ready."
Erickson, who has the second-fastest time in Class A coming in (behind defending champion Brynnli Poulsen of Hamilton), counts her sister Siri among that group, along with Azlyn Caldwell and Alyssa Blankenship.
The Wildkats will also be missing a couple runners, including Ally Sempf, today because of quarantine for COVID-19.
Defending girls' champion Hardin remains strong; Laurel is the favorite on paper.
Columbia Falls coach Jim Peacock remains confident.
"Well, I really like where the girls are sitting right now," he said. "I still feel like we match up extremely well with the rest of the teams out of the East, from reading articles and staring at Athletic.net, as coaches tend to do."
Lara Erickson's presence helps.
"She is a wonderful, hard-working athlete," Peacock said. "But also a very analytical, intellectual runner – she's really been a student of what she's doing, and she's become a year-round trainer, all four years of high school.
"I think she's better than what the ranking shows."
Last year's state meet was educational: Erickson went out very fast – too much so. After holding second for the first two miles she faded to 12th in the third.
"She put it all on the line and ran for second, and came up about a quarter-mile short," Peacock remembered. "I didn't know if she was going to make it to the finish line."
Lesson learned.
"I do remember I went out a little too hard," Erickson said. "And it was really hard to get to the finish. I think I'm a lot smarter this year – a lot wiser. I don't expect that to happen."
Erickson, who has a couple recruiting trips to Midwest colleges – Luther College in Iowa, for example – lined up, has a deep team behind her including Hannah Sempf.
"It's definitely really unfortunate about the quarantines," she said. "They're up 12 hours after we race. But, we're really just fortunate to have a race. And we also have quite a bit of depth, so that shows we're going to be OK."
The meet usually is a one-day event, but COVID-19 forced the Montana High School Association to spread it out over two. Here's how the races look, at least on paper:
A Girls
Laurel has Andria Mourich, Grace Timm and Carly Cook leading the way. Breaking up that group would be key. Polson projects to finish seventh; Whitefish, third a year ago, projects eighth.

A Boys
The first boys' race, under the staggered starts made necessary by the pandemic, is scheduled for 11:30 a.m.
Columbia Falls' two-year reign as champion is in serious jeopardy because of state favorite Hamilton and always-strong Hardin and Lewistown – plus, Peacock noted, nearly a third of his two teams is under quarantine.
Whitefish and the Wildcats could still challenge for the podium. Whitefish's Deneb Linton and Jacob Hansen are solid bets to earn All-State (top 15) honors.
Brant Heiner is the favorite to give Ronan its first individual state champion. Hamilton has three threats in Colter Purcell, Lane Cole and Colter Kirkland.
B Girls
Manhattan, Townsend and Red Lodge look like the best bets to share the podium, team wise. Red Lodge's Brayli Reimer has the best time in Class B coming in; Thompson Falls' Josey Neesvig is an All-State threat. The first race begins at 2 p.m.
B Boys
Defending champion Eureka is hopeful Isaac Reynolds, who has run once since Sept. 4 because of concussions, can bolster a pack that includes Gavin Bates, Chaidh Lochridge, Kyle Durden and Henry Cooke.
If not, the Lions are still a favorite – but Wolf Point, led by Zander Ackerman, and perennially strong Manhattan are that much closer in the rearview mirror.
Thompson Falls has a top runner in Justin Morgan; Mission's Thomas Nuila and Andrew Rush are All-State threats. First race is set for 3 p.m. Friday.
C Girls
This group begins Saturday's action at 10:30 a.m.; defending champion Seeley-Swan is the favorite, though Manhattan Christian and Belt-Centerville aren't far behind. Belt's Lindsey Paulson owns by far the best individual time coming in, while Plentywood's Annie Kaul has run well.
C Boys
Manhattan Christian is favored, you say? Weird. The Eagles are gunning for five straight, and could have five runners finish in the top 10, led by 2018 individual champion Riley Schott.
Richey-Lambert is a solid bet for second and has a state favorite in Sam Smith. Smith was runner-up at state the last two years but this season has the second-fastest time in the state – 15 minutes, 45 seconds – regardless of class.
The Fusion is the last team to win state before Manhattan Christian's run. These races begin at 11:30 a.m.
AA Girls
The only school not named Bozeman to win this championship is Missoula Hellgate, in 2018. The defending champion Hawks and Knights are heavy favorites; Flathead has a chance at third-place hardware, along with Billings West and Helena High.
Lilli Rumsey Eash and Madeline Jellison lead the Bravettes. Hellgate's Sage Brooks (17 minutes, 59.4 seconds), Bozeman's Natalie Nicholas (18:10.8) and defending champ Kylie Harnett of Helena (18:20.4) own the top times coming in. The first race begins at 2 p.m.
Glacier, led by Bailey Gable, is projected to finish 10th.
AA Boys
The saying is, "They don't play these games on paper," which is probably why Bozeman owns the last 12 team titles: Contenders often turn into pretenders. The best race is maybe saved for last (3 p.m.). Missoula Sentinel, with four possible All-State runners, graphs out a shade better than the Hawks, who have the state's top mark from Stirling Marshall-Pryde (15:39.8).
Glacier and Flathead project to finish 10-11; Glacier's Sam Ells is an All-State threat; junior Gabriel Felton leads Flathead.
---