Sentinel gets on roll early to rout Glacier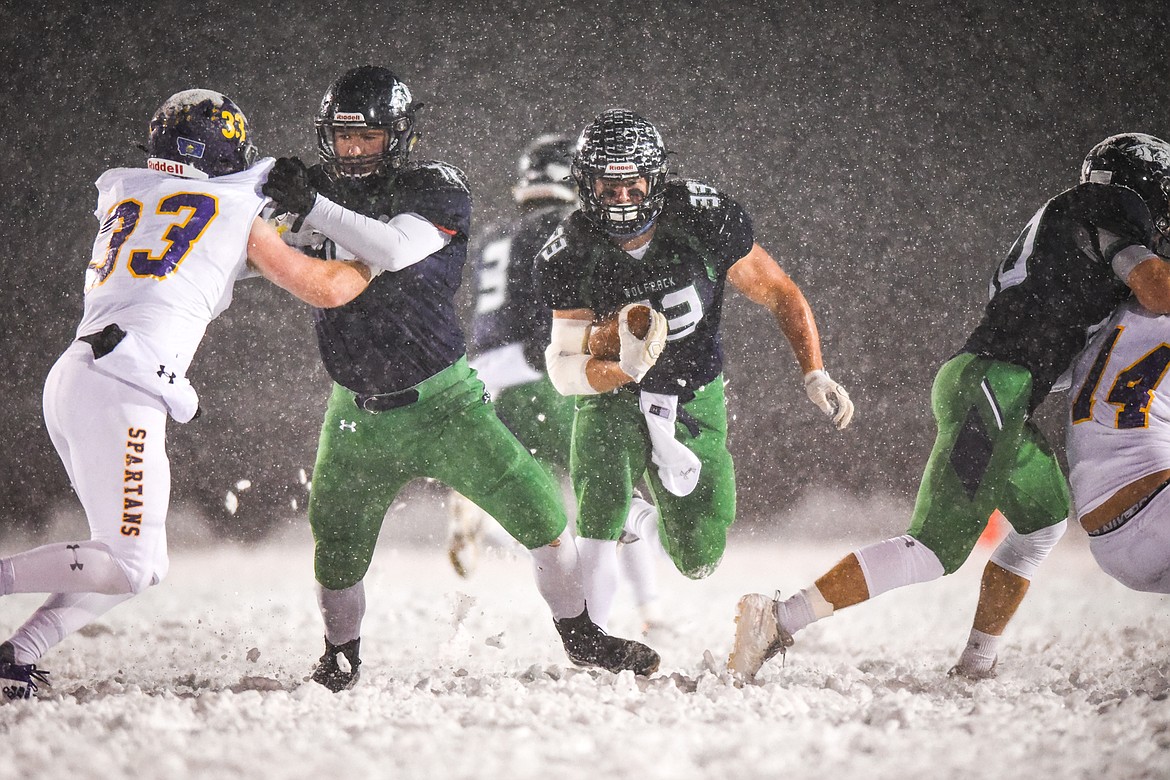 Glacier running back Jake Rendina (33) looks for running room against Missoula Sentinel in the second quarter at Legends Stadium on Friday. (Casey Kreider/Daily Inter Lake)
by
Daily Inter Lake
|
October 23, 2020 10:55 PM
The Missoula Sentinel Spartans had little issue Friday – with the snow, or with the Glacier Wolfpack.
Dayton Bay threw two touchdown passes and the unbeaten Spartans' big-play offense made impacts early in each half of a 44-0 Western AA win at Legends Stadium.
The Wolfpack (5-2) will take the No. 3 seed in the Western AA into the playoffs, and play host to No. 6 seed Missoula Big Sky (2-5) next week.
Glacier can hope for better weather – its vaunted running game, led by Jake Rendina, never found traction in the four inches of snow blanketing Legends. The Wolfpack were also missing head coach Grady Bennett, who has been sick all week and stayed away from the team as a precaution.
"First game I've ever missed, I think," he said.
Bennett watched the Wolfpack gain minus-5 yards rushing on television. Rendina, who had 1,100 rushing yards coming in, garnered 15 on 12 carries.
"I thought defensively we played hard and with a lot of heart, but it's one of those things where if you make one mistake, miss one tackle, it's off to the races," Bennett said. "And when you're floundering on offense like we were tonight, you have no chance."
The Pack's night started with 6-yard losses on its first two plays; further emblematic was a reverse that was sniffed out by Sentinel's Geno Leonard for a nine-yard loss late in the first half.
That set up a punt, a short field and a 9-yard TD run by Donovan South that put the Spartans up 28-0 just 33 seconds before intermission.
In between Cam Sirmon tore off a 41-yard scoring run – on the Spartans' second snap – and Bay fired TD passes of 36 yards to Zac Crews and 25 yards to TJ Rausch. By halftime Glacier had minus-10 yards of offense.
The second half began with Glacier getting a couple first downs before punting. As snow continued to fall, Sentinel's next snap resulted in a Soren Syvrud 85-yard burst for another TD. That made it 34-0.
A Drew Klumph interception return and a Camdin Dirnberger field goal completed the scoring.

The clock ran continuously under the 35-point margin from 3:36 of the third quarter. Sentinel got its third straight shutout – outscoring its opponents 156-0.
Sentinel (7-0) and Helena High (6-1) earned byes into the second round of the AA playoffs.
"Now it's off to the playoffs. It's a new season," said Bennett, who added he expected to be back at school Monday. "We'll take it one game at a time and pursue a championship, like everyone else who gets in."
Sentinel 14 14 13 3 - 44
Glacier 0 0 0 0 - 0
S - Cam Sirmon 40 run (Camdin Dirnberger kick), 11:24-1Q
S - Zac Crews 36 pass from Dayton Bay (Dirnberger kick), 2:31-1Q
S - TJ Rausch 25 pass from Bay (Dirnberger kick), 7:09-2Q
S - Donovan South 9 run (Dirnberger kick), :34-2Q
S - Soren Syvrud 85 run (kick failed), 7:39-3Q
S - Drew Klumph 25 interception return (Dirnberger kick), 3:36-3Q
S - Dirnberg 28 FG, 9:36-4Q
INDIVIDUAL STATISTICS
RUSHING: Sentinel (32-218) -- Syvrud 10-117, Sirmon 8-65, South 5-18, Klucewich 2-12, Darren DeCoite 1-5, Kellen Curtiss 2-4, Bay 2-2, Adam Jones 1-minus 5, Team 1-0. Glacier (25-minus 5) -- Jake Rendina 12-15, Wyatt Thomason 2-6, Brian Marmolejo 2-minus 1, Casey Peiffer 2-minus 7, JT Allen 6-minus 9, Connor Sullivan 1-minus 9.
PASSING: Sentinel -- Bay 4-8-0 for 81 yards; Sirmon 3-5-0 for 16 yards; JJ Dolan 0-1-0 for 0 yards. Glacier -- Allen 6-15-1 for 20 yards.
RECEIVING: Sentinel -- Zac Crews 3-54, Rausch 3-30, Haiden Crews 1-13. Glacier -- George Herne 3-10, Ethan Diede 1-5, Rendina 1-5, Cole Johnson 1-0.
---