Flathead's Rumsey Eash All-State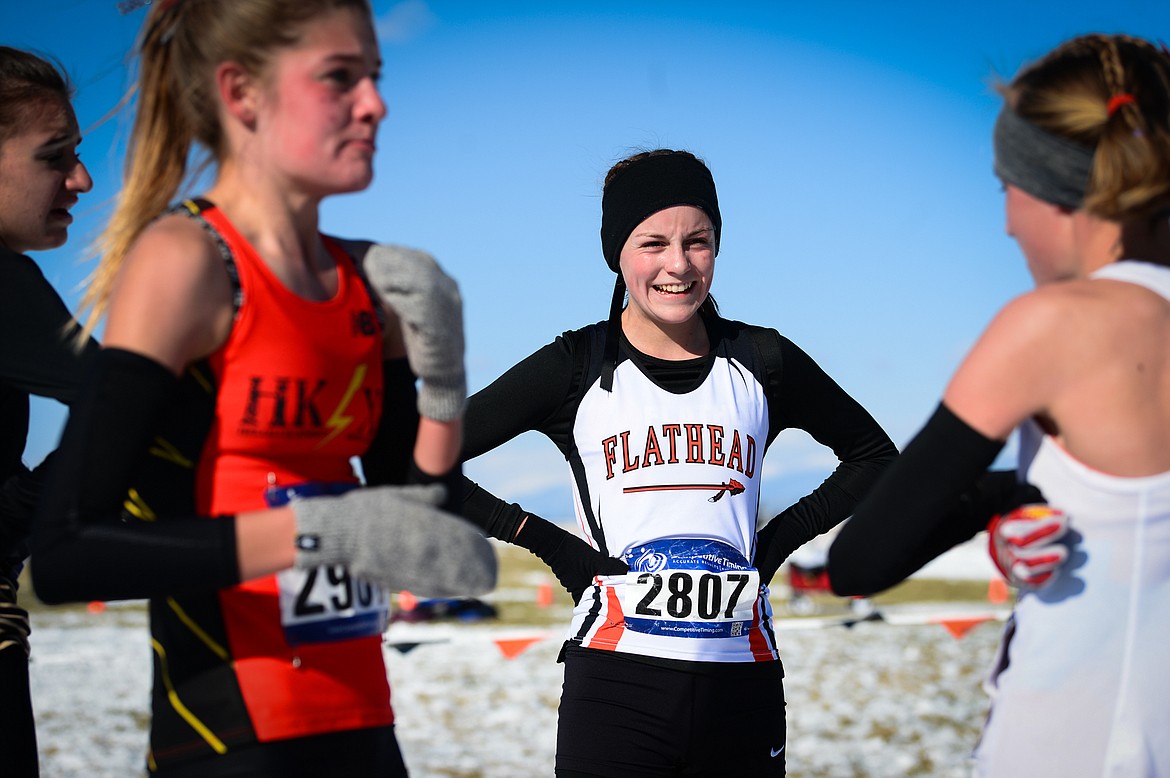 Flathead's Lilli Rumsey Eash smiles after placing seventh in the Class AA girls' state meet at Rebecca Farm on Saturday. (Casey Kreider/Daily Inter Lake)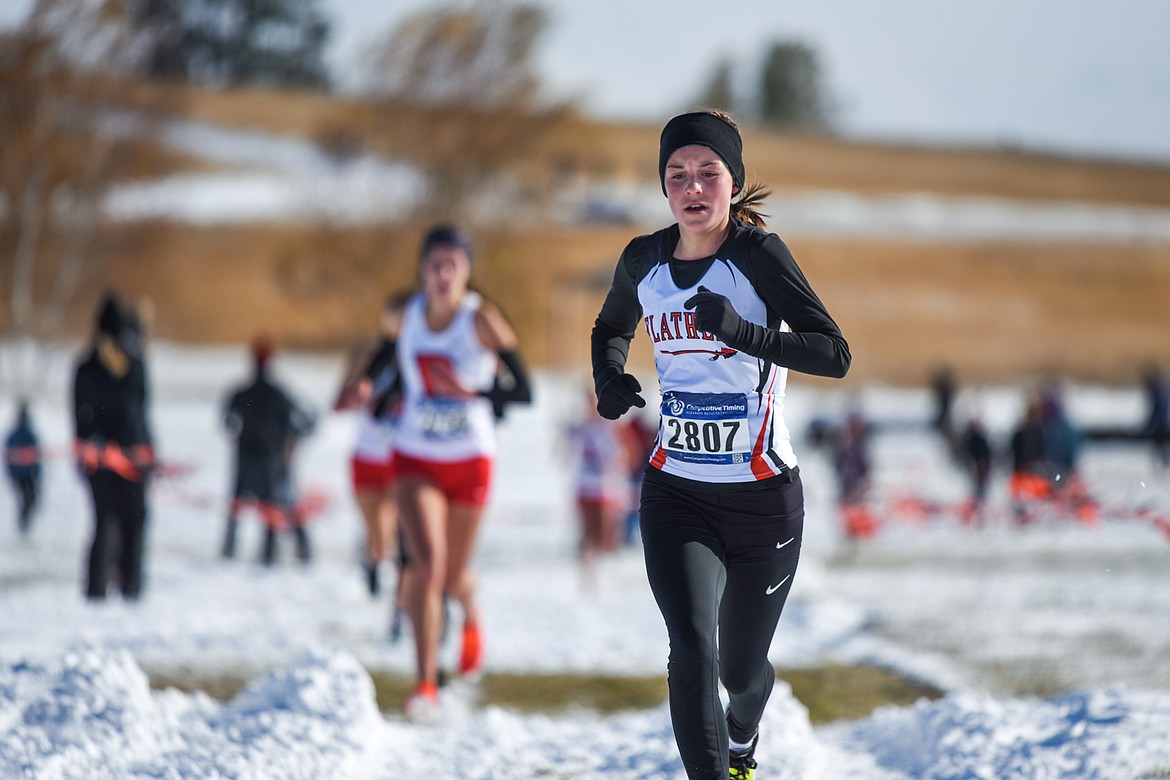 Flathead's Lilli Rumsey Eash runs the course at the Class AA girls' state meet at Rebecca Farm on Saturday. Rumsey Eash placed seventh. (Casey Kreider/Daily Inter Lake)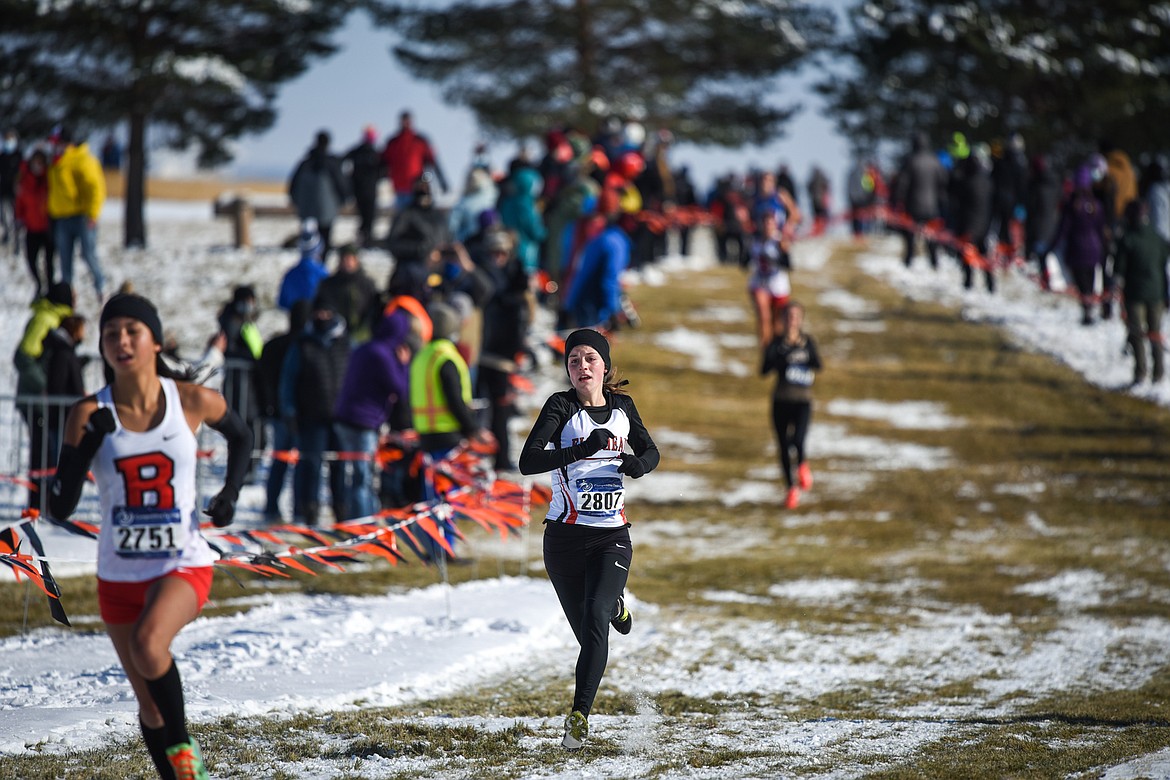 Flathead's Lilli Rumsey Eash approaches the finish line in the Class AA girls' state meet at Rebecca Farm on Saturday. Rumsey Eash placed seventh. (Casey Kreider/Daily Inter Lake)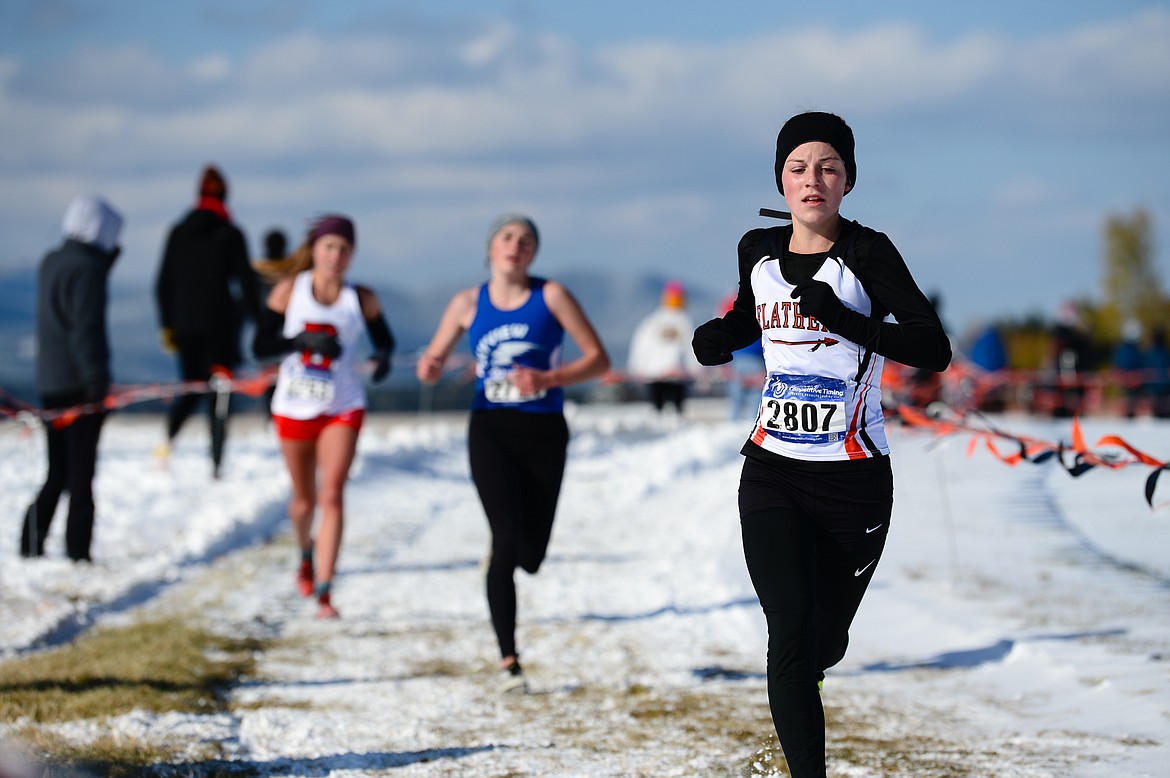 Flathead's Lilli Rumsey Eash runs the course at the Class AA girls' state meet at Rebecca Farm on Saturday. Rumsey Eash placed seventh. (Casey Kreider/Daily Inter Lake)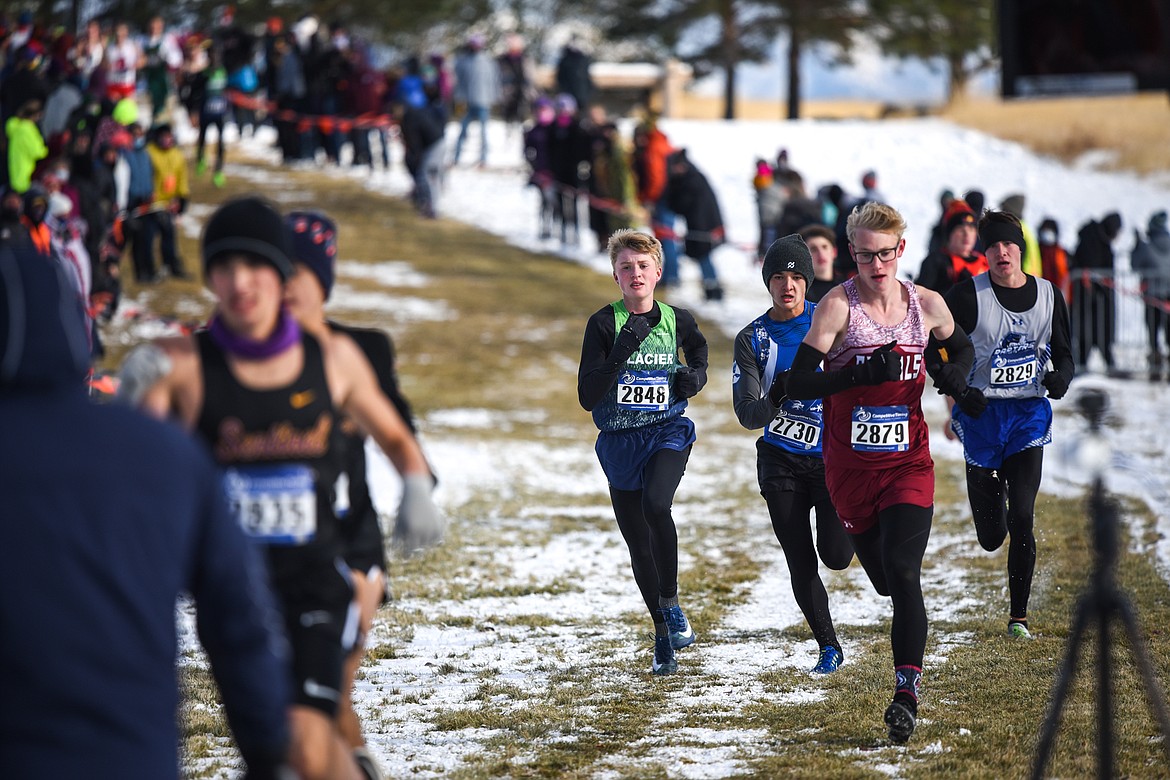 Glacier's Sam Ells approaches the finish line at the Class AA boys' state meet at Rebecca Farm on Saturday. (Casey Kreider/Daily Inter Lake)
Previous
Next
by
FRITZ NEIGHBOR
Daily Inter Lake
|
October 24, 2020 10:17 PM
It was a little different State AA cross country race we saw Saturday, in that Bozeman's girls somehow overcame Missoula Hellgate and Bozeman's boys undershot a 13th straight title.
Meanwhile Kalispell managed a single All-State runner in two races, run in breezy conditions on Rebecca Farm: Flathead freshman Lilli Rumsey Eash, who finished seventh.
Glacier's girls and boys finished 10th and 7th; Flathead's girls were fourth and the boys, 12th.
"When all the girls came across the finish line I was honest with them – we're probably going to be fourth," Flathead coach Jesse Rumsey, Lilli's mom, said of the Bravettes. "But we're going to celebrate fourth place and getting to state and getting a full season, especially with this weather."
Saturday's state-record snowstorm was a capper to a season threatened by the COVID-19 pandemic. Race officials used a blower attached to a skid steer to clear the course of much of the 4-plus inches of snow that fell overnight. It wasn't optimal, of course, but the runners muscled on.
"The wind wasn't too bad," said Rumsey Eash, who finished in 19 minutes, 57.03 seconds. "I was hoping to get a faster time, but with the snow there's not much you can do. Overall I'm happy, and the snow added an interesting touch to the race."
Hellgate's Kensey May won the girls' title in 19:21.03; defending champion Kylie Hartnett of Helena was next at 19:26.88. Hellgate's Abby Kendrick and Sage Brooks were next, but then six of the next nine runners came from Bozeman.
The Hawks scored 42 points to 47 for Hellgate, earning their second straight girls' crown and 13th in 14 years. Helena was third at 98; Flathead had 148.
Missoula Sentinel, meanwhile, became the first team not named Bozeman to win the State AA boys since 2007 – a 12-year streak. The Spartans' last state title came in 1984.
Bozeman's Stirling Marshal-Pryde took individual honors, followed by Sentinel's Tanner Klumph. Hellgate – which was second, pushing Bozeman to third – had the next two finishers in Ignatius Fitzgerald and Miles Colescott. Sentinel scored 59 points to 67 for Hellgate and 69 for Bozeman.
All this came after Manhattan Christian swept the State C team titles Saturday morning.
Flathead felt it had a chance at a girls' trophy and set its sights on Helena, but the Bengals ran well – Odessa Zentz gave the Bengals a second All-State runner and a couple more finished in the 30s.
"They ran great," Rumsey Eash said. "We were bummed we weren't able to beat them, but hopefully we can get another chance at them next year, and have a chance to get on the podium."
Flathead's boys saw junior Gabriel Felton, who spent part of the season fighting injury, finish 21st; four Braves were grouped from 69-77.
"Their place does not reflect them as a team," Coach Rumsey said. "They've made big strides this season. Gabe Felton getting 21st – when you look at last year, that's a tremendous improvement."
At the midway point Felton was sitting 12th; the top 15 earn All-State status. He faltered some, as did Glacier's Sam Ells, who was seventh at the midway point. Ells ended up 30th, still tops among the Wolfpack.
"He had some injury issues last week stemming from a soccer game," Glacier coach Cody Moore said of Ells. "He was battling that this week and yeah, it was a tough day for him."
Isabella Lane was tops among the Glacier girls, finishing 31st.
"Izzy Lane had a great day, after being consistently our No. 3 girl," Moore said. I think it was a very solid performance from both our teams."
Ells is a junior, and will return along with four other members of the Wolfpack next season.
"Very similar story on the girls' side," Moore added. "We had some very solid performances and, again, lose just two seniors. Big things to come."
State C
Manhattan Christian's boys won their fifth straight title and seventh overall – both records for the class – by finishing 2-3-4-5-6-7. The Eagles earlier edged defending champion Seeley-Swan 29-30 for the girls' title.
It was a case of overkill for the boys, since only the top three runners for each score at the State C meet. Take out Nathan Adams, Cullen Visser and Asa Jassen and second-place Richey-Lambert scores 18 points instead of 24.
And the Eagles would still have 9, the same score they had in 2017 and 2018 and one behind the record they set last year. This was the 16th year C teams scores went top-three.
As expected Richey-Lambert's Sam Smith won the boys' individual title in 17:04.18. Last year's champion, Riley Schott of Manhattan Christian, was second at 17:28.43.
Belt-Centerville was third in the team race with 37 points.
On the girls' side Manhattan Christian's Ava Bellach placed third to lead a 3-11-15 finish for the Eagles; Seeley-Swan's Sariah and Emily Maughan were sixth and eighth, and teammate Kyla Conley was 16th. If Conley earns All-State status – 15th, switching spots with Manhattan Christian's Kirsten Vankirk – the Blackhawks repeat as champs. Vankirk finished five-plus seconds ahead of Conley.
It is the Eagles' fourth girls' title and first since winning three straight from 1999-2001.
Lindsey Paulson of Belt-Centerville won individual honors in 20:50.75; Plentywood's Annie Kaul was second at 21:51.68.
State Cross Country results
AA Girls
Team scores -- 1, Bozeman 42; 2, Missoula Hellgate 47; 3, Helena 98; 4, Flathead 148; 5, Billings West 153; 6, Missoula Sentinel 160; 7, Bozeman Gallatin 165; 8, Helena Capital 205; 9, Billings Skyview 224; 10, Glacier 277; 11, Great Falls CMR 332; 12, Butte 343; 13, Belgrade 376; 14, Missoula Big Sky 377; 15, Billings Senior 464.
Top 15 Individuals
1, Kensey May, Hellgate, 19:21.03; 2, Kylie Hartnett, Helena, 19:26.68; 3, Abby Kendrick, Hellgate, 19:34.66; 4, Sage Brooks, Hellgate, 19:43.62; 5, Natalie Nicholas, Bozeman, 19:51.41; 6, Hayley Burns, Bozeman, 19:55.37; 7, Lilli Rumsey Eash, Flathead, 19:57.03; 8, Lai Keith, Billings West, 20:04.07; 9, Grace Gilbreth, Bozeman, 20:06.40; 10, Emberlyn Hoffman-Gaschk, Billings Skyview, 20:10.2; 11, Molly Sherman, Bozeman, 20:31.52; 12, Polly Meshew, Bozeman, 20:31.83; 13, Natalie McCormick, Bozeman, 20:35.71; 14, Odessa Zentz, Helena, 20:36.27; 15, Emma Nelson, Sentinel, 20:42.40.
AA Boys
Team scores -- 1, Missoula Sentinel 59; 2, Missoula Hellgate 67; 3, Bozeman 69; 4, Billings West 128; 5, Great Falls 191; 6, Gallatin 200; 7, Glacier 296; 8, Helena Capital 213; 9, Helena 236; 10, Belgrade 248; 11, Billings Skyview 302; 12, Flathead 309; 13, Billings Senior 349, 14, Great Falls CMR 369; 15, Butte 380; 16, Missoula Big Sky 398.
Top 15 Individuals
1, Stirling Marshall-Pryde, Bozeman, 16:35.40; 2, Tanner Klumph, Sentinel, 16:46.95; Ignatius Fitzgerlad, Hellgate, 15:53.22; 4, Miles Colescott, Hellgate, 17:00.09; 5, Carlson Steckelberg, Gallatin, 17:05.54; 6, Caleb Hornung, Billings West, 17:13.00; 7, Wyatt Mortenson, Sentinel, 17:16.48; 8, Samuel Nash, Belgrade, 17:18.76; 9, Finneas Colescott, Hellgate, 17:19.63; 10, Xander Danenhauer, Bozeman, 17:19.83; 11, Connor Neil, Bozeman, 17:198.84; 12, Chase Green, Sentinel, 17:29.00; 13, Corbin Johnson, Sentinel, 17:30.68; 14, Robert Wagner, Helena, 17:31.93; 15, Jason Straus, Billings West, 17:33.44.
C Boys
Team scores (top 3 finishers score) -- 1, Manhattan Christian 9, 2, Richey-Lambert 24; 3, Belt/Centerville 37; 4, Drummond 65; 5, Scobey 68; 6, Darby 75; 7, Twin Bridges 95; 8, Ennis 103; 9, Cullbertson 115, 10, Heart Butte 145; 11, Melstone 154; 12, Fromberg 219.
Top 15 Individuals
1, Samuel Smith, Richey-Lambert, 17:04.16; 2, Riley Schott, Man. Christian, 17:28.43; 3, Oren Arthun, Man. Christian, 18:28.47; 4, Devan Walhof Jr., Man. Christian 18.44.94; 5, Matt Kenney, Man. Christian, 19:10.56; 6, Nathan Adams, Man. Chrisitan, 19:13.80; 7, Cullen Visser, Man. Christian, 19:30.95; 8, Asa Jessen, Belt-Centerville, 19:33.83; 9, Gavyn Bickel, Roberts, 19:45.42; 10, Samuel Bryant, Drummond, 19:53.12; 11, Nicholas Ellerton, Richey-Lambert 19:58.04; 12, Matthew Ellerton, Richey-Lambert, 19:58.17; 13, Clayton Jassen, Belt-Centerville, 20:00.67; 14, Scott Parke, Drummond, 20:05.63; 15, Morgan Hendrickson, Twin Bridges, 20:12.13.
C Girls
Team scores (top 3 finishers score) -- 1, Manhattan Christian 29, Seeley-Swan 30, Westby-Grenora 34, Culberts 54, Drummond 62, Belt-Centerville 64, Scobey 74, Plentywood 93, Park City 103, Sunburst 128, Broadus 130, Fairview 132, Whitewater 150, Circle 178, Dodson 185.
Top 15 Individuals
1, Lindsey Paulson, Belt-Centerville, 20:50.75; 2, Annie Kaul, Plentywood, 21:51.68; 3, Ava Bellach, Man. Christian 23:16.32; 4, Mie Handran, Scobey, 23:33.81; 5, Elizabeth Field, Westby-Grenora 23:35.38; 6, Sariah Maughan, Seeley-Swan, 23:36.91; 7, Sayler Stewart, Westby-Grenora, 23:37.43; 8, Emily Maughan, Seeley-Swan 23:38.88; 9, Maddie Yakos, Drummond, 23:51.39; 10, Allie Dale, Twin Bridges, 24:01.49; 11, Mali Kamerman, Man. Chrisitan, 24:06.76; 12, Gracie Yakos, Drummond, 24:08.72; 13, Kaylie Olson, Culbertson, 24:21.56; 14, Abigail Hoffmanm, Park City, 24:32.70; 15, Kiersten Vankirk, Man. Christian, 24:35.77.
---