Mini camper company expanding inventory
by
BRET ANNE SERBIN
Daily Inter Lake
|
October 25, 2020 12:00 AM
Sherpa Adventures is set up to succeed in manufacturing, while social distancing. Bruce Weatherby and his team make tiny teardrop trailers - ideal for the surging interest in isolated outdoor activities - and they build them all out of their manufacturing center in rural Libby.
Because the company was well-positioned for the circumstances of the COVID-19 pandemic, the tiny trailer-maker is now growing far beyond its small original footprint.
Demand is up for Sherpa's three off-road teardrop trailer models, and by mid-November Sherpa plans to roll out the newest addition to its fleet. Two new hires were brought on recently as volumes increased, bringing the total crew up to eight people, including the three co-owners.
The team is even looking at expanding into a second manufacturing location closer to a more populated area, such as Kalispell, in order to keep up with the skyrocketing interest in their products.
"We always thought we were small potatoes," recalled Weatherby, who started the company in 2014 along with Adam Montgomery and Joan Oakland. "We are growing. We try really hard to keep that in mind."
SIX YEARS ago, Weatherby, Montgomery and Oakland — former coworkers at a grocery store in Troy — got together to open a body shop. That idea soon morphed into a vision for manufacturing tiny teardrop trailers, with a focus on high-quality materials, custom builds, reasonable prices and top-notch customer service.
And like a camper snuggled up inside a Sherpa trailer, it was a good fit.
Sherpa has grown to include three different trailer designs: the 5-by-8-foot Offroad, the 4-by-8-foot Yak, and the best-selling 5-by-8-foot Yeti.
The Yak and Yeti models were featured this year in Forbes magazine's list of "Ten Tiny Towable Trailers to Take Touring."
The honor came as no surprise to Weatherby.
From the outset, he and his partners have focused on using durable materials while charging affordable prices. He said the Sherpa team constantly reevaluates every aspect of their trailer design in order to continue improving their products. This year, for instance, they started installing solar generators instead of battery inverters, because the eco-friendlier option is more compact, more efficient and can be used for different functions besides providing power to the trailer.
WHILE SHERPA'S trailers may be tiny, their following is not. Drivers can be spotted towing Sherpa trailers all across the country. Weatherby said they're on track to make about 60 units this year.
In fact, Weatherby said Sherpa trailers are so eye-catching that they warn new customers to budget at least half an hour when stopping for fuel, because everyone at the gas station usually wants to get a look at the mini-trailer. In a lot of cases, Weatherby said, the onlookers at gas stations end up becoming Sherpa's newest customers, and that's how the brand name has spread across the country.

"It's amazing how our trailers breed," Weatherby observed.
He expects the latest addition to the Sherpa brand to attract attention soon, too. The Expedition is anticipated to debut in mid-November. The new model will be four feet wide, six-and-a-half feet long and three feet tall, with a rooftop tent. It's designed to be able to be set up at a camp site and dropped off while adventurers go out for the daily adventures, so they don't need to haul the trailer everywhere they go.
Weatherby said the Expedition has been about a year in the making. "It's been an evolution," he said.
He was candid about the challenges Sherpa faces manufacturing in Libby as opposed to a more populated, centralized location. Weatherby said many products can be hard to come by, and he travels to Kalispell and Spokane on an almost weekly basis to stock up. With numerous supply chain disruptions popping up due to the coronavirus pandemic, parts like plastic battery boxes and awnings have become especially tough to find.
"It's been very challenging to get parts," Weatherby said. "That's been kind of our battle."
The location also creates challenges with staffing. With the company's growth, Weatherby lamented the relatively small workforce available in Libby. But all eight of the company's current workers come from Libby or Troy, and Weatherby said the Sherpa leadership is proud to be able to provide job opportunities in an area where career choices can be limited.
Someday, Sherpa might open up a second manufacturing center closer to Kalispell, but in the meantime Weatherby said there are plenty of aspects of the company's manufacturing headquarters that he wouldn't want to change.
Overhead, for one thing, is much less expensive for the Libby manufacturing center than it would be in a more urban area, Weatherby pointed out. And even though the workforce is small, most new hires aren't faceless names on the top of a resume—they're people he knows from within the small, close-knit community.
"I love it here," Weatherby said wistfully. "I get to live and work in what I call Mayberry."
Sherpa Adventures, LLC. is located at 1006 W 9th St, Libby, MT 59923. They can be reached at (406)-293-5551 or found online at http://sherpatrailers.com.
Reporter Bret Anne Serbin may be reached at (406)-758-4459 or bserbin@dailyinterlake.com.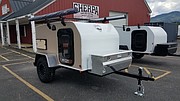 ---