Residential building way ahead of last year's numbers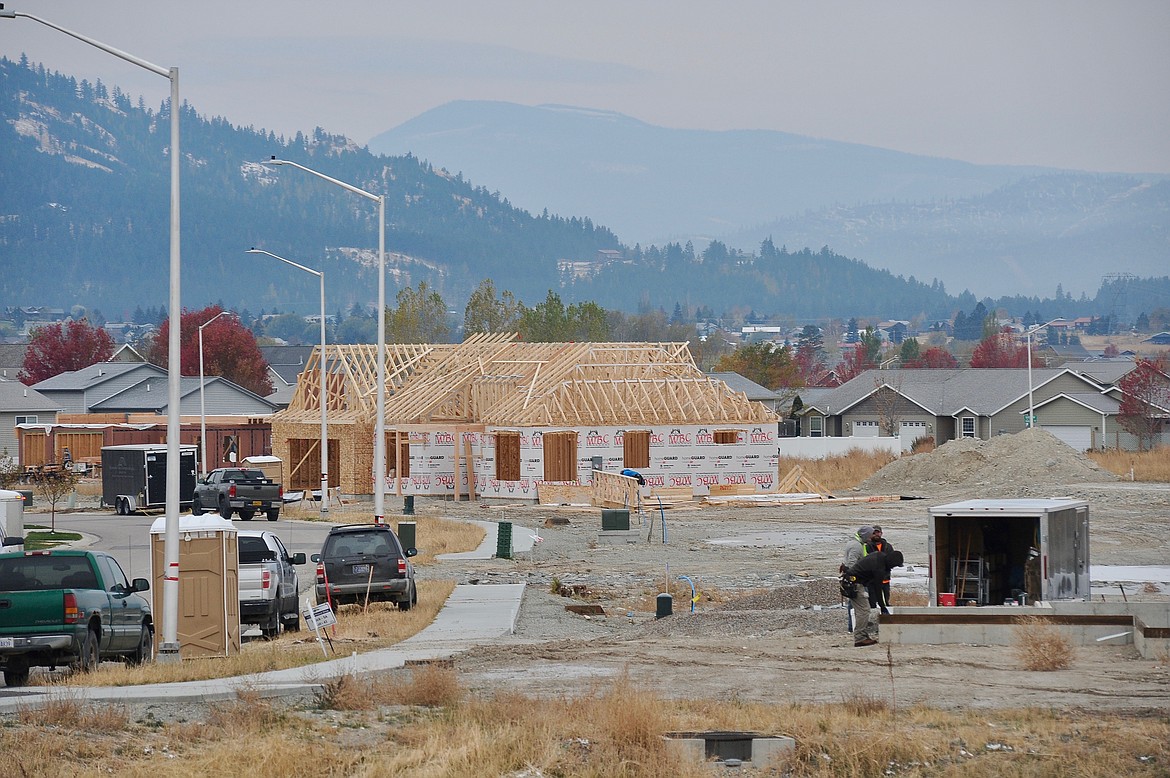 New homes under construction on Northland Drive in Kalispell on Friday. (Matt Baldwin/Daily Inter Lake)
by
BRET ANNE SERBIN
Daily Inter Lake
|
October 25, 2020 12:00 AM
Although the COVID-19 pandemic has slashed workloads for a lot of businesses in the Flathead Valley, residential building is still full-steam ahead.
Jeff Clawson in the City of Kalispell's Building Office said the Kalispell Building Department never anticipated seeing as much building activity as they have throughout 2020. Since the start of the year, the department has issued 234 permits for single-family/duplex homes. That's almost double the 121 permits the department had issued by this time last year.
Multi-family permits have also shot up this year, with 132 multi-family housing units approved so far in 2020, compared to 84 multi-family units in all of 2019.
The activity is especially surprising considering the Kalispell Building Department actually anticipated seeing less building activity this year compared to previous seasons. In fact, when the Kalispell City Council approved its Fiscal Year 2020 budget in August, the budget document stated, "Commercial activity in the Building Department is anticipated to be at lower levels than previous years."
Ten months into the year, that expectation hasn't played out.
"When we do our budget, we try to project what we think the amount of housing will be," said Clawson. "This year, I just missed it." He added, "I was just figuring things were going to slow down."
But Clawson pointed out the building projections are "a guess," and similar to a lot of predictions for 2020, this one was off the mark.
Commercial development has slowed down as expected, but residential building continues at a breakneck pace. Clawson's latest prediction is that residential construction in Kalispell will only continue to increase, with no potential end in sight.
MOST OF the recent construction has been emerging in North Kalispell.
Clawson said three housing developments are responsible for most of the building permits that have come in this year: Silverbrook Estates and Meadow's Edge in North Kalispell, and Southside Estates off of Airport Road in South Kalispell.
He said he couldn't offer an explanation as to why there has been so much interest in Kalispell homes lately, but Clawson said, luckily, the circumstances surrounding the coronavirus outbreak have allowed the building department to keep up with increasing demands.
He explained he and his staff have stopped going into buildings to do spontaneous inspections, since those aren't required by the state. With the extra time they've saved by cutting out that portion of their routine, the department has been able to keep up with the increased loads for required inspections such as licensed renewals.
"We'll still keep up with them," Clawson promised. But he noted there are factors beyond his control that could still delay building in Kalispell, like shortages and skyrocketing prices for building materials.
"We'll see how that works out," he said.
Reporter Bret Anne Serbin may be reached at (406)-758-4459 or bserbin@dailyinterlake.com.
---