Wide variety of Halloween events planned for kids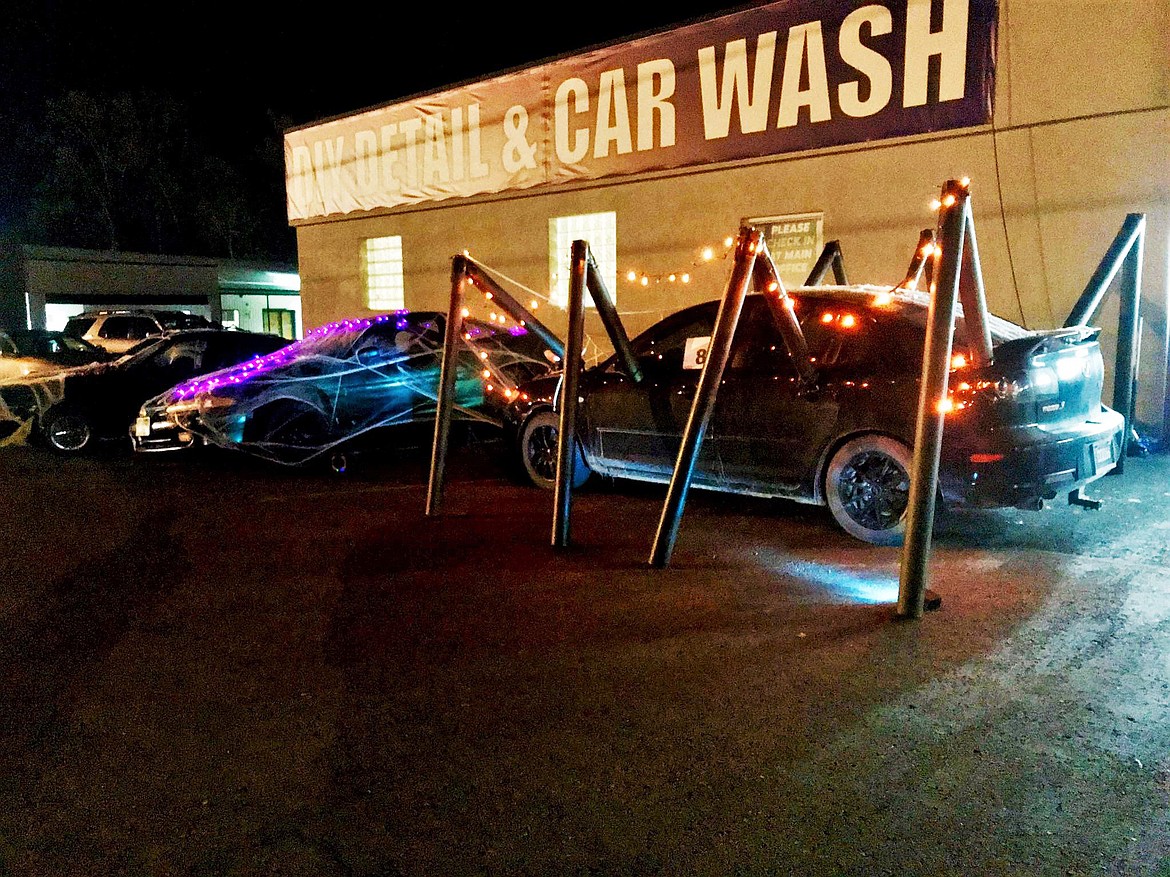 Cars tricked out in Halloween garb await trick or treaters at last year's Trunk or Treat event hosted by the Elevation Car Club at Reflections Automotive Spa, 1212 U.S. 2 E., in Kalispell. This year's family-friendly event takes place from 7 to 10 p.m. Friday, Oct. 30. (courtesy photo)
by
CAROL MARINO
Daily Inter Lake
|
October 28, 2020 12:00 AM
There are plenty of Halloween activities planned for children in the Flathead Valley, even though the pandemic has prompted organizers to take precautions.
This year, due to COVID-19, neither the Kalispell Center Mall nor downtown Whitefish are planning trick or treat events or costume contests. The Trick or Treat Trail that had been scheduled in recent years at the Bakke Nature Reserve in Whitefish is also canceled.
For a detailed list of recommended Halloween activities and how to play it safe, as well as activities the CDC considers higher risk, visit www.cdc.gov.
While caution is prudent, there are a variety of fun Halloween events happening in the community.
• The Fritz Corn Maze is open with some changes to keep guests safe. The popular attraction has added a new Scavenger Hunt. The haunted trail, bale trail and haunted barn are open. Masks are required for the haunted activities.
The Maze is at 141 Birch Grove Road in Kalispell, 1 mile south of Glacier Park International Airport. Visit fritzcornmaze.com for more details.
• Sweet Pickin's Pumpkin Patch is open daily through Oct. 31 at its new location, 1990 Holt Stage, Kalispell.
Kids of all ages can play on the giant jumping pillow and giant sandbox, on the pedal cart race track and trike maze, or ride the cow and barrel trains, and feed the animals.
• The Hockaday Museum of Art invites kids of all ages and their families to come by the museum Halloween weekend for some free candy and other goodies. Staff will be doing contactless candy pick-ups outdoors on the museum's front steps from noon to 3 p.m. Friday and Saturday, Oct. 30 and 31. Come with or without costumes.
Also, since the museum is currently unable to have large gatherings and host its regular monthly Community Free Days due to the coronavirus, it's giving away free family admission tickets for kids and parents to come back and visit the galleries. The tickets have no expiration date.
Friday, Oct. 30
• Flathead Lake State Park celebrates fall with Friday Fall Craft Days. Join a ranger virtually at 3 p.m. on the park's Facebook page for a fall craft you can do at home with items you already have on hand or that are easy to obtain.
Those who want to participate but don't have the means may call 837-3041 or email rebekah.tueller@mt.gov and a craft goodie bag will be provided.
• Sprouts Club Drop in Playcare at 40 Commons Way in Kalispell is hosting a Halloween party for the wee ones from 2 to 6 p.m. and for the older kids from 7 to 11 p.m. Dress them up for a fun party of dancing, games and candy.
• Lone Pine State Park has a guided Full Moon: Park After Dark hike at 6:30 p.m. Bring a headlamp, hiking shoes, water and warm clothes. Space is limited. To reserve a spot, call 406-755-2706, ext. 0.
• Dome Theater Project in Libby screens the 1993 PG film "Hocus Pocus" at 7 p.m. Tickets are $6.
• The Elevation Car Club is hosting a family-friendly car show from 7 to 10 p.m. at Reflection Automotive Spa in Kalispell. Cars will be in full Halloween regalia and their owners will be passing out candy to the kids. Vote for your favorite costumed caddy. Attendees are asked to wear masks.
Reflection Auto Spa is located at 1212 U.S. 2 E. in Kalispell.
Saturday, Oct. 31
• Lone Pine State Park in Kalispell is putting on a Kids Halloween Scavenger Hunt from 10 a.m. to 2 p.m. starting at the Visitor Center. Be prepared to hike a half mile at your own pace while searching for things to build a jack-o-lantern. Drop in anytime; no registration is required.
• Glacier Harley Davidson hosts a Halloween party and fundraiser for kids and adults starting at 9:30 a.m. with a costume poker ride. Kids are invited to trick or treat and enter the costume contest. There will also be a raffle and silent auction with proceeds benefiting the Hutchens family of Kalispell.
• Downtown Libby invites kids to trick or treat the businesses on Mineral Avenue that have a pumpkin picture in their windows beginning at 4 p.m. Social distancing is encouraged.
• The Bigfork Area Chamber of Commerce hosts a Halloween drive-in movie night at the Bigfork High School parking lot featuring two Halloween classics. "Hocus Pocus" will be shown at 5:30 p.m., followed by "Beetlejuice" at 8:15 p.m. Attendees will be able to tune in to the audio on the car radios.
There will be food trucks on site and the cost to attend is a $5 donation per car for each show. Parking will be on a first-come basis and will open one hour before each show. Everyone will be required to wear a face mask or alternative face shield while outside of their vehicles. Alcohol will not be sold or allowed on school property.
• Whitefish Parks and Recreation is hosting a kids' virtual Halloween costume contest beginning at 9 p.m. Age categories are 0 to 6 and 7 to 12. Post your photos on Facebook or tag on Instagram to be entered for a chance to win a prize. Winners will be announced Nov. 2.
Trunk or treat events
• The Flathead County Sheriff's Office is hosting a Trunk or Treat event from 1 to 4 p.m. at the Flathead County Fairgrounds. Local first responders will hand out candy and/or toys to kids from their emergency vehicles. Wear your best Halloween mask and be sure to practice social distancing "avoid scaring the responders."
• Trinity Lutheran School in Kalispell invites families to its Trunk or Treat community event from 4 to 6 p.m. at 495 Fifth Ave. WN, Kalispell. Held outdoors in the parking lot, the cars will be decorated for Halloween and owners will pass out candy. Prizes will be awarded for best decorated car and best family-themed costumes. Sign up at www.signupgenius.com
• The Alpha Omega Youth Group at Faith Lutheran Church in Kalispell is bringing back its annual Trunk or Treat from 5 to 6:30 p.m. Dress up in costume, get candy and enjoy games. The church is located at 405 Liberty St.
• Kalispell First Church of the Nazarene, 1295 Whitefish Stage Road, is having a Trunk-or-Treat beginning at 5:30 p.m. There will be candy, warm beverages and lots of fun. Masks are encouraged.
---