Lawrence D. 'Larry' Ward, 97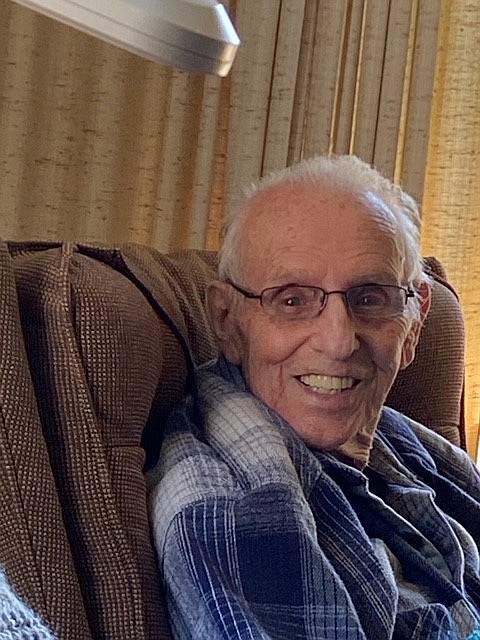 |
September 9, 2020 12:00 AM
Lawrence D. "Larry" Ward passed away Sept. 2, 2020, in Kalispell after a recent, brief illness.
Larry was born Dec. 19, 1922, in Chester, Montana, the sixth child of Les and Laura Martell Ward.
On Feb. 28, 1946, he married his loving wife, Mary Maly Ward. Together they enjoyed 74 years of caring and sharing and were blessed with a wonderful family.
Larry was very active in his community and his church. He was devout in his Catholic faith and a member of St. Matthew's parish for more than 70 years. He exuded faith and love in everything he did and was ever grateful for all his blessings. Larry was a humble man and completely loved the Lord with everything he had. He was comforted by daily prayer and trust in God.
He was an active member of the Knights of Columbus for as many years, holding the offices of Grand Knight, District Deputy, State Deputy and State Master of the Fourth Degree. He was also a member of the Kalispell Twirlers/square dancers.
During World War II Larry received the Bronze Star Award, "He devised an ingenious modification of a field artillery support radio and a switchboard for artillery support," which is still in use today.
"The ingenuity, devotion to duty displayed by Tech. Ward reflect the highest credit on himself and the Armed Forces of the United States."
After retiring from Anaconda Aluminum and Larry's Radio & TV, he maintained oversight of the building and grounds of St. Matthew's for the next 30 years, retiring a second time at the age of 90.
He enjoyed golfing, woodworking, crafting furniture, creating treasured keepsakes, and building sanctuary furniture and a procession cross for St. Matthew's Church
He was preceded in death by his loving wife Mary (February 2020); parents, Les and Laura Ward; parents-in-law, James and Emma Maly; siblings, Walter, Aden, Vena, Stella and Edna; sons, Daniel and Lawrence; and sons-in-law, Gregg Osborne and Dan Danaher.
He was a proud father of four daughters and four sons; Sister Marilyn Ward of Cedar Rapids, Iowa; Susan Danaher and Todd Scholer of Kalispell; Barbara (Bob) Coccia of Newcastle, Washington; sons Lawrence Ward (deceased) and Daniel Ward (deceased); Sandra Ward and Dan Thompson of Coeur d'Alene, Idaho; Christopher (Stephanie) Ward of Dayton, Ohio; and Patrick (Sherry) Ward of Kalispell.
Larry is also survived by his sister-in-law Maxine Ward of Chester, daughter-in-law Janice Hesketh of Good Year, Arizona, and numerous grandchildren, great-grandchildren, nieces and nephews.
Our family is most grateful for those who cared for Larry, especially Frontier Hospice.
In lieu of flowers, memorials may be made to St. Matthew's Parish.
We are forever grateful for our dad and the many blessings he has given to us — they are priceless and can never be replaced. We thank God for the gift he was to all of us.
There will be visitation and rosary Tuesday, Sept. 8, at Buffalo Hill Funeral Home at 7 p.m. Mass of Christian Burial will be held Sept. 9, at 10:30 a.m. at St. Matthew's School gym; please use the main street entrance.
Friends are encouraged to visit the website www.buffalohillfh.com to leave notes of condolence for the family. Buffalo Hill Funeral Home and Crematory is caring for the family.
---