Off and running: Area harriers head to Rebecca Farm this weekend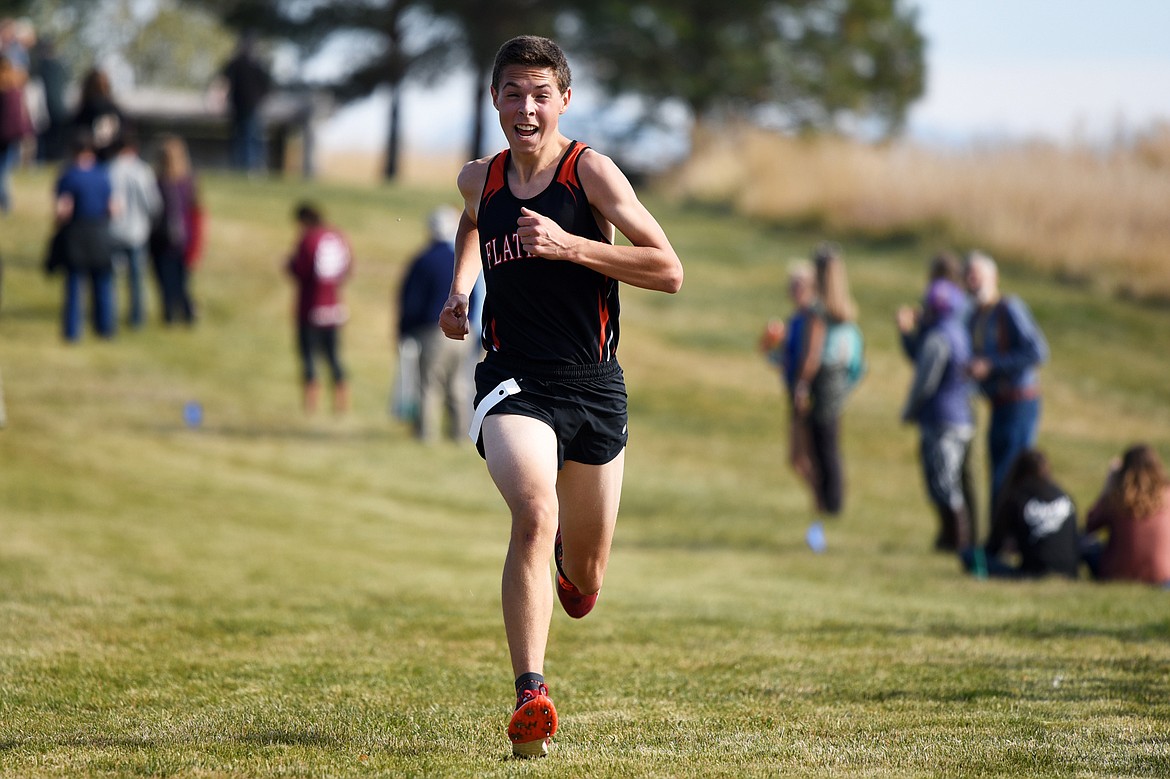 by
FRITZ NEIGHBOR
Daily Inter Lake
|
September 10, 2020 12:00 AM
Rebecca Farm will be a busy place this weekend.
It's a popular spot for big cross country meets, including the 2020 state championships set for Oct. 24, but because of COVID-19 there will be two smaller ones in the coming days.
On Friday Bigfork will join Flathead and Glacier for a meet that begins at 1 p.m. On Saturday Columbia Falls, Whitefish, Libby and Eureka will line up, again at 1 p.m.
While Glacier and Flathead have the talent to upgrade on last year's finishes – they finished seventh and 13th in Class AA among the boys, and ninth and fourth in the girls' races – there is also loads of talent in the Valley's smaller schools.
Columbia Falls is the two-time defending State A boys' champion, while the Whitefish girls were third last year at state. Let's not overlook Eureka's boys, the defending B champs.
So far this year Whitefish's boys have run slightly better than Columbia Falls, though both teams are ranked in the top five as calculated by the website www.athletic.net.
Whitefish coach Richard Menicke takes the rankings with a couple grains of salt.
"The season's young, and we have a very young team," he said. "And life is unpredictable. Especially this year.
"Hardin (currently No. 1) is a great team. Columbia Falls is still a great team. You can always count on the Southwestern A, Hamilton and Corvallis, to field at least one or two strong teams. I'm just wishing everybody to be able to keep rolling."
Class A
Two reasons the Bulldogs have rolled so far are junior Jacob Henson and freshman Mason Genovese. They join top returnees Ruedi Steiner (41st last year as a freshman) and Nate Inglefinger to form a great nucleus.
"We have big numbers and a lot of freshmen," Menicke said. "At least two freshmen will run at state. That's promising."
Columbia Falls returns almost everybody that scored off last year's championship team, led by James Role, a senior who was seventh at state. Missing is Aidan Jarvis, who was fourth last year as a junior; his family moved to New Mexico.
"With Aidan we had that up-front leader and tons of depth behind it," Columbia Falls coach Jim Peacock said. "Without Aidan we're in the process of developing one or two kids. We have some really solid freshmen that are coming in and can contribute right away."
Behind Role there are seniors Seth Umbriaco and Baily Sjostrom as well as junior James Petersen.
The Columbia Falls' girls have also had an impressive early season, led by Lara Erickson and sisters Hannah (junior) and (freshman) Ally Sempf. Emmy Upton and Alyssa Blankenship rank in the top 25 in Class A and Siri Erickson and Courtney Hoerner scored at state as freshman in 2019. The Wildkats are ranked third currently.
Whitefish graduated its top two girls and is ranked sixth, but has a lot of youthful runners behind junior Petra Cooke, who was 23rd at state last year.
"On the girls' side Whitefish has been one of the top programs in the state the last three or four years," Peacock noted. "And their boys have just been flat-out reborn. It'll be a nice little meet."
Libby is led by underclassmen: Freshman Greyson Thompson leads the boys and sophomore Aurora Smith leads the Logger girls.
Class AA
The early season has been tougher sledding for the Kalispell schools -- Missoula Sentinel's boys and Hellgate's girls appear to be very tough -- with Gabriel Felton of Flathead and Glacier's Jeff Lillard the only boys among the top 35 in the state.
For the girls, Flathead has four in the top 30: freshman Lilli Rumsey Each, who is one of 10 that have run under 20 minutes – plus seniors Hannah Perrin and Tori Noland-Gillespie and junior Kya Wood.
"We have a really strong team," said Flathead coach Jesse Rumsey, whose club is shooting for a top-three finish at state. "Tori and Hannah are the senior leaders. They each have different strengths.
"And then I have a whole big string of sophomores, some of which were varsity runners and a few that were on the bubble. And then we have a bunch of freshmen coming up."
Flathead's boys are led by the aforementioned Felton, who was 44th at state last year. Rumsey pointed to juniors Peter Wilson, Sam Aczas and Caden Mesa as possible keys; Bauer Hollman and Seth Trumm have contributed in the early going.
"Our boys are still pretty young," she said.
Glacier's girls have been led early on by Bailey Gable, Hannah Deck, Hannah Rainford, Holly Skelton and Nicole Mitchell. Mitchell and Skelton scored at state in 2019.
Leading the Wolfpack boys behind Lillard are Ethan Strong, Tyler Avery, MacGregor Adkins and Andrew Turner. Avery, Lillard and Strong scored at state last year, as did Sam Elis and Wylie Schroeder.
Class B
Eureka – with Isaac Reynolds holding the best time in Class B and Gavin Bates, Henry Cook, Ian Kumle and Kyle Durden behind him – seems in no hurry to let Manhattan (boys' champs in 2015 and 2017-18) get back to the top.
Bigfork's leading runner is Elliott Sanford, a junior who sits among the top 18 marks in his class. The Valkyries' Grace Stewart and Tabitha Raymond also sit among the top 20 girls' times. Eureka's top girl so far has been junior Maya Carvey, who sits 26th in Class B.
Those are some of the athletes to race this weekend, in a season limited to one-day meets and a certain number of runners at the starting line. Two-day meets, like the Cut Bank Time Trials that were supposed to be last week, are out of the picture.
But the runners still get to run.
"Losing the Mountain West Classic, losing Cut Bank, losing the Helena 7-on-7," Peacock began. "We won't see the Southwest nearly as much as we usually do, and won't see those Central and Eastern teams at all before state.
"It's a little different season. And that's OK."
---