Pack pulls away from Capital in fourth quarter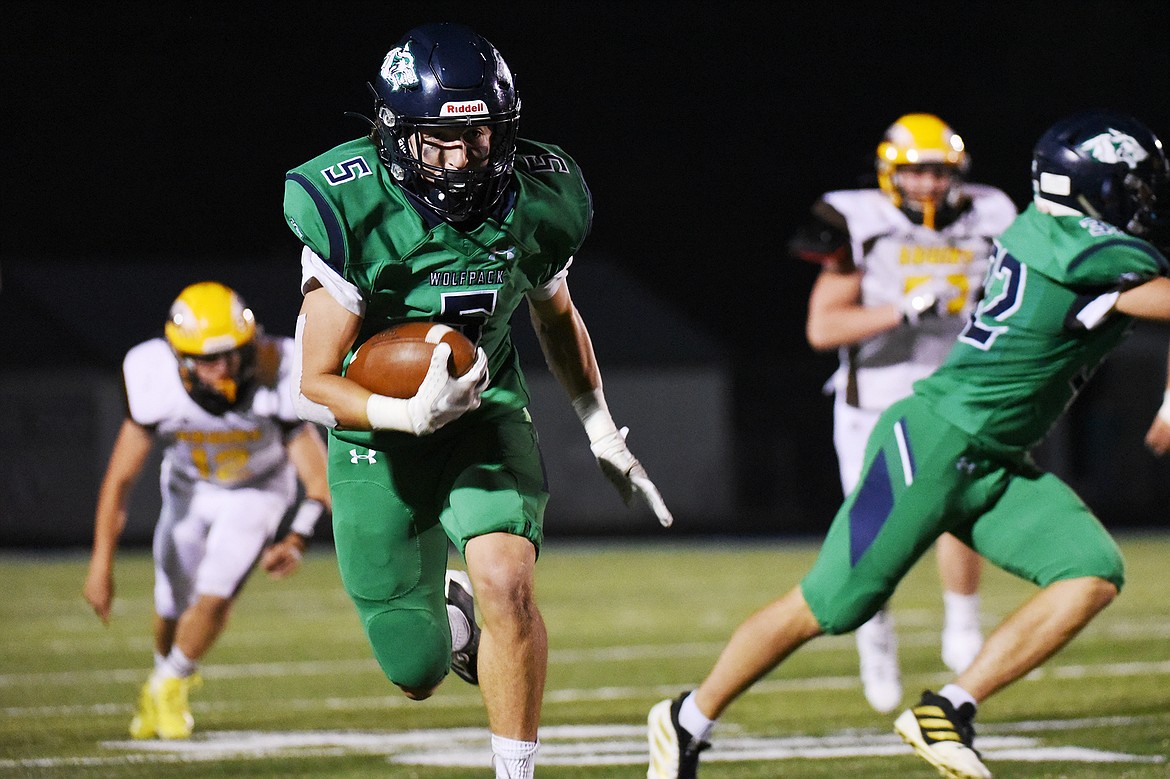 Glacier wide receiver Cole Johnson (5) heads upfield after a third quarter reception against Helena Capital at Legends Stadium on Friday. (Casey Kreider/Daily Inter Lake)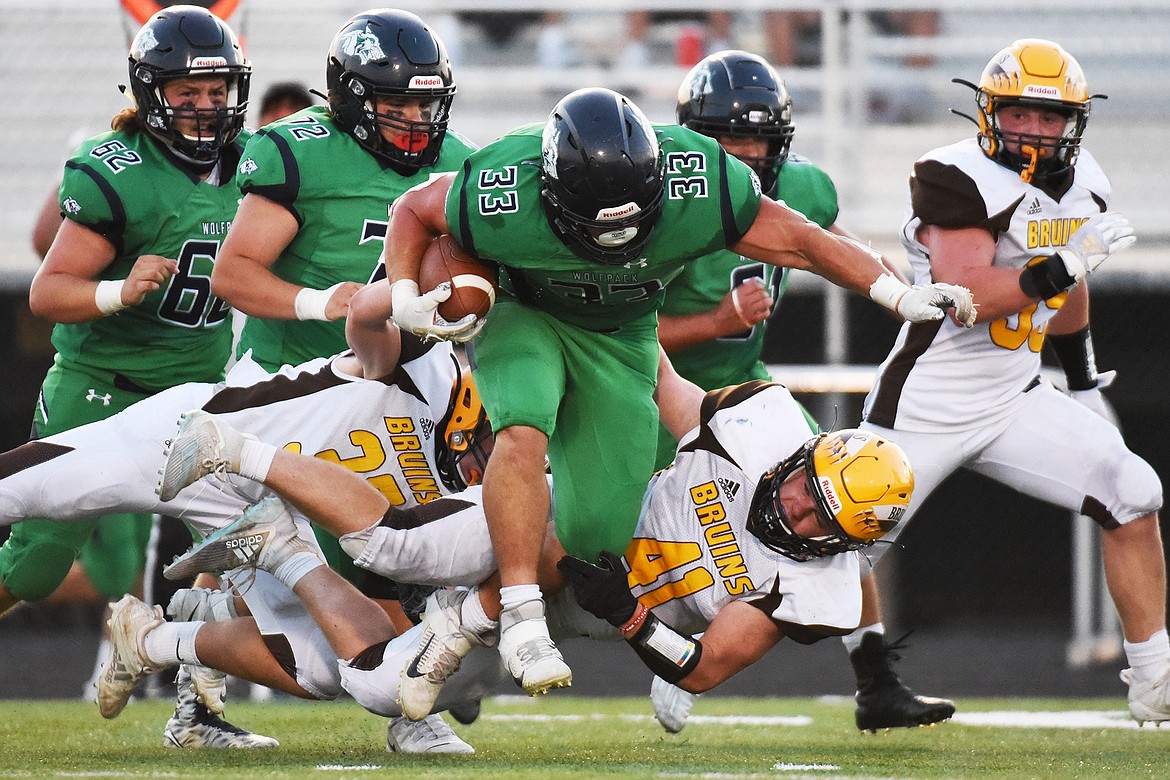 Glacier running back Jake Rendina (33) picks up yardage after a second quarter reception against Helena Capital at Legends Stadium on Friday. (Casey Kreider/Daily Inter Lake)
Previous
Next
by
FRITZ NEIGHBOR
Daily Inter Lake
|
September 11, 2020 11:07 PM
Once the Glacier Wolfpack drew even in the punt snap snafu department Saturday, things started looking up.
Helena Capital sailed a snap for a 25-yard loss, setting up JT Allen's second 1-yard scoring run of the game. Thus began a 22-point fourth quarter that carried Glacier to a 43-20 Class AA football win at Legends Stadium.
Capital (0-1) used a similar miscue to take a 14-7 lead shortly before halftime: Glacier's Parker Rohrbach mishandled a high snap in his own end zone, and the Bruins ended up on the ball at the Wolfpack 12-yard line. Tiegan Cozzie scored two snaps later, at the 1:12 mark.
But then Glacier's Casey Peiffer returned the ensuing kick to midfield, and a 34-yard slant pass to Connor Sullivan set up Allen's first TD, with just eight seconds remaining.
"With our punt snap, giving them that touchdown, it was nice to get that one back," Glacier coach Grady Bennett said. "Honestly I thought the key in the game was at the end of the first half. When it looked like, 'Uh-oh,' we got a nice kickoff return and go down and score to make it 14-all.
"I thought we grabbed the momentum back. Even though they scored again, I thought that was a huge.thing in the game, with our young team, and a lot of guys making their first start."
Slippery Capital QB Matt Burton tore off an 18-yard scoring run to give the Bruins their last lead, 20-14, midway through the third quarter. The Wolfpack answered Burton's TD with a 75-yard drive, capped by Jake Rendina's second short scoring TD. Rohrbach's kick put the Pack ahead for good, 21-20 at the 1:36 mark.
Soon things got away from the Bruins, and it was largely Ethan Diede's fault: The Wolfpack defensive end jumped on the errant punt snap ahead of Allen's second TD; then he recovered a fumble forced by Drew Speer at the Capital 26, setting up his own 9-yard TD reception.
"Just a drag across, and we have another slip with our other tight end, Luke Bilau," Diede said of his TD. "And I just happened to be open and JT threw a great ball."
Wyatt Thomason picked off Burton in the right flat and sprinted 20 yards to cap the scoring - Glacier's fourth TD in the span of 7:35. Cole Johnson had an interception as well for the Pack.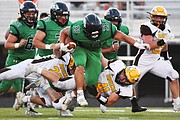 Capital 0 14 6 0 - 20
Glacier 0 14 7 22 - 43
G - Jake Rendina 2 run (Patrick Rohrbach kick), 10:35-2Q
C - Eric Cockhill 30 pass from Matt Burton (Ryan Grasmick kick), 8:35-2Q
C - Tiegan Cozzie 1 run (Grasmick kick), 1:12-2Q
G - JT Allen 1 run (Rohrbach kick), :08-2Q
C - Burton 18 run (kick failed), 6:26-3Q
G - Rendina 1 run (Rohrbach kick), 1:36-3Q
G - Allen 1 run (Ethan Diede pass from Connor Sullivan), 9:05-4Q
G - Diede 9 pass form Allen (Rohrbach kick), 7:30-4Q
G - Wyatt Thomason 20 interception return (Rohrbach kick), 7:11-4Q
Individual Statistics
RUSHING: Capital (33-125) -- Burton 9-47, Carson DesRosier 9-38, Cozzie 11-31, Anthony Bouchard 1-10, Quinn Belcher 2-minus 1, team 1-0. Glacier (35-96) -- Rendina 18-56, Allen 9-21, Sullivan 1-20, Brian Marmojelo 1-3, Jake Turner 1-3, Wyatt Thomason 1-1, Devon Wallack 1-minus 8, Team 2-0.
PASSING: Capital - Burton 15-30-2 for 214 yards. Glacier - Allen 13-23-1 for 150 yards.
RECEIVING: Capital -- Belcher 5-63, Cockhill 3-487, Cozzie 3-287, Hayden Optiz 2-34, Derrick Kirland -131, DesRosier 1-2. Glacier -- Luke Bilau 4-32, Sullivan 3-44, Cole Johnson 2-39,k Rendina 1-13, Diede 19, Turner 1-8, Kale Mayhue 1-5.
Whitefish 21,
Columbia Falls 7
WHITEFISH — Ty Schwaiger had two scoring runs and the Whitefish defense came up with six turnovers and a blocked field goal in a Northwestern A win over Columbia Falls.
Schwaiger ran for 66 yards on 12 carries; his scoring runs covered 2 and 26 yards.
Columbia Falls outgained Whitefish 286-153,but saw Mason Peters intercepted five times, once for a touchdown by Trey Hunt. Peters threw for 152 yards and ran for 85, on 11 carries.
C. Falls 0 0 0 7 - 7
Whitefish 0 7 14 0 - 21
W - Ty Schwaiger 2 run (Ryder Barinowski kick)
W - Schwaiger 26 run (Barinowski kick)
W - Trey Hunt 50 interception return (Barinowski kick)
CF - Taylor Bryan 30 pass from Mason Peters (Neils Getts kick)
---