Russell A. Gregory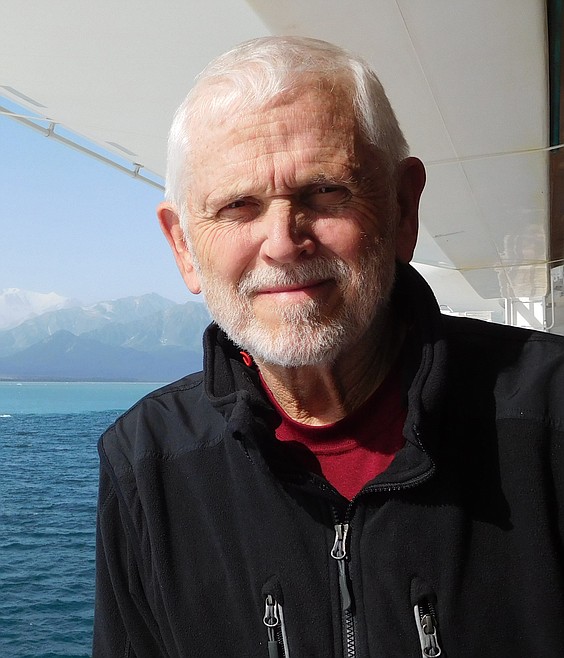 |
September 11, 2020 12:00 AM
Russell A. Gregory, beloved husband, father, grandfather, brother, uncle, and friend, was buried at Arlington National Cemetery on Sept. 10, 2020, 11 months following his death on Oct. 11, 2019.
Russ was born in November 1943, in San Bernardino, California, but grew up in Needles, on the famed Route 66, as his father worked for Santa Fe Railroad. Two younger sisters, Linda and Thelma, completed the family. He graduated high school in 1961, worked the summer for Southern Counties Gas Company to earn money for college, and left in September for Humboldt State College.
Russ' intention at college was to major in wildlife studies. As he commented many times later in life, his idea of wildlife and the college's differed slightly. He finished his first year in academic and social probation. But — as Russ proved time and time again in his life — he didn't quit. He worked again that summer for the gas company in Needles, returned to Humboldt in the fall, and finished in good standing. The following year, he transferred from the rainy north coast of California to sunny Orange State College (now California State University at Fullerton). That is where he met his future wife, Laura; they married a year later. Russ completed his bachelor's degree in 1966, even as he worked full-time for Southern California Gas Company during the day, "digging ditches." The day following graduation, Russ received a draft notice from the U.S. Army, and immediately headed for the Air Force recruiting office. The year 1966 saw many changes as he transitioned from basic trainee to second lieutenant. Thus, began a 26-year career in the military, which culminated in 1992, when Colonel Russell Gregory finished his service as commander of the Community College of the Air Force (the largest community college in the world).
In those 26 years, Russ and Laura led an active life. Along with starting their family, they raised Labrador retrievers and competed them in field trials around the country, with many rewarding moments. Even as he worked full time for the Air Force, Russ returned to college, graduating with a master's and later, doctoral degrees. Embarrassed when unexpectedly put on the spot to say a few words, Russ joined Toastmasters International, achieved Distinguished Toastmaster status, and learned to love the opportunity to speak to others.
In the meantime, it was Russ' great honor to administer the oath of office to his daughters as they too became Air Force officers. (Years later, Paula, Shannon, and son-in-law Dan, also reached the rank of colonel, and the "Four Eagles" celebrated this rare occurrence.)
In 1992, Russ and Laura left Alabama for Montana to begin the next chapter in their lives. At the time, there was a saying something like "Although I wasn't born in Montana, I got here as soon as I could." That summed up their feelings. For Laura especially, daughter of a Marine officer and wife of an Air Force officer, Montana was her "home of heart." The couple soon settled on their 108-acre property in the foothills above Arlee, working hard and learning new skills in the 14 years they lived there. Along with the ever-present Labrador, they raised a variety of animals, including a herd of 250 goats.
Christmas Eve 1992 was another turning point. Russ was 50 years old when he took his first ski lesson at Marshall Mountain near Missoula. Although discouraged, he didn't quit. He embraced the sport, improving enough over the years to become a ski ambassador at the Big Mountain Resort in Whitefish, and later a certified ski instructor. One highlight during this time was serving as a volunteer on the men's downhill ski run during the 2002 Olympic Games in Salt Lake City. Another highlight was the opportunity to introduce his granddaughters to the sport, on his beloved Big Mountain.
Following a stroke in 2006, Russ recognized the need to sell the ranch and the couple moved to Kalispell. Golf and skiing continued to keep Russ active. He and Laura began traveling the world, usually by cruise ship, visiting places they never expected to see and meeting new friends along the way. Recently, they sold their house and moved into the new Villas at Buffalo Hill Terrace, thinking of this as a "base camp," free of responsibilities while they continued to travel. Unexpectedly, cancer claimed his life in a short period of time, just short of their 55th wedding anniversary.
Russ was preceded in death by his parents, George and Thelma, in-laws Dave and Polly, brothers-in-law David and Bob, and many good friends.
He is survived by his wife Laura, daughters Paula and Shannon, son-in-law Dan, granddaughters Laura, Heather and Gretchen, sisters Linda and Thelma, sister-in-law Brenda, nieces and nephew.
The family wishes to thank all those who expressed their thoughts and prayers throughout the year.
Russ was our rock, our "go-to" guy. His strong work ethic, steadfast personality, and "will do" attitude was at the heart of his many achievements in life, and served as the catalyst for all of us to succeed. He will be forever missed.
---