Smoke blankets western Montana with fire risk high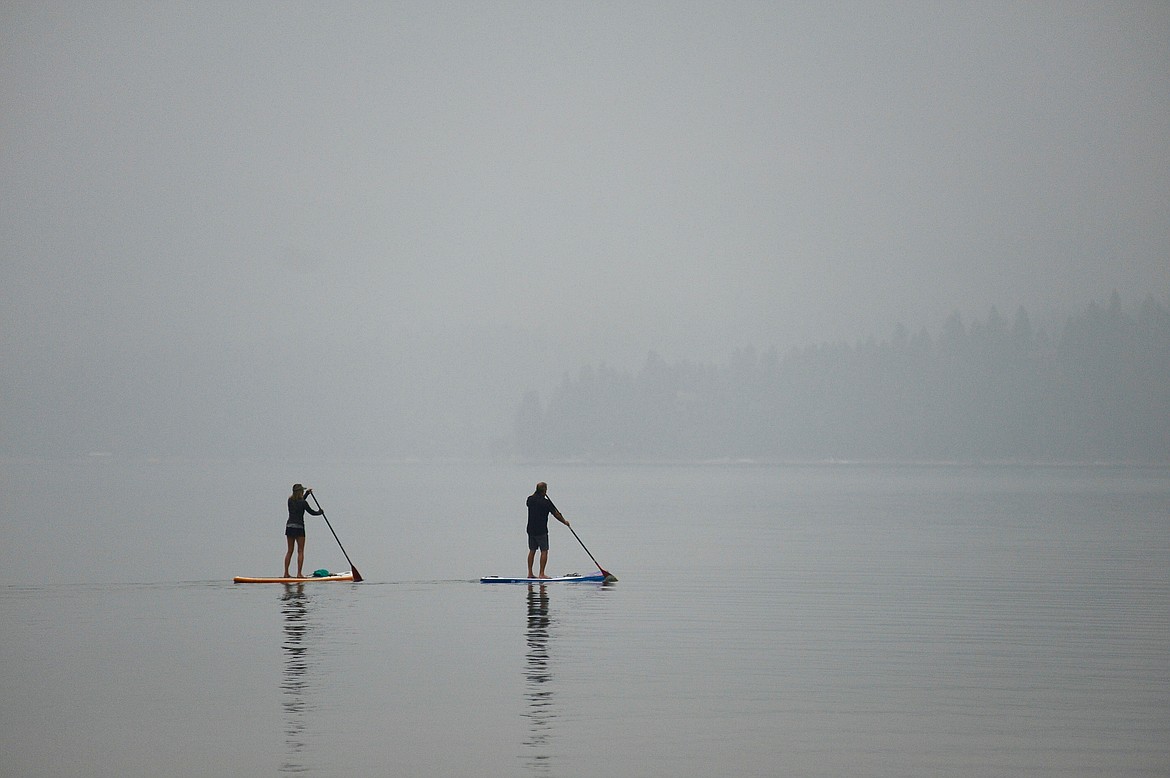 Paddleboarders paddle away from Whitefish Lake State Park on Whitefish Lake on Monday evening. Smoke from wildfires across the West has created low visibility and poor air quality in Northwest Montana. (Matt Baldwin/Daily Inter Lake)
by
Daily Inter Lake and Associated Press
|
September 14, 2020 10:00 AM
Air quality in western Montana is suffering as westerly winds carry wildfire smoke in from neighboring states, the Montana Department of Environmental Quality said.
The department predicted air quality would worsen throughout the day Monday as smoke pushes eastward across the state.
Air quality was reported hazardous in Libby and very unhealthy in Thompson Falls. It was reported unhealthy in the Flathead Valley, Seeley Lake, Frenchtown, Missoula, Hamilton, Butte, Dillon, Bozeman, Lewistown and Great Falls.
An air quality alert was issued for 23 of the state's 56 counties until 9 a.m. Tuesday due to elevated particulate concentrations. Flathead County has an air quality monitoring station located in Columbia Falls that monitors for fine particles.
When air quality is hazardous health officials recommend that everyone should avoid any outdoor exertion, and people with respiratory or heart disease, the elderly, and children should remain indoors.
The alert comes as the National Weather Service issued a red flag fire weather warning for large swaths of western Montana on Monday.
Wind gusts of up to 35 miles per hour combined with low humidity and dry fuels could contribute to easy fire starts, with erratic and difficult fire behavior. A northerly wind shift as expected to occur Monday evening, which could create additional fire weather challenges.
Dry and smoky conditions are expected to continue over the Northern Rockies through the week, the National Weather Service in Missoula reported Monday.
"The smoke has become so thick that afternoon temperatures will continue to be suppressed by 10 to 15 degrees below what a non-smoky atmosphere would support," the Weather Serice stated in its daily forecast discussion.
A break from the smoke is expected by the weekend when a relatively moist Pacific storm system moves over the Northern Rockies and produces "substantial, widespread rainfall," the Weather Service predicted.
Visibility and air quality should improve, but it may not last long. According to the Weather Service, models suggest warm and dry conditions for much of the following week.
"Even if a great deal of wildfire smoke is suppressed next week, the lowering sun angle for latter September is generally not conducive for lifting smoke out of valley locations," the Weather Service noted. "Essentially, smoke can settle into valleys and stay in place until the next cold front arrives."
---