School opening not 'perfect,' but staff, students rally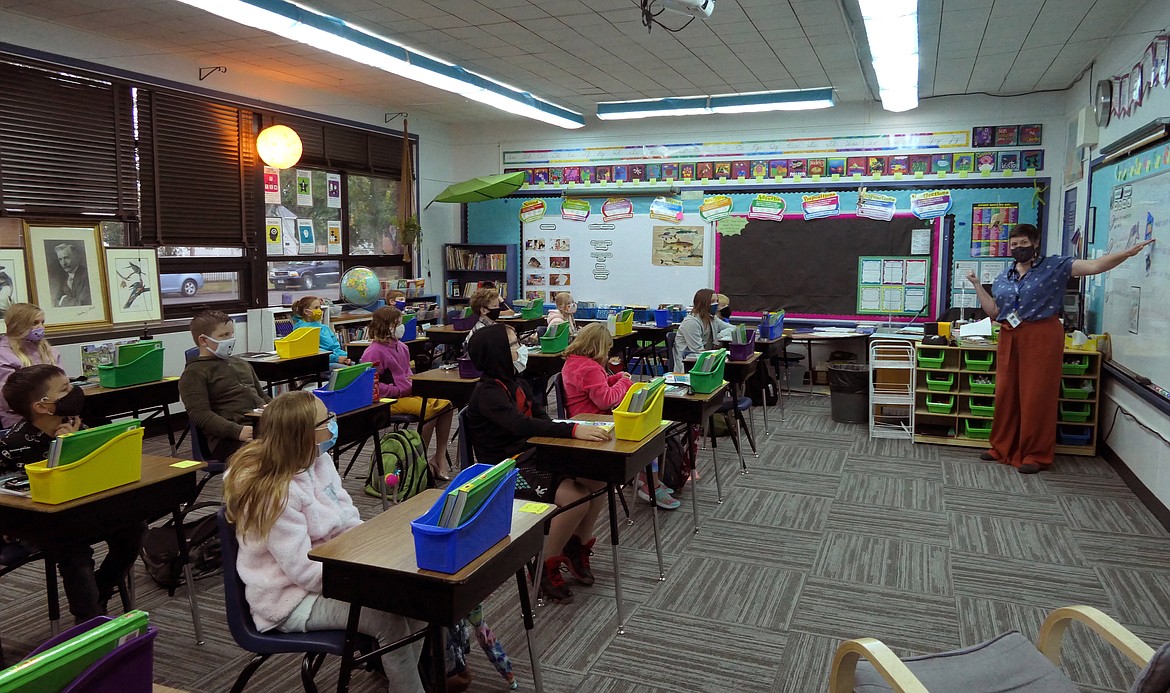 Elrod Elementary fourth-grade teacher Kara Basko goes over the three "W's," wash your hands, watch your distance and wear a mask, with students at the start of the first day of school on Monday, Aug. 31 as part of new safety measures put in place in efforts to reduce the transmission of COVID-19. (Hilary Matheson/Daily Inter Lake)
by
HILARY MATHESON
Daily Inter Lake
|
September 16, 2020 12:00 AM
The first weeks of the 2020-21 school year during the COVID-19 pandemic have been filled with a mix of excitement and anxiety in Kalispell Public Schools.
"From teachers I've spoken to, everyone really excited to be in school and have students in the classroom," Kalispell Education Association union president and Kalispell Middle School math department head Lynne Rider said in a phone interview on Monday.
For the most part, the first weeks of school have been getting back into the swing of familiar and new routines that go with attending school during a pandemic. Then, hitting the books to learn as much as possible, should schools close again.
Deciding to fully open has required a concerted effort involving staff and administrators, students and families — and was not without some bumps in the road.
"It hasn't been perfect. But it truly has been a remarkable opening for all the things due in part to a supportive community that has rallied behind us. We are so proud of our students," Kalispell Assistant Superintendent Callie Langohr said during a Sept. 8 interview with Superintendent Micah Hill and Director of Accountability and COVID-19 Coordinator Bill Sullivan.
"When we spent time in the schools last week — without exception they were fully engaged in learning. It was like they hadn't missed a beat," Langohr said. "To a certain degree [we] overplanned on things we thought we'd have to spend a lot of time on school routines and we didn't."
Some of those new routines included: wearing masks — which is a state mandate but has been a point of contention with some community members who want it to remain voluntary — routinely washing hands, disinfecting classroom supplies and physical distancing.
Schools have made various efforts to encourage physical distancing and minimizing the number of people students come into contact with through assigned seating in classes, the cafeterias and on buses to staggering passing times and grouping students to play at recess.
"Our middle school principals have organized students in the cafetorium and there are small breakout groups eating in homebase classrooms, which is voluntary, for more social distancing. We have sign-up sheets on our tables, so if one student would contract COVID, we have a list of close contacts," Rider said, adding that Flathead High School has a device where students can scan their cellphones to sign in at the lunch table.
Glacier High School recently used its seating charts to notify the Flathead City-County Health Department of close contacts to a positive COVID-19 case, according to Hill.
"What's important to the district is if there's a positive case that it's not tied back to spread within the school," Hill said
"We have good compliance with the face masks. Our kids, our students, have been really adaptable and resilient and our staff as well," he added.
Seeing students wearing masks in the classroom has taken time for Rider to get used to.
"It's strange looking at a classroom and not being able to see our student's faces. They can see I'm smiling because my eyes crinkle, but it is harder to establish that relationship without those facial features, but we get by," Rider said.
EVEN WITH a pretty smooth transition into the new school year there remains a level of anxiety or frustration of the unknown and concerns about whether every measure has been taken to keep people healthy.
"There will always be angst," Rider said about opening during the pandemic.
"This is something new. It's scary. There are so many unknowns and the rules keep changing," Rider said, whether it's a new state directive, or a new recommendation from the medical community — things can change, and have.
"As they know more they are sharing more," Rider said about the district's communication with staff, noting she was encouraged to see administrators increasing the frequency of their communication with teachers to ease concerns.
One concern raised by teachers and some in the community during school board meetings has been whether or not all equipment and supplies related to mitigating the transmission of COVID-19 have been purchased and received.
"The things to get the school started certainly have been purchased," Sullivan said. "We certainly have masks, sanitizer, and disinfectant spray, sneeze guards and desk protectors for teachers and one-to-one instruction."
In the district's eyes, wearing masks, washing hands and physical distancing remain the first lines of defense in helping mitigate the transmission of coronavirus, with items such as Plexiglas desk shields or other dividers a teacher may set up in their classroom an added layer.
Sullivan said some items have been challenging to get because of supply and demand. There have been some delays in getting Chromebooks and document cameras.
"Both those are the lack of the vendor to get the equipment into their source, so it's on the manufacturing end," Langohr said.
Sullivan said the district "is in pretty good shape."
Teachers such as Rider are setting aside time to do extra cleaning, such students wiping down their desks and Chromebooks before class starts.
Some instruction has been streamlined to ensure students are learning essential content in case schools close and how to access computer programs remotely if schools close again or a class is in quarantine.
"We have to make sure we take care of what's essential and do it well," Langohr said, which means enrichment activities may have to take a backseat.
As to whether or not teachers were starting from where they left off in the spring, or forging ahead with new content, Langohr said teachers in different grade levels have met and worked to determine where each had left off last fall. The district also changed the school calendar to provide four days before the first day of school to plan and go through orientation.
"We looked at it kind of like a relay race — the second-grade teacher had the baton and now they're handing the baton off to the third-grade teacher and what that transition needs to look like," Langohr said. "A lot of preparation was done last spring for that in anticipation of going into this fall."
Rider said "the unknown is what really impacts us. The changing of the protocols and the changing of what's safe. We wall want our families protected, our students protected, our staff protected ... right now, I think we're doing the best we can with what we know," Rider said.
Reporter Hilary Matheson may be reached at 758-4431 or hmatheson@dailyinterlake.com.
Recent Headlines
---