Turnovers doom Braves in home opener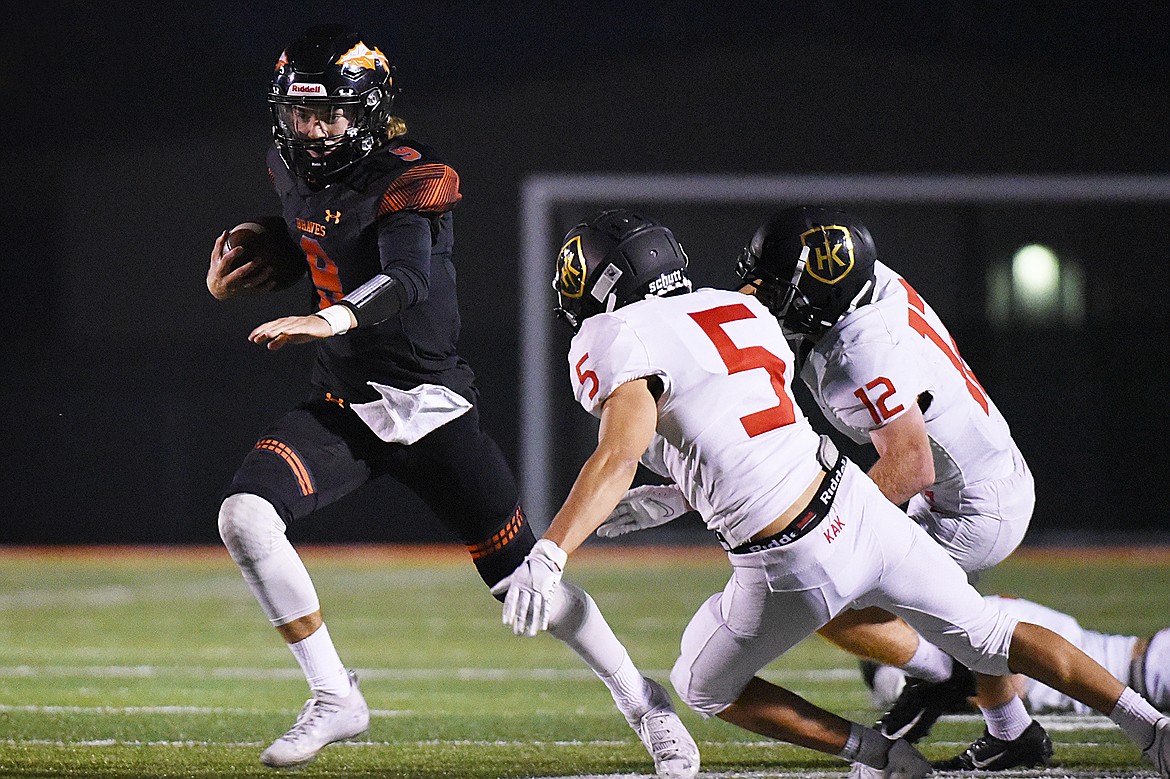 Flathead quarterback Charlie Hinchey (9) scrambles for a gain in the second quarter against Missoula Hellgate at Legends Stadium on Friday. (Casey Kreider/Daily Inter Lake)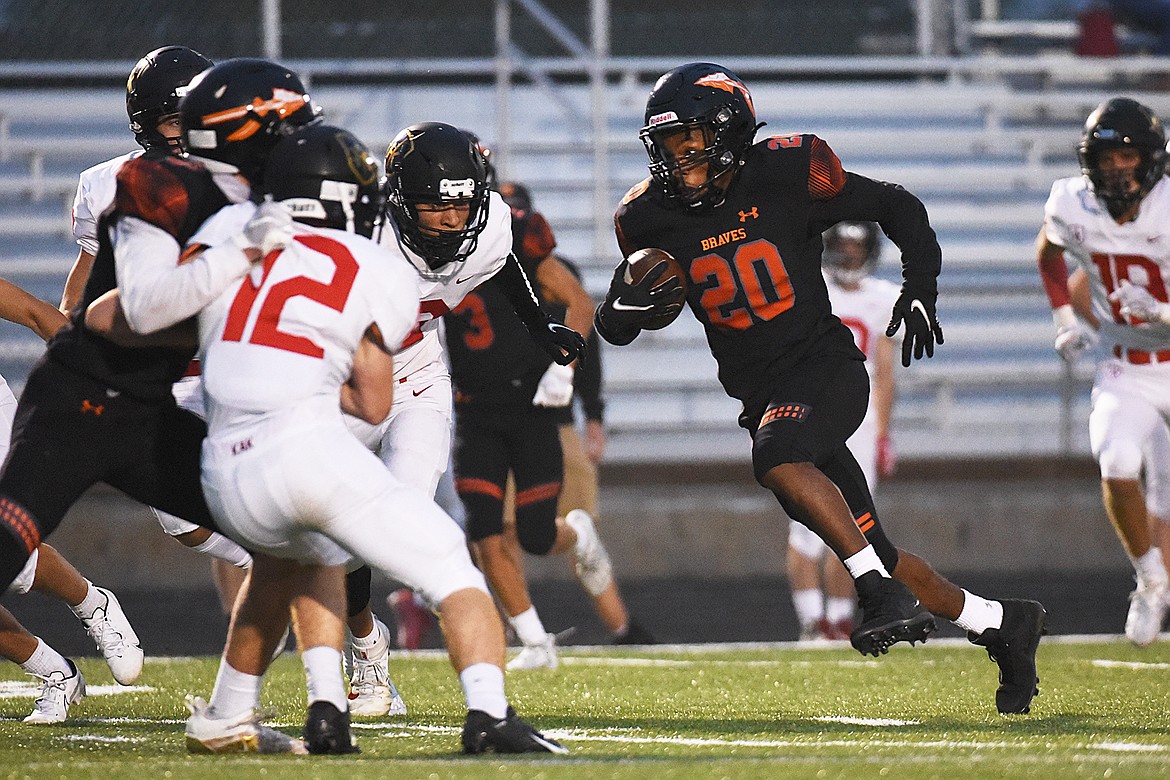 Flathead wide receiver Jackson Barrett (20) heads upfield after a first-half reception against Missoula Hellgate at Legends Stadium on Friday. (Casey Kreider/Daily Inter Lake)
Previous
Next
by
FRITZ NEIGHBOR
Daily Inter Lake
|
September 18, 2020 11:13 PM
The Flathead Braves extended the fourth quarter and gave themselves some chances at a Western AA football win Friday, but the ball kept getting away.
Missoula Hellgate quarterback Dante Maiuri found Ian Finch with a couple touchdown passes, and the Knights came up with five turnovers in a 28-20 win over the Braves at Legends Stadium.
Flathead's Charlie Hinchey ran for one score and threw for another and Alec Thomas ran 23 times for 145 yards and another score.
That it wasn't enough grated on Braves' coach Matt Upham, whose club, among other things: Missed a PAT after Hinchey's 10-yard TD pass to Tommy Wells, leaving the score 21-20; lost a fumble at the Hellgate 3-yard line on its first drive of the second half; and lost another fumble one snap after Ryan Nelson blocked a Hellgate punt.
"You can't turn the ball over three times in the fourth quarter in a tight football game," Upham said after his club fell to 0-2. "Plain and simple. We just need to learn how to finish — find ways to win the football game. Tonight we didn't put ourselves in the best position. We had some great plays, and then we'd shoot ourselves in the foot."
The fumble that offset the blocked punt came with 7:46 left in the game, at Hellgate's 25-yard line. Momentum was there for the taking, but the Knights, who suited up just 32 players, kept it. They picked off two passes in the final 4:32 and tacked on an insurance score.
After Braden Terzo's second TD run put the visitors up 28-20 with 2:22 left, Hinchey completed passes covering 14 (on fourth down), 15 and 11 yards to move the Braves past midfield. Then Terzo picked off a pass to clinch it for Hellgate with 33 seconds remaining.
Thomas had a 46-yard burst among his highlights and a 4-yard scoring run. He tore off huge chunks of yardage in a "Wildcat" look that Flathead used to open the second half.
"I thought he ran really well tonight," Upham said. "Our offensive line still has to take care of the first level. But this is a young offensive line, one returning starter, in its second game. They did better things this week.
"We've just got to learn to block and stick and keep driving our legs."
Maiuri threw for 273 yards for Hellgate (1-1), with 155 of that going to Finch, a lanky junior who made seven catches.
Hinchey ran for 40 yards and threw for 141 for Flathead, which travels to Helena
Capital next Friday.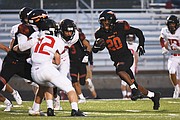 Hellgate 14 0 7 7 - 28
Flathead 0 6 8 6 - 20
H - Braden Terzo 15 run (run failed), 4:39-1Q
H - Ian Finch 41 pass from Dante Maiuri (Finch pass from Maiuri), 1:58-1Q
F - Charlie Hinchey 1 run (kick failed), 10:08-2Q
F - Alec Thomas 4 run (Thomas run), 5:30-3Q
H - Finch 14 pass from Maiuri (Leo Filardi kick), 3:01-3Q
F - Tommy Wells 10 pass from Hinchey (kick blocked), 9:21-4Q
H - Terzo 3 run (Filardi kick), 2:22-4Q
Individual Leaders
RUSHING: Hellgate (25-131) - Jake Sweatland 16-80, Terzo 2-18, Lucas James 1-11, Finch 1-10, Maiuri 4-7, team 1-minus 4. Flathead (46-279) - Thomas 23-145, Kaden Henshaw 7-48, Hinchey 9-40, Trevor Burke 3-23, Jackson Barrett 3-14, Nic Gustafson 1-4.
PASSING: Hellgate - Maiuri 19-38-1 for 273 yards. Flathead - Hinchey 12-24-3 for 141 yards.
RECEIVING: Hellgate - Finch 7-155, James 4-35, Filard 3-49, Terzo 3-16, Ryan Woldstad 1-16, Maiuri 1-2. Flathead - Wells 3-25,. Barrett 2-41, Coby Berkey 2-30, Rob ert Walker 2-13, Joe Hansen 1-17, Henshaw 1-15, Gustafson 1-0.
---