Kalispell schools face critical shortage of substitutes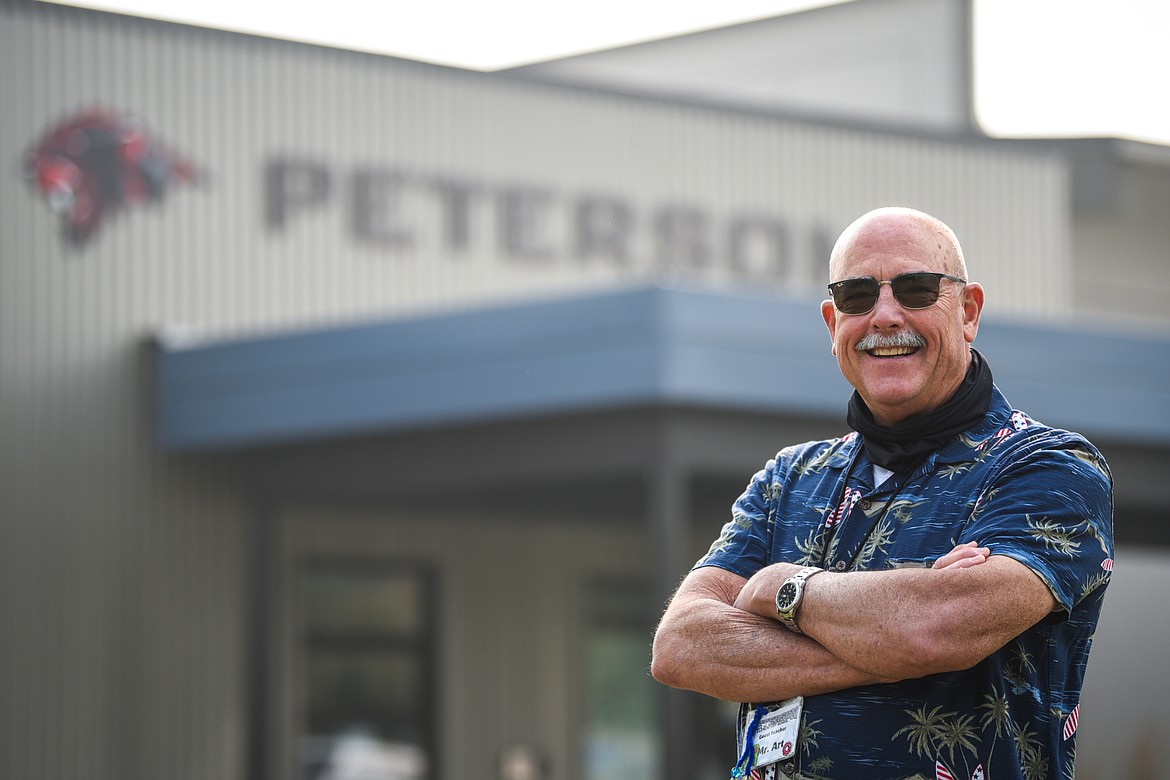 Substitute teacher Art Bielz outside Peterson Elementary School in Kalispell on Tuesday, Sept. 15. (Casey Kreider/Daily Inter Lake)
by
HILARY MATHESON
Daily Inter Lake
|
September 19, 2020 12:00 AM
A critical shortage of substitutes is among the challenges facing Kalispell Public Schools this school year.
Currently, there are 50 active substitutes in the district. That number may change as people finish seasonal jobs, but it's not enough to meet the need.
This year, there are many veteran substitutes who would like to be in the classroom, but they themselves, or their family members, are at higher risk for severe illness from COVID-19 and don't want to take a chance, according to Kalispell Public Schools Substitute Coordinator Bree Eaton.
In a typical year — when a pandemic isn't going on — the district wants to have a substitute pool of around 250 to 350 people. The district may experience between 50 to 150 staff absences in an average day during a normal school year.
"We are in dire need of subs in the district to help support us. Subs are critical to the operation of the district," said district Human Resources Director Tracy Scott.
"Even the last few years have been tough. If there's low unemployment, there's a low sub pool," she said.
Eaton said it's not uncommon for other staff members to fill in when a substitute isn't available.
"We really count on our paraprofessionals to step up and fill teacher positions. Sometimes principals have to step in, and even I've subbed a couple of times," she said.
Substitutes are needed to fill in for teachers, paraprofessionals, food service workers, custodians and bus drivers.
It is not unusual for other staff members to fill teacher absences in a pinch.
Scheduling is flexible.
"What's great about subbing is you can work the days you want to work. You don't have to work every day. It fits into your schedule," Eaton said. "We encourage parents who are at home, and their kids are in school, [to work a ] half day, or full day because we fill half days all the time."
An online system allows people to filter jobs by preferences. If they want to sub at the high school level, or can only work Fridays, for example, that's an option.
Once the application, background check and fingerprinting process is completed, Eaton said she holds a substitute orientation.
"I go over all of our expectations. I go over how the system works and just train them on classroom management," she said.
While classroom experience is helpful for substitute teachers and paraprofessionals, a background in elementary or secondary school is not necessary.
Substitute teachers and paraprofessionals must have a high school diploma at minimum.
"I think people don't realize you have to have a high school diploma and we don't require a Montana teaching certificate," Eaton said.
Besides being able to manage a classroom, substitute teachers "have to love kids and you have to be patient," she said.
Elementary substitute teacher Art Dielz, who is known as "Mr. Art" in the classroom, agreed. Dielz is in his fourth year subbing in the district.
Dielz, who is retired from law enforcement, had extensive skills as a field training officer, fell into substitute teaching after starting out as a volunteer at Peterson Elementary in his granddaughter's classroom.
"The principal at the time, Rick Anfenson, convinced me I should really become a sub, so I put in for it. I got picked up and have been busy ever since," Dielz said.
Substitutes typically receive plans from classroom teachers on what to do with a class.
At the elementary level, Dielz said the days are pretty structured.
"In the elementary level, a lot of it is routine, so the classroom day is pretty set: reading right off the bat, morning meetings or there's a topic the teacher wants them to discuss or explore. We'll do introductions — that really helps. I can't remember names," Dielz said, laughing.
Substitute teaching has been an enriching experience for Dielz.
"I enjoy K through 5. It's really fun. The energy level here with the staff and students, as a 61-and-a-half-year-old, it's kind of refreshing to come into that energy and then gather that and be able to match it," Dielz said with a smile.
Substitute teachers are paid based on their education The daily rate in Kalispell Public Schools starts at $75 for substitute teachers with high school diplomas and goes up to $80 if they receive additional free training from the Northwest Montana Educational Cooperative. People with a bachelor's or master's degree earn $85 a full day or $90 if they also have a Montana teaching certificate.
Paraprofessional, food service and custodian substitutes are paid an hourly rate of $12.
People interested in becoming a substitute may apply online at https://www.sd5.k12.mt.us/Content2/1644.
Reporter Hilary Matheson may be reached at 758-4431 or hmatheson@dailyinterlake.com.
Recent Headlines
---