Victorian-style bed and breakfast opens in Plains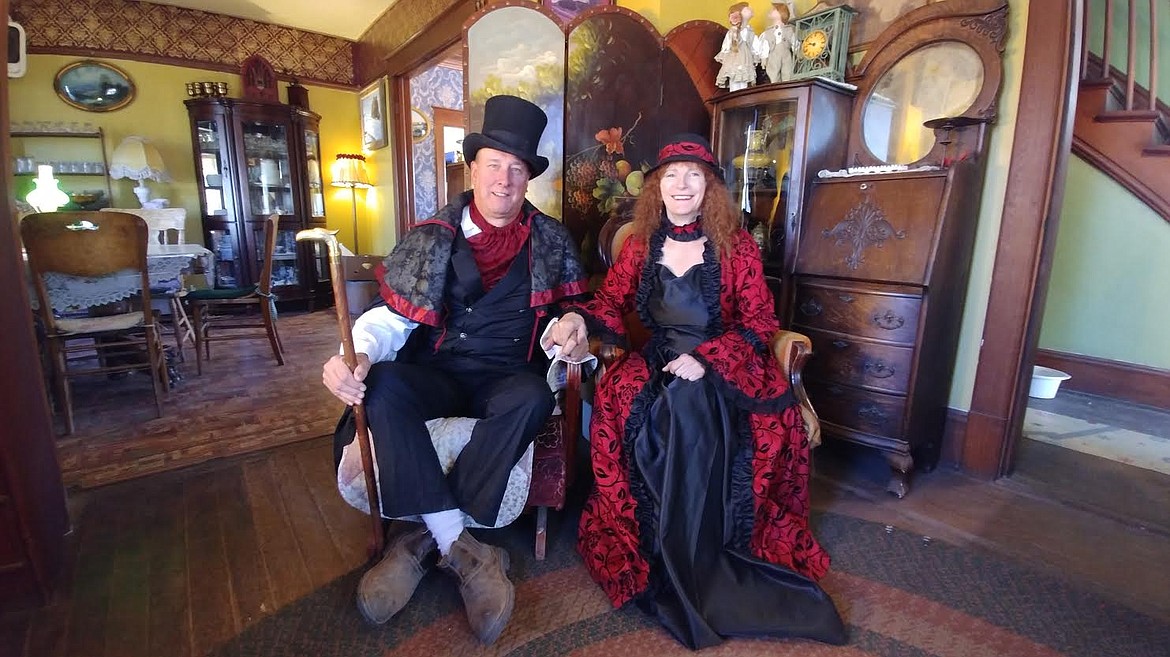 Joe and Joanne Shepard in time period costumes in the parlor of their J&J Bed & Breakfast. (Chuck Bandel/Mineral Independent)
by
By CHUCK BANDEL Valley Press
|
September 20, 2020 12:00 AM
Amid the proliferation of bed and breakfast establishments sweeping the nation, it would be hard to find one more intriguing than the J&J Bed & Breakfast, now open for business in Plains.
The opening of the iconic Victorian-style house just east of Montana 200 in mid-town Plains is the culmination of a long labor of love for owner/operators Joe and Joanne Shepherd.
"I grew up on the corner near this house and I always liked it," said Joe as he stood inside the detailed restoration of the three-story house's interior. "We've put a lot of hard work and thought into this project."
With a final license blessing from the Department of Health, the couple's dream of running a bed and breakfast while saving a piece of local history has come to fruition.
After shoring up parts of the foundation of the more than century-old house, Joe and others set about restoring it to its original look and function, inside and out. While it is believed to have been built in 1908 by original owner Alexander Cook, Joanne has uncovered old records that indicate it may have been constructed a decade or more earlier.
Nonetheless, keeping the building in its Victorian style has been of paramount importance to the Shepherds.
"We are trying to keep it Victorian," said Joe, a local artist and contractor. "That is something I always wanted to do. Having now done it once, I don't want to do another one."
From detailed wood trim along the walls, windows and doorways to a copper ceiling gleaned from the old First National Bank in Plains, attention to maintaining the house's original style has been the focus.
When Joe bought the place from members of the original owner's family, one of the stipulations of the purchase was that he restore it and not tear it down.
"The previous owners sold it to us because they knew we would be preserving it," he said of the 2017 transaction.
Part of the restoration included some modern upgrades, such as kitchen appliances and equipment including a mandated number of sinks. When the old Plains Town Pump was torn down, kitchen equipment was acquired that will allow guests to prepare their own meals on restaurant quality equipment. Updates to other mechanical elements, such as plumbing have also taken place.
But throughout the house, thanks to a large amount of original furniture and artwork that was included in the purchase, a turn of the century motif exists.
Old-style beds and furniture adorn the four guest bedrooms, each with a different color scheme and style. Added to the building was a "turret" or round section, on the house's second floor. Painstaking attention to exterior detail was given to such features as the original crafted porch columns and other adornments.
Perhaps the showcase room is the parlor where guests can relax and enjoy an ambiance from years ago. There is also a fireplace room featuring a marble mantle from the 1870s as well as a wood-burning stove made in 1903.
The house also has its quirky elements, including a long-rumored inhabitation by spirits from the past.
"When we were in the process of working on this, the front doorbell rang three times," Joe recalled. "I went outside and no one was anywhere around. The doorbell had never worked and when I tried it that day it did not ring."
These and many other elements of style and mystique make it an interesting place to stay.
"Joe does the building and I do the cleaning," Joanne said. "For me this is a dream come true. I've worked in hotels and restaurants a lot in my life and have always wanted to do this."
Rooms in the four-bedroom house rent for $79 a night for the two smaller bedrooms and $89 for the two larger rooms. They have a full house for the first time this week, with the entire place occupied and inquiries about future reservations building.
Included in the guest experience is an outdoor self-service bar with an area for outdoor fires. Future plans call for construction of a gazebo with a hot tub for guests to enjoy.
---