Rudolph Anson 'Rudy' Skonord, 75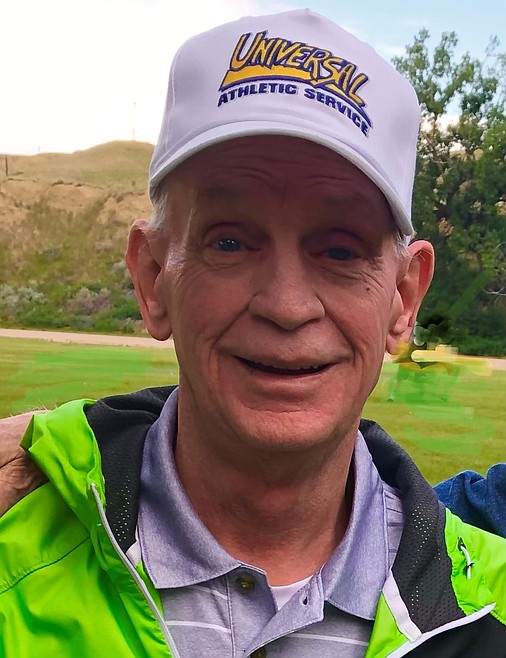 Rudolph Anson "Rudy" Skonord passed away peacefully at home on Sunday, Feb. 28, 2021, at the age of 75. In the days and moments before he passed, he was surrounded by family who loved him dearly — Debbie, Daren, Alex (son-in-law) and grandchildren, Kate and Jack.
Rudy graduated high school from Joplin High School in 1963 and then Northern Montana College with a degree in K-12 education in 1968. He then attended Montana State to earn his Master of Education/ Administration degree in 1974. He spent 10 years as a teacher, coach, athletic director and elementary principal in Chester, then moved his family to Kalispell in 1978 to work for Universal Athletics. The UA "family" became some of Dad's lifelong friends and Dick, Larry and Herb shared their favorite memories with Dad on a video call a couple of weeks before he passed ... this was priceless! Rudy was a 100%, all-in kind of guy as he would say "If you're going to New York, you don't get off in Chicago." He shared his work ethic with his kids, students, athletes and co-workers. After UA, he worked with Lutheran Brotherhood Insurance and, while semi-retired, worked at Target, Home Depot and Lowe's. His co-workers and customers loved seeing his smile (and Seahawk hat) every day.
When Rudy and Karen moved to Kalispell in 1978, they dreamed of owning a home on Lake Blaine. That dream came true, and they bought their first house in 1984. It was a labor of love and they put their heart and soul (and money) into making it a beautiful home that they would share with family and friends over the years. Lots of memories, stories and laughing "to tears" all while eating "Rudy burgers" were our favorite highlights. The family now owns a house down the road from the original "lake house" and it is still a sanctuary and gathering place for our family. Thanks, Dad, for making your dream happen so we can still call it home 30 years later. Even after moving away, Kalispell was always home for Rudy and he looked forward to visiting family, friends, and have Moose's Pizza!
'Rudy was an avid Seattle Seahawks fan, as well as MSU Bobcats and WSU Cougars. When you saw him, he'd most likely be wearing a jacket, shirt or hat from his favorite teams. He traveled to many pro and college football games over the years, including the Notre Dame game in 1992 where the final scene of the movie "Rudy" was filmed. During half-time the crowd chanted "Rudy, Rudy ...," which was a fun story to tell over the years. He also made several trips to Seattle to watch the Seahawks with friends. Alex (son-in-law) took him to a few Seahawk and Mariners games once he moved to Seattle in 2014. Despite his love for professional sports, his favorite sporting events to attend were his kids and grandkids.
Left to remember his sweet smile and spirit are Rudy's children, Debbie (Alex) Hickox, Daren (Pam) Skonord and Darwin (Maria) Skonord; grandkids, Clayton, Danielle, Kate, Jenna, Kamden, Jack, and Nate; sister Beverly (LeRoy) Green, brother in-law Bud Broadhurst and many nieces and nephews.
Rudy was preceded in death by his parents Palmer and Beth, oldest sister Geri, and brothers Sonny and Gary.
Rudy will be missed by all who knew and loved him. A celebration of life will be held in Kalispell this summer, the date to be announced. We will also gather on Father's Day (June 20) with family and a few close friends in Joplin, where his ashes will rest with his dad, mom, and siblings.
In lieu of flowers, please consider donations in Rudy's name to: Kidsports, P.O. Box 1205, Kalispell, MT 59903.
Please visit cascadememorial.com/obituaries to leave your fun memories and condolences for the family.
---