State picks roundabout for U.S. 2-Batavia intersection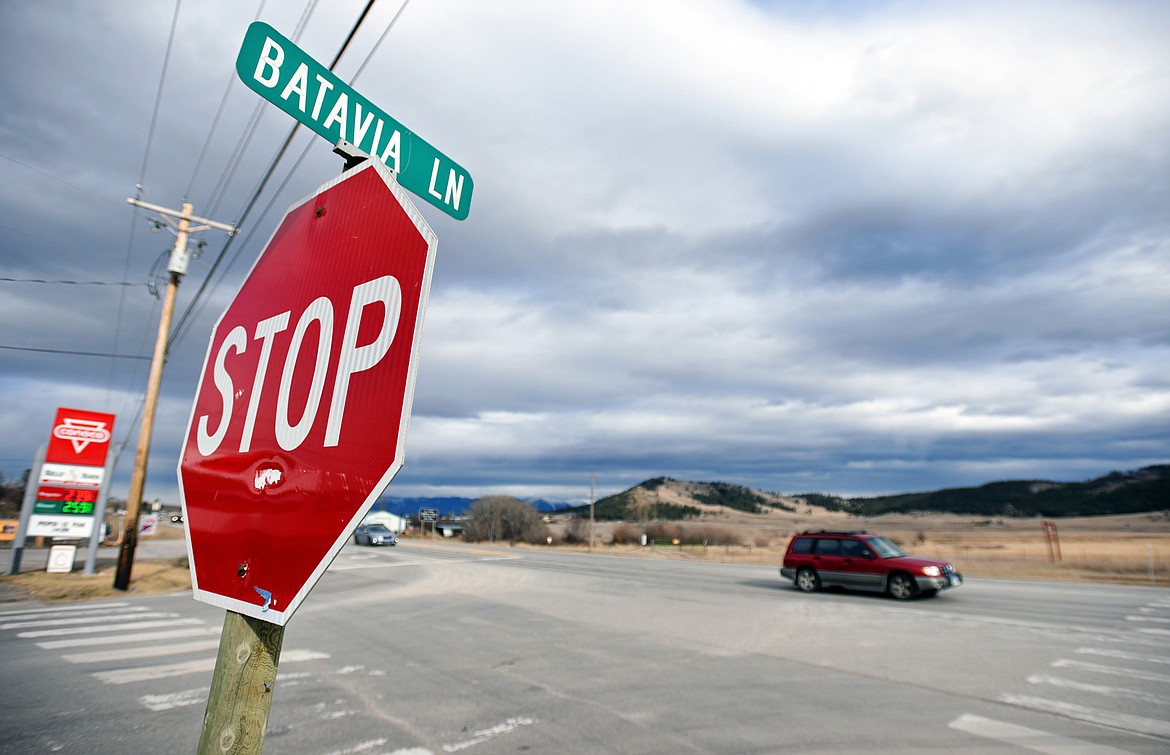 The crash-prone intersection at Batavia Lane and U.S. 2 near Smith Valley Elementary is being studied by the Montana Department of Transportation for improvements to make the intersection safer. (Casey Kreider/Daily Inter Lake)
by
Daily Inter Lake
|
April 6, 2021 2:30 PM
A roundabout will be constructed at the intersection of U.S. 2 West and Batavia Lane, but it could take roughly five years to nail down funding for the improvement project, the Montana Department of Transportation announced Tuesday.
The intersection has been a concern for the state and residents of the Smith Valley for a number of years, and the decision to install a roundabout comes on the heels of an extensive study that involved 18 months of review and virtual open houses to take public input and answer questions.
In 2014 the Federal Highway Administration deemed the intersection a high risk for severe crashes. Situated next to a busy gas station, a popular walking trail and Smith Valley School, the intersection has seen an increase in vehicular and pedestrian traffic, according to a press release from the Department of Transportation. Although the speed limit is reduced to 45 mph through the intersection, high speeds are often an issue, the release noted.
"Safety will always be MDT's top priority," said Bob Vosen, MDT district administrator said in a prepared statement. "When it came right down to it, our analyses show a roundabout will be the safest option.
"Roundabouts have a proven track record of improving safety," Vosen said. "Slower speeds and a single direction of traffic give drivers and pedestrians more time to react to one another. Roundabouts reduce fatal crashes by 90 percent and injury crashes by 75 percent. Those numbers are hard to argue with."
Roughly 6,000 cars travel on U.S. 2 every day, and 2,000 travel on Batavia Lane, highway officials stated at an open house last year. There are also approximately 82 pedestrian crossings at the intersection every day, and many of these are school students from Smith Valley School.
According to state statistics from 2005 to 2017, 67% of the collisions at this intersection occurred during daylight, and 94% took place with dry roadway conditions. Even more concerning, 50% of the crashes were right-angle collisions, which Vosen previously said "have a high potential of being severe."
A traffic signal with raised medians and a signalized crosswalk was another alternative considered for the intersection.
"While the traffic signal offered many safety and operational improvements, concern for high-speed crashes that could result from drivers running the light could not be overlooked," the press release stated.
Traffic circulation and navigation for large trucks were also at the top of the list of priorities for residents. U.S. 2 is a major thoroughfare for commercial and logging trucks as well as large farm equipment. Many community members were concerned about the ability for large vehicles to navigate a roundabout. These concerns were considered by MDT and the state's consultant, Robert Peccia and Associates, during the evaluation process.
"Roundabout design has come a long way in the past several years and we can build a roundabout to accommodate large trucks and eliminate the necessity for these trucks to come to a complete stop at a traffic light," Vosen said. "We are committed to working with the trucking and logging industries to ensure the final design is appropriate and safe for all users, from the biggest logging truck to the smallest child walking home after school."
Before construction can begin, funding must be identified. This process takes roughly five years. Construction may begin sooner if funding sources become available.
MDT will host a virtual public question and answer session on Wednesday, April 28, from 5:30 to 7 p.m. Anyone with questions or concerns is encouraged to attend. Registration is required. Those interested may visit https://www.mdt.mt.gov/pubinvolve/batavia/ to register or call the project hotline at 406-207-4484 for more information.
The Department of Transportation will make reasonable accommodations for persons with disabilities who wish to participate in the Virtual Public Question and Answer Session or need an alternative accessible format of this notice. If you require an accommodation, contact the Department of Transportation no later than April 21, 2021 to advise us of the nature of the accommodation that you need. Please contact Matt Maze, Office of Civil Rights, P.O. Box 201001, Helena, Montana 59620; telephone (406) 444-5416; Montana Relay 711; facsimile (406) 444-7243; or e-mail to mmaze@mt.gov.
---