Avalanche dog successfully finishes cancer treatment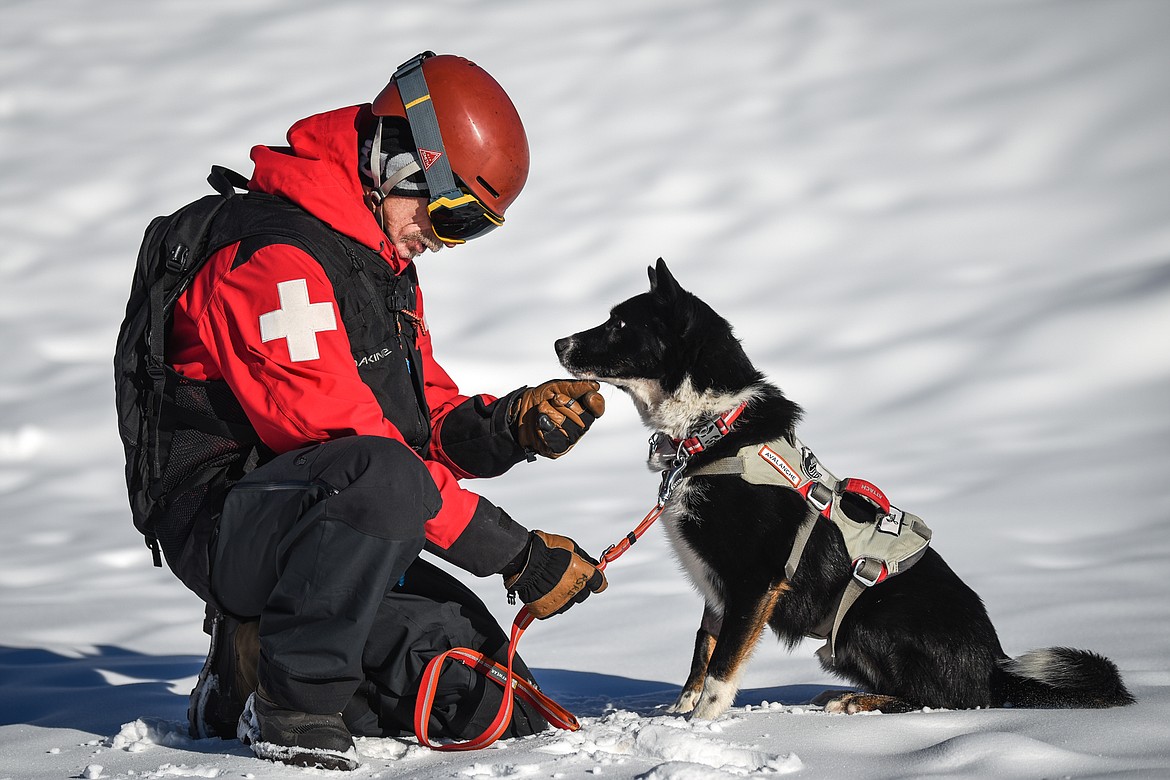 Jett, an avalanche rescue dog with Whitefish Mountain Resort ski patrol, listens to Lloyd Morsett, his owner and snow safety coordinator on the mountain, outside the resort on Wednesday, Dec. 3. Jett was diagnosed with B-cell lymphoma after Morsett found a lump on Jett's neck. (Casey Kreider/Daily Inter Lake)
by
BRET ANNE SERBIN
Daily Inter Lake
|
April 7, 2021 12:00 AM
As the ski season wraps up on Whitefish Mountain Resort, Jett the avalanche patrol dog is looking forward to some well-earned rest and relaxation. This season the 7-year-old smooth coat border collie worked harder than ever before, undergoing cancer treatment during his time off from patrolling Big Mountain.
After months of chemotherapy treatment, it looks like Jett's cancer is finally in remission.
"Jett is doing really well," said his handler, Lloyd Morsett, in an email Monday.
Morsett, a longtime ski patroller, doubles as Jett's co-worker on the mountain and his family member at home. Jett is not only the most experienced avalanche rescue dog at Whitefish Mountain Resort, but also a family pet for Morsett and his wife, themselves both cancer survivors.

They rescued Jett from Utah when he was living there as a 9-month-old stray.

The family has been working hand-in-paw to help Jett get back to full health since Morsett first noticed a strange lump on his furry neck last fall.
Jett was treated for B-cell lymphoma at Glacier Animal Hospital in Columbia Falls. He went through four cycles of chemotherapy treatments there in efforts to keep the disease from affecting his lymph nodes, which could lead to problems with his immune system without veterinary care.

"He tolerated it pretty well," Morsett said.
Jett completed his treatment in March. It took a combination of medications and adjustments at work to keep him safe and comfortable throughout the ordeal. He was put on a combination of medicines, including IV fluids and anti-nausea drugs, and he started wearing booties on the slopes to protect his paws when the hair there fell out.
Despite the hardships, Jett maintained his dogged commitment to his work. "Other than that he stayed pretty energetic. He worked through the whole thing," Morsett said. "We're still working."
Jett trains in search-and-rescue maneuvers every week, specializing in digging people out of 3 to 6 feet of snow. He and his canine counterpart Cleo, who received her full certification in February, are prepared to help in emergencies during the regular ski season and beyond. Jett runs alongside a snowmobile or sits obediently in Morsett's arms on the chairlift, going wherever the pair is needed.

WHEN THEY were the ones in need of help last December, Morsett said the community stepped up to meet their needs.
"The community support was incredible, right off the bat," Morsett said. "People were putting money toward his treatment right and left."
Between Whitefish Mountain Resort and a ski patrol fundraiser, donors covered all of Jett's treatment costs — around $3,500 — and left the Morsetts with some backup funding in case Jett needs to receive further care.
Unfortunately, Morsett said it's likely the disease will recur at some point, so it'll be important to have a reserve fund. It should help, too, that Morsett is now better-prepared to look for warning signs and be vigilant about Jett's health.
For now, though, Morsett said it's time to just "let him be a dog."
They get the summer off to hike, bike and train for whatever comes their way next season.
"We are moving forward cautiously optimistic for a few more amazing years serving this community," said Morsett.
For more information about the Whitefish Mountain Resort avalanche dog program, visit thepatrolfund.org.
Reporter Bret Anne Serbin may be reached at 758-4459 or bserbin@dailyinterlake.com.
---