Businesses' reactions to Glacier ticketed entry is mixed bag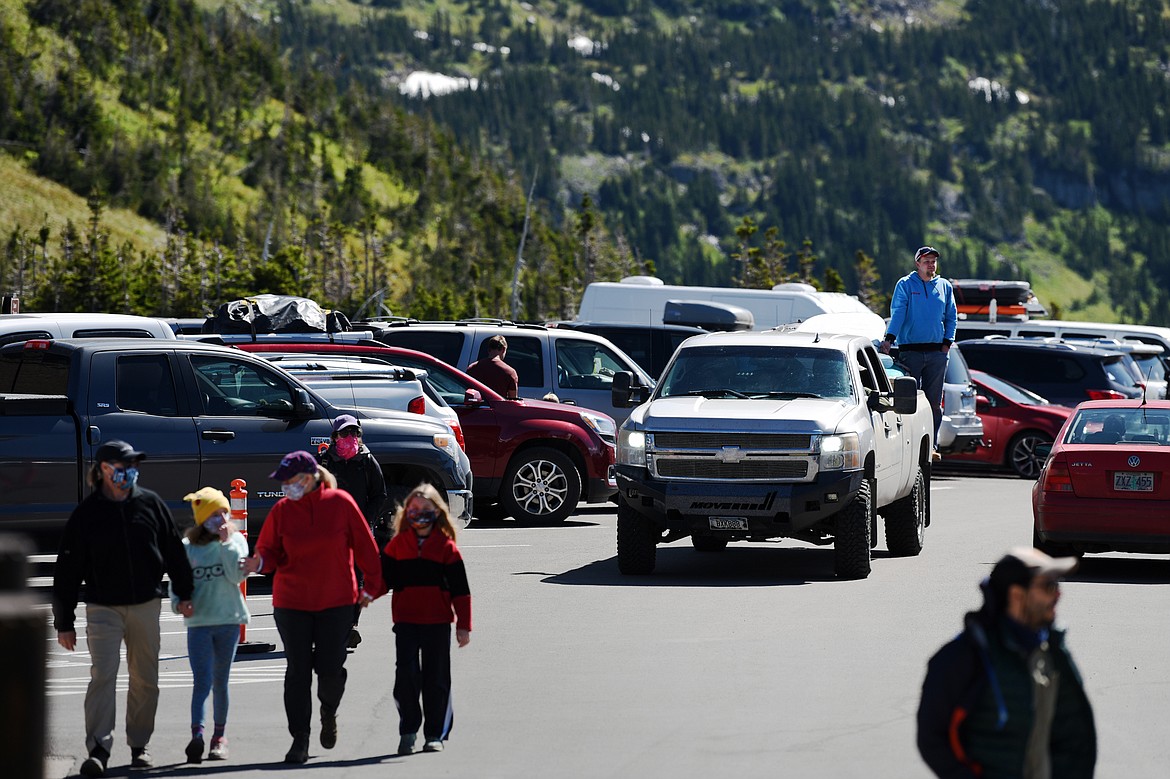 A visitor stands on the back bumper of a pickup truck to scan for open parking spaces at Logan Pass in Glacier National Park on Tuesday, July 14. (Casey Kreider/Daily Inter Lake)
by
BRET ANNE SERBIN
Daily Inter Lake
|
April 7, 2021 12:00 AM
A week ago, Glacier National Park officials announced plans to require ticketed reservations to enter the park through the West entrance this summer. Some businesses that depend on park visitation aren't so sure a reservation system is the ticket to a smooth season, while others don't expect too much of an impact on their bottom line.
"Local businesses are scrambling," said Keshia Fisher with Glacier Highline, an activity center in Coram that features a zipline.
She's worried the new system will drive away customers and upset many of the ones who keep their plans to visit Northwest Montana this summer.
After the COVID-19 pandemic made for a challenging season last year, Fisher isn't looking forward to even more changes during the brief tourist season this year.
"We're open three months out of the year. Are you kidding me?" Fisher said, expressing exasperation at the lack of cooperation between park leadership and business owners.
Fisher participated in virtual meetings with park leaders for weeks leading up to the announcement of the new system. From the outset, she raised concerns that such a move would hurt businesses like Glacier Highline.
But Fisher felt her input fell on deaf ears.
"I think the park should look to the public and look to businesses," she said. "They're not thinking about us or the whole picture."
It's frustrating, Fisher explained, because places like Glacier Highline often become de facto points of contact for visitors headed to Glacier National Park. When park-goers are confused about making a reservation or upset that they're getting turned around at the gate, they're likely to end up voicing those issues to Fisher and her staff, even though she feels her crew had little say in the decision to require pre-purchased tickets.
"I don't want to deal with cranky people," she said, although she's confident she'll be able to handle that and any other challenges that arise after weathering the difficulties from last season. "We're all hardy people that can step up and do what we need to do."
Some businesses will feel the effects of the ticketed system even more directly.
Outfitters such as Wild River Adventures don't just depend on passersby stopping at their business on their way to and from the west entrance—they operate as a private entity inside the federal parklands.

Owner Lexi Woods believes her rafting operations should still be able to run smoothly with the ticketed entries in place, since businesses will be allowed to bypass the reservation requirement.
But the new system still adds another obstacle to the multitude of challenges for business like Wild River Adventures.
This season, Wild River Adventures not only has to contend with the new system and the lingering pandemic, but also major road construction hassles on park roads and along U.S. 2 leading into the park.
It's a lot to navigate, even for a business that's used to charting unsteady waters.
"Overall, it's just one of those things we kind of all just have to conform to," Woods concluded.
Although some would-be customers seem hesitant to keep their Glacier plans in place, Woods said it looks like Wild River Adventures won't ultimately take much of a hit as a result of the ticketed system.
"Wild River I don't think is going to see a decrease in numbers, as far as rafting goes," Woods predicted.
THAT OPTIMISTIC outlook is shared by some entrepreneurs who see the ticketed system as a potential remedy to crowding problems that have plagued the park and attendant businesses for the past few years.
Even though Lindsey Gardner's photography business, Elope Montana, relies almost exclusively on the ability to conduct photo shoots inside Glacier National Park, she said she thinks the ticketed system "shouldn't be a big deal."
As long as Gardner and her clients are proactive and organized, she said, the reservation requirement doesn't pose much of an obstacle for her business.
In fact, Gardner said these changes might actually make it easier to do business inside the park border, since the reservations could reduce crowding and make it easier to find parking.
The biggest challenge, according to Gardner, is helping clients to see these changes as positively as she does. Some have contacted her with worries about being able to keep their plans, so Gardner is working double-time to reassure them and inform them about the new requirements.
But in Gardner's mind, that's nothing compared to the difficulties during last season, especially Glacier's total shutdown from March to June 2020.
"We're all used to adapting to something new, and that's what we're going to have to do because things are changing," she said.
Local tourism marketing organizations appear to be taking a proactive approach to the ticketed entry system for Glacier Park.
THE WHITEFISH Convention and Visitors Bureau, also known as Explore Whitefish, recently launched a new sustainable tourism campaign called "Be a Friend of The Fish," which aims to balance the economic viability of the tourism industry with community, social, and environmental impacts. Last week the WCVB announced the Going-to-the-Sun Road ticketing system "is well aligned with the "Be a Friend of The Fish" campaign as it seeks to improve the visitor experience while encouraging planning and providing realistic expectations for visiting Glacier National Park during the peak season.
"Requiring ticketed entry for Going-to-the-Sun Road this summer is a good step toward creating the best visitor experience possible," Dylan Boyle, executive director of Explore Whitefish, said in a press release. "We hope this management tool will mitigate the overcrowding we witnessed last summer. We also encourage locals to utilize the reservation system, remembering to plan ahead for their excursions. With reservations, people can be more confident in their trip planning. This is very much in line with how we will be communicating with visitors this summer. We're asking everyone to plan ahead, slow down, and be flexible with a back-up plan."

Reporter Bret Anne Serbin may be reached at 758-4459 or bserbin@dailyinterlake.com.
---