Whitefish interviews finalists for Muldown principal job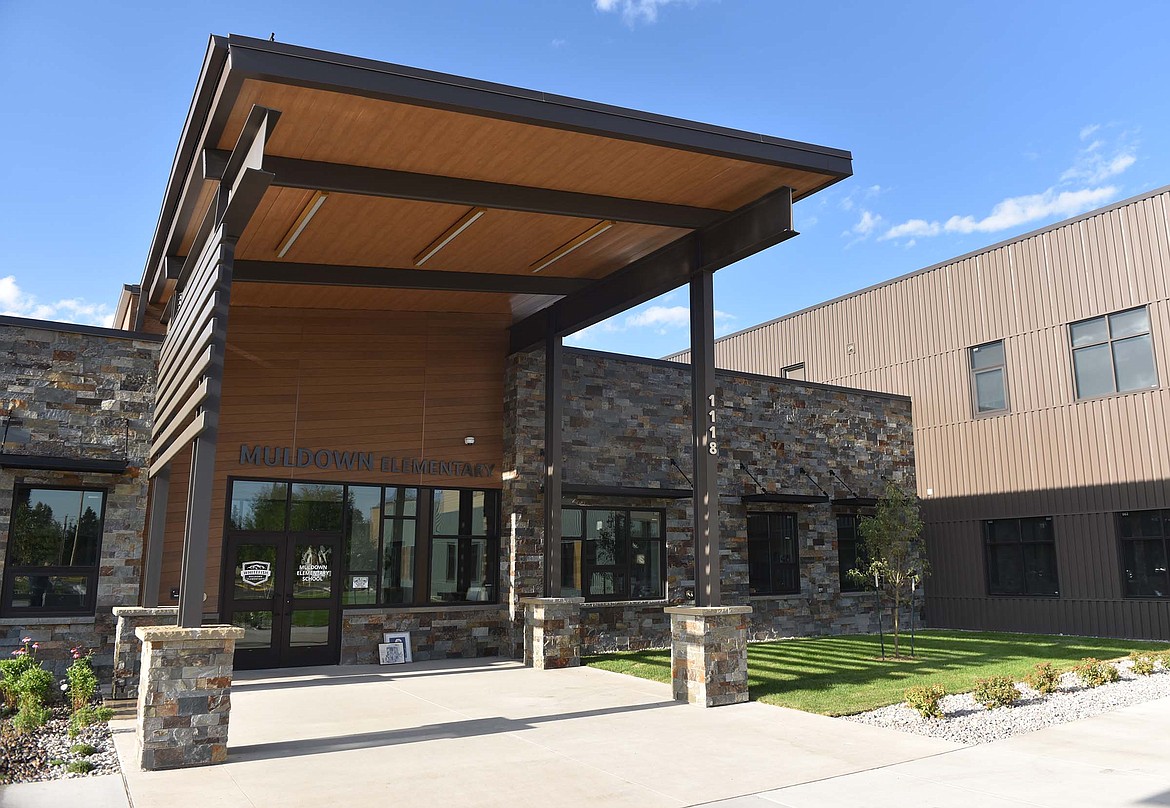 The main entrance to the new Muldown Elementary School building. (Heidi Desch/Whitefish PIlot)
by
HILARY MATHESON
Daily Inter Lake
|
April 7, 2021 12:00 AM
A new Muldown Elementary principal is anticipated to be announced in the coming week, according to an email sent to families from Whitefish School District Superintendent Dave Means.
Six candidates were interviewed April 1 and 2, including Drea Beale, Lisa Bloom, John Coyne, Henry Mack, Catey Nasello and Sharon Webster.
The person selected will replace outgoing Principal Linda Whitright, who is retiring at the end of the school year, capping 28 years at Whitefish School District.
Short biographies of each candidate were included in Means' email, which was sent out prior to the interviews.
Beale is currently the principal and superintendent of Fair-Mont-Egan School and has 23 years of experience in education that began with teaching in Maine. Her administrative experience also includes serving as principal of a public charter high school in Oakland, California. Beale holds two master's degrees in teaching and learning and school leadership.
Both Bloom and Coyne are current Whitefish School District employees.
Bloom has taught second and third grades at Muldown Elementary for the past 27 years. She also has served as the Whitefish Education Association president for the past two years. Prior to teaching in Whitefish, she taught grades second and fourth in Kelso, Washington, for six years and served as a K-8 summer school director for two years. Bloom holds a Bachelor of Arts in elementary education from the University of Montana and a master of education degree from the University of Portland with an emphasis in supervision and leadership.
Coyne has been the assistant principal of Whitefish Middle School and Muldown Elementary since 2012, He started out his career teaching and coaching in Hamilton, where he spent 21 years and then moved to Vancouver, Washington for 10 years. While in Washington, he taught language arts and social studies at the middle school level and coached. Additionally, he obtained a Master of Arts in educational leadership with an endorsement in administration before moving back to Montana.
Mack is principal of Roosevelt Elementary in Dickinson, North Dakota, a position he's held for 16 years. Prior to that, he was principal of an elementary school on Minot Air Force Base and was principal of Central Elementary in Tioga, North Dakota. Mack started his career in education as a teacher with experience teaching second through eighth grade on San Carlos Apache Indian Reservation in San Carlos, Arizona, and in the North Dakota towns of Stanley and Jamestown. Mack holds a Bachelor of Arts in elementary education from Jamestown College and a master's degree from Northern State University, both located in North Dakota.
Nasello is currently principal of Hirsch Elementary in Tracy, California, a position she's held since 2019. Prior to that, she served as an assistant principal in Tracy Unified School District since 2017. Like the other candidates, her career began in the classroom where she served as an intervention teacher, literacy facilitator and district teacher on special assignment in Gilroy Unified School District in Gilroy, California. She holds a bachelor's degree from California State University, in Fresno, California and a master's degree from Concordia University in Irvine, California. She also has credentials in K-8 multiple subject teaching and K-12 administrative services.
With 10 years of experience as an administrator, Webster is currently the principal of Madison Elementary School in Mesa, Arizona. She also has two years of experience as a dean of students and also held a Title I instruction specialist position. Before becoming an administrator, Webster taught for nine years. She has a Master of Education in leadership and administration.
---