County sets rules for West Glacier work camps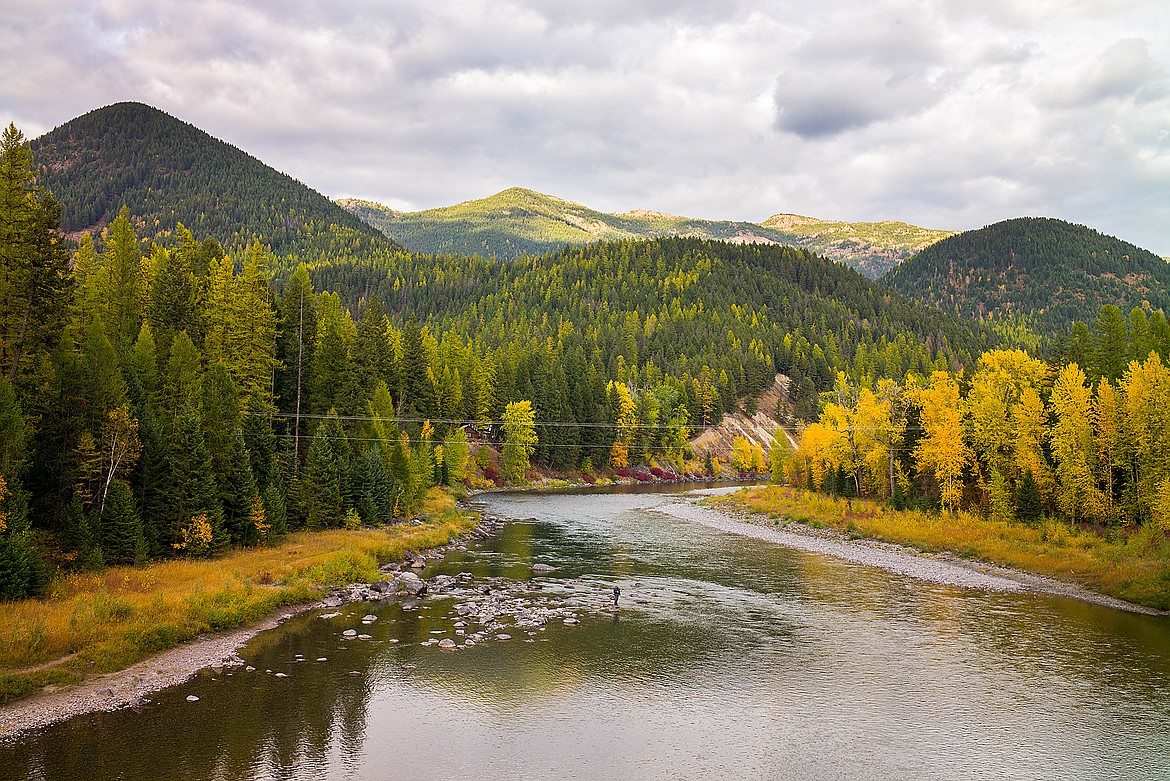 An angler fishes the Miidle Fork of the Flathead at West Glacier.
by
CHAD SOKOL
Daily Inter Lake
|
April 8, 2021 12:04 PM
The Flathead County commissioners on Tuesday unanimously approved regulations allowing "work camps" for seasonal employees in the West Glacier area. They made only one change to the proposal, removing a requirement that camps comply with international "dark sky" standards intended to limit light pollution.
The amendment to the Canyon Area Land Use Regulatory System allows work camps consisting of "camping spaces, trailer parking spaces, mobile, modular or other permanent structures," as well as accompanying water, sewer and solid waste systems.
The Middle Canyon Land Use Advisory Committee formed a group of local residents and business owners to draft the regulations as employers said they struggled to find suitable housing for their workers, with growing visitation to Glacier National Park and an increasing number of units being occupied as short-term rentals.
The Flathead County Planning Board unanimously endorsed the proposal in January after "numerous iterations" were floated over the previous year, Planning Director Mark Mussman said Tuesday. No one from the public testified on the proposal before the county commissioners gave it a final stamp of approval.
Commissioner Pam Holmquist raised concern about the international dark-sky standards, saying they don't appear to be specific enough for the county to enforce. The standards, or recommendations, include using outdoor lights that point downward and ones that are motion-activated so they don't remain on all night.
"At the end of the day, at some point, this may have to be enforced," Holmquist said. "We need to have a clear path to figure out how to handle that."
Mussman and Commissioners Randy Brodehl and Brad Abell agreed. Brodehl said the city of Kalispell has similar rules but does not enforce them.
"I think that while dark-sky lighting is great, it's something that we have to be able to enforce if we're going to put it in there," Brodehl said, "and I don't anticipate us enforcing dark-sky lighting."
THE NEW regulations require a public comment period of at least 15 days before the county approves a permit for a work camp. Any water, sewer and solid waste systems will have to comply with local and state health regulations. And the developer of a work camp will have to provide one off-street parking space for each employee housed there.
The regulations state each work camp will have to be surrounded by a "visual screen," such as a fence or a barrier of vegetation. All camps will have to observe "quiet hours" between 10 p.m. and 7 a.m. and "shall take care to reduce all noise, dust and fumes to the greatest extent possible."
The camps must be set back at least 20 feet from all property lines, at least 150 feet from the U.S. 2 right of way and at least 50 feet from the Flathead River. More distance from the Middle Fork of the river may be required under the federal Wild and Scenic Rivers Act.
Additionally, all food at work camps must be stored in buildings or bear-resistant containers. The camps will have to maintain access for emergency vehicles. And any campfire pits, barbecue areas and storage areas for flammable materials must undergo annual safety reviews by a local fire chief. Campfires are prohibited when fire danger in the area is rated as "high" or above.
Reporter Chad Sokol can be reached at 758-4439 or csokol@dailyinterlake.com
---