Lawmakers pass bill giving elected officials power over health boards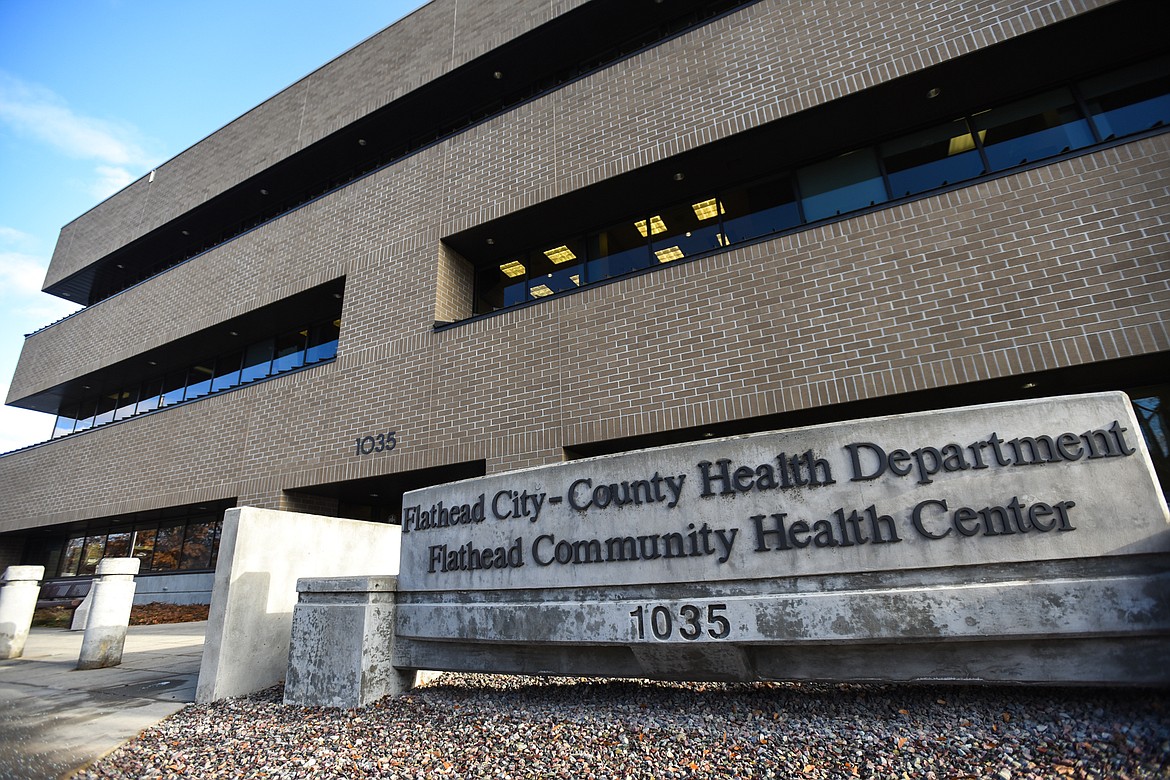 This Dec. 1, 2020, file photo shows the building that houses the Flathead City-County Health Department at 1035 1st Ave. W. in Kalispell. (Casey Kreider/Daily Inter Lake)
by
CHAD SOKOL
Daily Inter Lake
|
April 8, 2021 5:00 PM
A bill that would give elected officials the power to change or shoot down emergency rules adopted by local health boards was sent to Montana Gov. Greg Gianforte's desk this week after passing both chambers of the Republican-controlled Legislature with mostly GOP support.
House Bill 121, sponsored by Rep. David Bedey, R-Hamilton, would allow city councils and county commissioners to amend or rescind emergency orders by local health boards and health officers, such as the mask requirements and crowd-size restrictions many have imposed to fight COVID-19.
The bill, which was amended several times during the legislative process, also would prohibit local health officials from placing any emergency rules on places of worship; lower the punishment for violating those rules from a misdemeanor to a civil citation; and give local governing bodies, usually counties, the authority to hire and set salaries for health officers.
Proponents say the measure would prevent local health officials from overreaching, hurting businesses and infringing on individual liberties with burdensome mandates. Opponents say it threatens to further policitize public health decisions and hinder health departments' ability to act swiftly in times of crisis.
Bedey dismissed those concerns during a hearing last month before the Senate Business, Labor and Economic Affairs Committee.
"Some claim that matters of public health should be left exclusively to the experts because elected officials often lack scientific expertise, but this point of view overlooks the fact that most public policy issues are multifaceted," he said. "Our public health officials rightfully focus on our physical health, which is to be expected as this is where their expertise lies. But who is to consider, for example, our spiritual or economic health?"
Some groups that initially voiced concerns or reservations about the bill, including the Montana Medical Association and the Montana Association of Counties, testified in support of the amended version last month, saying it strikes an acceptable balance between the scientific expertise of health officials and the broader role of local politicians.
The legislation does not focus on the routine duties of public health departments, such as bar and restaurant inspections. One section of the bill states: "It is not a purpose of this chapter to hinder, slow or remove nonemergency-related powers granted to a local board of health."
The bill passed a third reading in the Senate on a 31-19 party-line vote late last month after passing the House 68-31 with only one Democrat joining the chamber's Republican majority.
"It's too restrictive on localities, and it's part of a theme, I think, that we've seen all session long, of the Republican majority undercutting local control and undercutting local communities' abilities to solve problems for themselves and be responsive to their own needs," House Minority Leader Kim Abbottt said during a call with reporters Wednesday.
Gianforte's spokeswoman, Brooke Stroyke, wouldn't confirm Thursday whether he intended to sign the bill.
"The governor received the bill and will carefully consider it," Stroyke said in an email.
STATE LAW has long allowed local health boards to independently create and enforce public health rules in times of emergency, such as the pandemic. Those actions can include requiring people to self-isolate or quarantine, as well as restrictions on travel and commerce intended to limit the spread of communicable diseases.
Although members of local health boards are appointed by elected officials — and some members serve in elected positions themselves — many proponents of HB 121 regard health officials as unaccountable bureaucrats and even power-hungry tyrants.
Seven members of the Flathead City-County Board of Health are appointed by the county commissioners, one member is Commissioner Pam Holmquist, and the ninth member is appointed by the city of Kalispell. Whitefish city leaders also are in talks about permanent representation on the board.
In a phone call Thursday, Holmquist said she's hopeful the new law will foster more communication between the health department and elected officials. After an all-hands-on-deck approach early in the pandemic, lines of communication fell apart by last fall, she said. (That was when the board failed to reach agreement on local crowd-size restrictions aimed at curbing the spread of the virus.)
"We'll see how it plays out," Holmquist said of the bill. "Any time you can have more communication within your county departments, I think you get better results. And when there was a communication breakdown, that's when things went awry."
Dr. David Myerowitz, who spent a decade on the Flathead City-County Health Board before the county commissioners replaced him and another physician in 2019, said the recent fight over crowd-size limits demonstrated how political influence can hurt the board's efforts. That fight, among other issues, prompted the county's interim health officer, Tamalee Robinson, to resign.
"I think in our county we had reasonable people making reasonable decisions," Myerowitz said, "except the politicians, in response to an extreme right-wing attitude, wanted to have no restrictions at a time when there should have been reasonable restrictions."
LAWMAKERS ALSO added a "religious freedom" amendment to the bill that states emergency rules adopted by local health officials "may not interfere with or otherwise limit, modify or abridge a person's physical attendance at or operation of a religious facility, church, synagogue or other place of worship."
"This prohibition recognizes the significance of a person's spiritual health," Bedey said during last month's hearing.
Myerowitz, who has been volunteering to administer COVID-19 vaccines in Kalispell, said he understands the need for spirituality and community in times like the pandemic, but that blanket religious exemption goes too far in limiting the authority of local health officials.
"There are a fair number of people that are really anxious over this whole problem, and having the availability of a religious service may be of tremendous comfort to a lot of people," Myerowitz said. "So I'm not against having people worship. I think placing limits on that worship as far as venue, masking, social distancing, are all things that should be in the purview of the public health department — not in the purview of politicians."
ANOTHER MEASURE affecting local health boards, House Bill 257, has passed the full House and the Senate Judiciary Committee on party-line votes.
Sponsored by Rep. Jedediah Hinkle, R-Belgrade, the bill would prohibit cities, counties and health boards from compelling businesses to turn away customers who don't comply with health requirements, including those who refuse to wear face coverings. It also would prohibit local governments from taking any "retributive action" against businesses that don't enforce mask rules among their patrons, including fines, civil lawsuits and criminal charges.
HB 121, HB 257 and related bills that have stalled this legislative session have drawn opposition from leading medical groups.
The American Heart Association and the American Cancer Society Cancer Action Network recently hired a Denver-based polling firm, New Bridge Strategy, to survey Montanans about their thoughts on local health officials. The results, released this week, indicated large majorities of Montanans trust health boards and health officers over elected officials when it comes to public health decision-making.
"We hope legislators pay attention to these findings and the concerns of their constituents from across the state," said Amanda Cahill, government relations director for the American Heart Association in Montana.
Kyle Schmauch, a spokesman for the Senate GOP caucus, accused the pollster of "juicing the results by asking intentionally flawed questions" and noted the survey made no mention of COVID-19 or pandemic-related restrictions.
Reporter Chad Sokol can be reached at 758-4439 or csokol@dailyinterlake.com
---