Griz work over Central Washington in wintry mix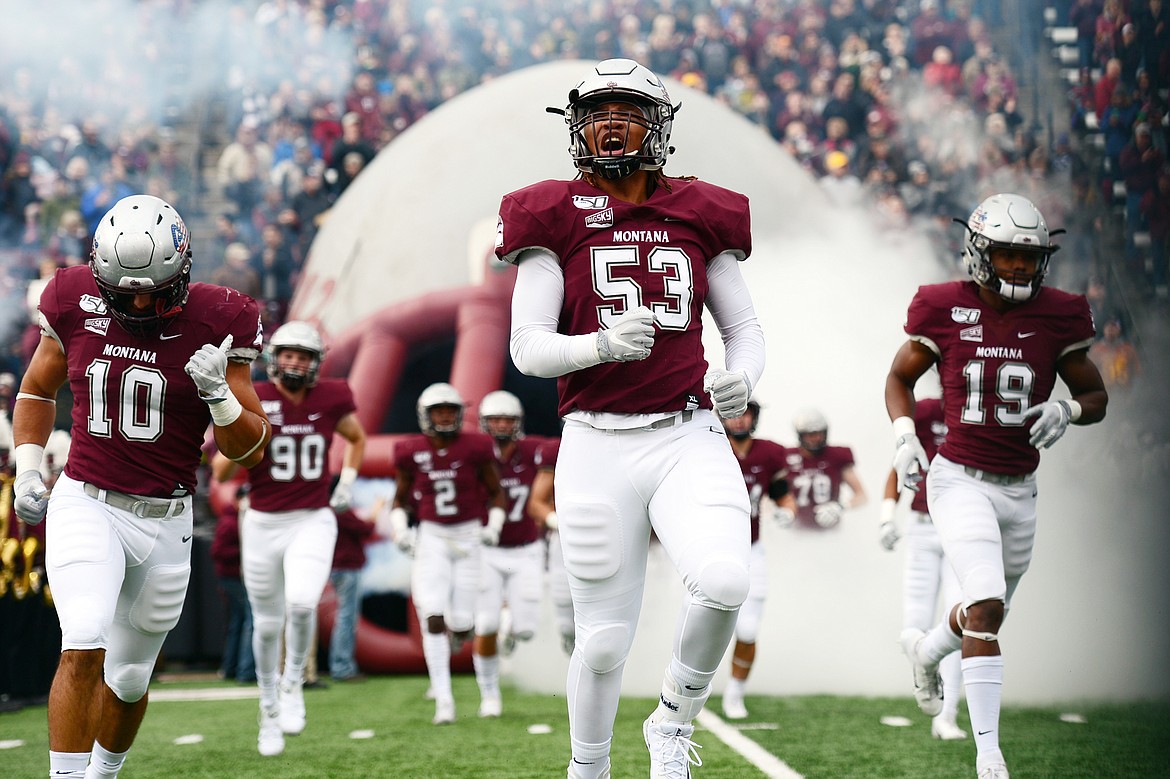 The Montana Grizzlies take the field before a matchup with Idaho at Washington-Grizzly Stadium on Saturday, Nov. 9, 2019. (Casey Kreider/Daily Inter Lake)
by
FRITZ NEIGHBOR
Daily Inter Lake
|
April 10, 2021 8:49 PM
MISSOULA — It was early in the third quarter that Saturday's game between the Montana Grizzlies and Central Washington started to look more like the 2014 Griz blowout more than the 2008 nail-biter.
It was 24-3 when the Wildcats came up short on a fourth-and-1, handing the ball over to the Griz on their own 46-yard line. Sixty-seven seconds later it was 31-3.
By the end it was 59-3, the Grizzlies dominating in every phase in front of 5,000 or so fans at Washington-Grizzly Stadium. An abbreviated spring schedule ends next Saturday when Big Sky Conference foe Portland State visits; but after 485 days without one, the Griz were glad to get a game in.
"That's the reason we're here," junior linebacker Patrick O'Connell said. "I think it was great for our guys to get out there and have a lot of energy. Everybody was running around and making plays."
O'Connell, the Glacier product and top returning sack-man for the Griz, had three tackles against CWU. He was in on that fourth-down stop, but claimed he was merely a cog.
"That was obviously a big play for us on defense, but I can't take the credit," he said. "I took two guys on and I think Justin Belknap and Joe Babros came and pinched and made that crucial play for us."
"Crucial" might be giving it too much importance because Montana, after coming up empty on a couple early short fields, scored twice in the last 6 minutes of the first half.
But after seeing Montana take over at 12:43 of the third and quickly get a) a 20-yard pass from Cam Humphrey to Bryson Deming and b) a 23-yard TD strike to Samuel Akem, CWU coach Chris Fisk called it a big moment.
"You know it's going to take touchdowns to compete with that team," Fisk said, post-game. "I'm a little bit disappointed with how our kids reacted from that point."
Central, short-handed because 1,500-yard rusher Michael Roots entered the NCAA transfer portal (announcing it Friday) and quarterback Christian Moore on the shelf after shoulder surgery, was deflated further by Humphrey's third TD pass.
It was not textbook: He tried to fit the ball into Malik Flowers at the goal line, it popped free and looked like a sure interception — until Griz running back Nick Ostmo snapped it away and scored.
"I've never seen anything like it," said sophomore Gabe Sulser, who caught Humphrey's first TD pass, covering 13 yards with 6:16 left in the first half. "It was like a hot potato in there."
Ostmo, who had 43 yards receiving and 47 rushing (with one touchdown), made it 38-3.
Humphrey gave way to Bozeman product Kris Brown, who was very sharp on three scoring drives: Brown ran 17 yards on a read-pass option for one TD and threw 17 yards to Keelan White for another score.
That made it 52-3 with 12:56 left in the game. Xavier Harris, in for Ostmo, had a 1-yard TD run to complete the scoring with 9:47 remaining.
By then a lot of younger players were getting reps, including Whitefish's Carver Gilman, who came in and straight-ahead kicked three PATs.
The highlight reel belonged to Akem and Sulser, two talents that were sidelined by injuries late in the 2019 season.
"Some of us, not just me but some other injured guys — it's been even longer for us," Sulser said of his time away from the field. "So we were ready to go."
Sulser had 162 all-purpose yards. After letting one rugby-style punt skip past him for a 50-yarder, he gathered the next one and returned it 46 yards. Following Central's lone field goal, Sulser fielded a pooched kick and returned it 54.
The latter set up his own TD reception, and on UM's next drive he adjusted to a fluttering Humphrey pass and made a one-handed grab for a 33-yard gain.
Humphrey cashed that in with a 5-yard TD run, with just 30 seconds left in the first half.
Akem recovered from two early offensive pass interference calls to make three catches for a team-high 49 yards.
Overall an impressive performance, though Montana coach Bobby Hauck didn't like the run totals, much.
"We've got to read the RPO stuff better, we've got to get body on body better and we have to get yards after contact better," Hauck said. "So, we need work there."
Fisk came away impressed.
"I don't know if (Hauck) took my comment the right way, but I did say it'd be really interesting to have seen the Griz play the Big Sky season this (spring) because I think they'd be sitting right at the top of that," Fisk said. "And that's not just because they put it on us. I think that's a talented football team.
"I think this is my eighth Big Sky football game that I've been part of, and this was by far the fastest and most physical."
NOTES: Montana won its previous meetings with CWU 38-35 in 2008 and 48-14 in 2014. … Snow squalls alternated with bright sun during the game. … CWU quarterback Jack Smith, a Boise State transfer who threw for 114 yards, didn't return after that fourth-down stop by UM. … Flowers returned the opening kickoff 51 yards and gained 49 yards on a jet sweep. … Humphrey threw for 235 yards and Brown 88, on 6-of-8 passing.
---